People who take part in Letterkenny's Darkness into Light this Saturday will get a unique chance to view a pop-up gallery, showcasing a selection of work by American born Irish artist, Emma Grace. 
Born in Santa Fe, New Mexico, USA, Emma Grace was raised in Ballina, Co. Mayo. She spent 1 year in Arizona, then 4 years in Vermont, before spending 7 years in London. She has now returned to Ireland, settling in Kilmacrennan.
Emma Grace's hope is to bring light to those on their darkest days. Her art collection is an expression of the emotions of her experiences, expressing the honesty of her mental and physical journey. She does this through mix media abstract art, working particularly with one material that allows her paintings to change with how the person viewing the work sees it, as light changes throughout the day and interacts with her art in new and interesting ways. This allows those experiencing her work to see and feel different depths at different times, in hope that they can connect with their inner being in a positive and enriching way.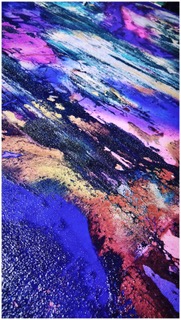 Emma Grace has been taking some form of art classes for as long as she can recall. In secondary school in Vermont, this led to fashion studies, which included designing her own material, which was incorporated into the outfits she also designed, constructed and showcased. She continued this direction of artistic focus while in London at the University of Art London. But it wasn't until she found herself trying to deal emotionally with remarkable health issues that her mental health had started to suffer as well.
It was at this dark time that Emma Grace recognised the positive expression of painting and how through this expression she was able to increase the light in her daily life and has now recognised that it is time to open her collection and share her journey with others.
Darkness into Light Letterkenny, 7 May 2022, 5km walk/run starts at 04:15 at the Letterkenny Community Centre and ends there, as well, at sunrise. At this time her pop-up gallery, inside the centre, will be open to the public. Emma Grace, a Darkness into Light committee member, will be available at the Letterkenny Community Centre on the day. 
A fundraising raffle is also taking place in Letterkenny this weekend in aid of Pieta.  All Prizes are from Donegal based businesses and creatives, including a framed painting (115cm x 115cm) by Emma Grace. To enter, please visit: https://www.idonate.ie/darknessintolight2022raffle