Retired Judge Sean Mac Bride from Moville recounted the fateful events surrounding the killing of his grandfather and his grandfather's nephew at a 100th-anniversary commemoration in Dungiven earlier this month.
Sunday the 8th of May saw the centennial commemoration of Lieutenant John J (Jack) O Carolan and his nephew Denis P Kilmartin who died in previously unclear circumstances on 6th May 1922 at the start of the fratricidal Irish Civil War. The men were safeguarding arms sent by Liam Lynch and Michael Collins when their safe house was discovered and were subsequently shot by a group of masked men.
Jack's Grandson Sean MacBride, son of the only surviving child and Daughter Terry Mac Bride (nee O Carolan) and his Great Grandson Joe MacBride as well as other members of the Mac Bride/ O Carolan families were invited to the event last week by the organising committee who refurbished the monument in St Patrick's cemetery, Dungiven.
After a brief wreath laying ceremony at the Republican monument in the Benedy near the site of the executions, a talk was given by local man Eugene McCloskey before returning to the cemetery in Dungiven where the central Republican plot is located.
A presentation was given to Councillor Sean McGlinchey of a framed picture of Lieut O Carolan and a wreath laid by Joe MacBride. There then followed a resounding oration from Sean MacBride telling of the story of the killings, their impact and the subsequent history of the O Carolan and Kilmartin families and the effect that night in May 1922 had down through the generations. For the not inconsiderable local crowd who attended this was a first, and it was an apt and fitting tribute on the occasion
Proceedings were brought to a close with the National Anthem.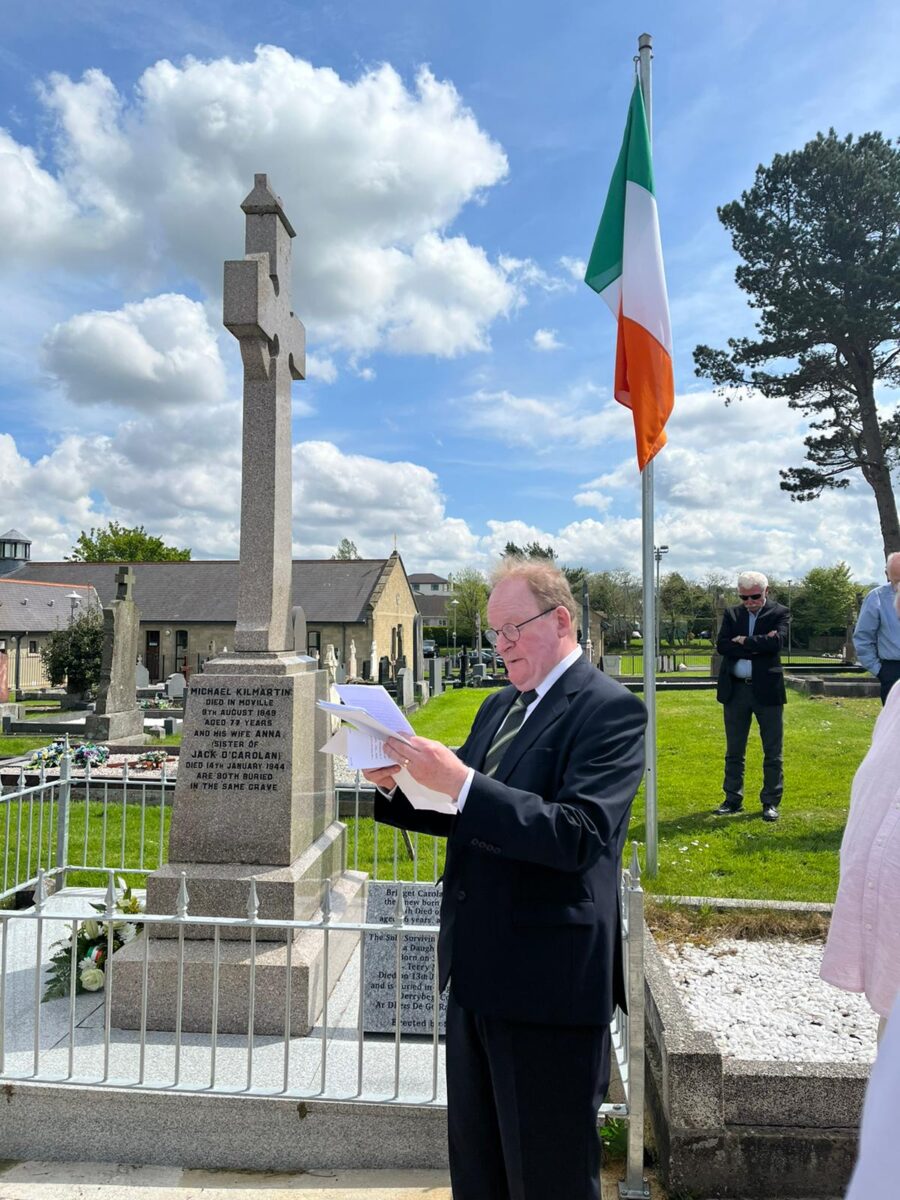 Retired Judge Sean Mac MacBride's speech:
A chairde Gael, muintir Dhún Gemhín and members of The O'Carolan/Kilmartin Sinn Féin Cumann, on behalf of the descendants of IRA Lieutenant Jack O'Carolan and  Jack's nephew Volunteer Denis P. Kilmartin, it is an honour and privilege to be invited here today to address you as we commemorate the memory of the two brave comrades who died for Ireland one hundred years ago on Saturday 6th May 1922.
My Granda Jack, father of my late mother Terry was born in Kilcormac, Co. Offaly on or about the 29th November 1874, the youngest child in a family of 10. He grew up in the era of the Gaelic Revival and embraced the Republican tradition.  Jack became a member of the Irish Volunteers upon its foundation in November 1913 whilst teaching in Tullamore as a National Teacher.  At this time he was courting a beautiful young school teacher from Meelaghans outside Tullamore named Brigid Aylmer whom he would go on to marry.  Prior to this Jack's older sister Annie O'Carolan got married to Michael Denis Kilmartin, a fellow teacher and a native of Newport County Tipperary.  
Annie and Michael Denis were the first to make the move north to Derry some time before the turn of the twentieth century, initially to teach in Gortnaghey National School before moving on to teach in Dungiven town.  Subsequently, Jack and his new wife Brigid followed them northwards where they gained employment as National Teachers in Gortnahey in 1914 – with Jack as Principal and Brigid as Assistant Principal.  They both lived in the living quarters on the first floor above the classroom in the 2 Storey School House.
It was there on 31st December 1916 that Brigid gave birth to my mother Teresa " Terry". Tragically my Granny Brigid would die just two years later on 5th December 1918 from Consumption due to Spanish Flu just hours after giving birth to her second child Edward (Eamonn) O'Carolan who also tragically passed away shortly before she died on that same fateful day.  Before she died Brigid baptised Eamonn before his death with holy water in a baptism of necessity.  Sadly both were buried in an unmarked grave by Fr Loughrey the PP of Dungiven at the back of this cemetery.  My Granda Jack was left heartbroken and alone to rear his only daughter, my mother Terry, then just a toddler.  Nonetheless Jack remained committed as ever to the Republican cause and trained the Irish Volunteers, who became the Irish Republican Army, in weapons at Glenelly Valley in The Sperrin Mountains in County Tyrone as well as other locations in the hinterland surrounding this area.  He was a Lieutenant in The Gortnaghey Company of 40 plus strong men under arms.  He was also heavily involved in the wider Brigade's activities of planning and executing the blowing up of bridges and attacks on RIC Barracks.  
My mum Terry told me many times of her memories of her father Jack.  On one occasion whilst my mother was a student in Gortnaghey National School in 1921 just before The Truce a gang of RIC Men and Tans entered the schoolhouse while he was in the middle of teaching and proceeded to show my Granda bullets in their hands saying threateningly "These are for You!".  My mammy recalled how her father Jack remained as cool as ice as he completely ignored their presence and defiantly continued teaching the school children under his care.  My mother also told me that her first cousin Kathleen Kilmartin (a sister of young Volunteer Denis Kilmartin) used to regularly baby-sit my mum at night after Brigid O'Carolan's death whilst Jack would be out on manoeuvres with the IRA.  On several occasions Crown Forces visited the schoolhouse at night-time while Jack was out but Kathleen always remained silent and would not tell the enemy anything.  Kathleen, like her brother Denis, was a very brave patriot.
Following the signing of The Treaty on 6th December 1921 tensions escalated and division emerged within the ranks of the IRA nationally and the 2nd Northern Division was no different.  My grandfather was strongly opposed to the Treaty feeling that it had betrayed the Republic that he and his comrades had been fighting for.  He had been very fond and loyal to Commandant General Charlie Daly who in March 1922 was removed from his post as OC 2nd Northern Division by the Pro-Treaty GHQ over his anti-Treaty stance.  During the months of March and April the Crown forces and B-Specials commenced a vicious onslaught hunting down any known Republicans which spiraled into indiscriminate attacks against the general Nationalist population as the 6 Counties descended into a sectarian Civil War.  It was against this backdrop and official death threats issued against him by Crown Forces/Loyalists, that my grandfather went 'On The Run' with his nephew Denis Kilmartin while my mammy was taken into her Aunt Annie Kilmartin's home in Dungiven town.  
In an attempt to maintain IRA unity and assist the beleaguered Republicans of the 6 Counties, Liam Lynch and Michael Collins came to a secret agreement to send arms North for a planned IRA Northern Offensive which was to take place in May, 1922.  My grandfather Jack was trusted with safeguarding the arms that arrived into the Dungiven area and was instructed to await official orders for their distribution to IRA Volunteers at a date and time to be confirmed in early May.  Unfortunately in the early hours of the morning of 6th May 1922, a group of armed men found Jack and Dennis staying in a safe house of the Mac Gilligan's in Cluntygeragh. The men with blackened faces forcibly took the unarmed Volunteers outside and marched them some meters behind the house near an old flax dam.  They demanded to know the location of the arms and when Jack refused to tell them, they shot him dead.  They then turned on young Dennis and also shot him several times when he did not give them any information either.  Dennis miraculously survived until 8pm that night.  Riddled with bullets and left for dead, somehow he managed to regain consciousness and crawled on his hands and knees to a nearby farmhouse belonging to the Mc Nicholls who were staunch Republicans.  He was able to recount the details of the shootings before passing away at Derry Infirmary.  
In the immediate aftermath of their deaths, the RIC and B Specials came to the Kilmartin's home on the Lower Main Street in Dungiven and told the family that Crown Forces would kill them if they did not immediately get out of Dungiven.  Shortly thereafter, thanks to the IRA In Dungiven and to Father Walter Hegarty CC, the family went to permanently reside in Moville when a house was provided by Charlie and Vincent Sweeney from Dungloe.  Annie Kilmartin gave up teaching, having suffered a nervous breakdown from the loss of her youngest brother and her youngest son.  Michael Denis continued to teach as Principal Teacher of St Patrick's Boys National School Dungiven until 1930 when he took early retirement.  Annie died in 1944 and Michael Denis in 1949, I owe a great debt of gratitude to them both for rearing my mammy.  I was blessed to be at my mother's bedside as she passed away on 13th June 2008.  During her final hours I pledged to her that I would honour my Granda Jack's good name and work night and day for a 32 County All-Ireland Republic through peaceful and constitutional means. Before he died the Late Commandant Tom Morris (who replaced Charlie Daly as O/C of the 2nd Northern Division) told me outside Moville Church after mass one day about the death of my Grandfather "Sean it should never have happened.  I am so sorry.  He was a Great Irishman and Patriot".
I am immensely proud that Jack remained principled and loyal to the Republic right up to his final breath.  Finally today we are in a great exciting new era of building The New Republic; An Ireland which cherishes all our peoples of all Traditions, Creeds and none. One that has the potential to truly fulfill the Republican principles of 'Liberty, Equality and Fraternity'.  This week also marks the 41st anniversary of the death of Bobby Sands, Irish patriot and hunger striker, and it is fitting that the people of the 6 Counties elected  a Sinn Féin First Minister, Michelle O'Neill, Sinn Féin with 27 seats the largest party and a record vote of over a quarter of a million 1st preference votes.  We in Sinn Féin are building a New Republic based on equality, social justice and respect.  The Unionists have nothing to fear but fear itself.
Thanks to everyone involved in the organisation of this wonderful Commemoration.  The family and I are eternally grateful.  In particular, and I hope I am leaving no one out, a special thanks to the following persons; Seamus Mc Reynolds, Marley O'Kane, Andy Guy, Cathal Ó hOisín Cathaoirleach,Councillor Sean Mc Glinchey and all the members of the O'Carolan Kilmartin Sinn Féin Cumann of Dungiven, Eugene Mc Closkey who presided over and spoke at the Republican Monument in the Benedy. I am a proud member of Sinn Féin.