Daniel O'Donnell fans have been urged to be on alert as heartless scammers attempt to sell fake online tickets to a fundraising concert in Dungloe.
Daniel will be supporting a young Donegal man with cancer by hosting a unique concert in St. Crona's Church Dungloe on 29th July. All funds will be donated to Pauric Bonner, aged 21, who is seeking to further his treatment in America to give him the best chance going forward.
Daniel's connection to Pauric's family and the entire Dungloe community led him to plan a night of inspirational music in the atmospheric surroundings of St. Crona's. Daniel went to school with Pauric's late mother Anne Theresa Bonner and his father John is well-known from his work as the local postman.
Tickets for the event went on sale at the end of April, but last week Daniel's management team were notified of scammers targeting fans on Facebook.
The social media accounts have been commenting on Daniel's Facebook page offering tickets for sale. Some claimed to have extra tickets and others claimed to not be able to attend due to an event. The accounts engaged with fans and encouraged them to begin private message conversations, where a link is shared to buy tickets online.
However, genuine tickets for the concert are only being sold locally in Donegal and via the email address of Daniel's niece and personal assistant Patricia Swan tricia.kcp@yahoo.com.
A post on Daniel's Facebook warns fans not to buy any tickets from a third party.
"This is a scam so please don't message them," they said.
One fan said they received a message also from 'Daniel' but realised it was a fake page: "I'm so careful now … i knew he wasn't Daniel so I no longer reply."
Another said: "Sad to see this! Horrible to see people trying to scam people out of their money! Hate to see them using Daniel's good name and reputation to do so and especially when it's a charity event!"
Official tickets for the concert for Pauric's Journey can be bought at The Cope Supermarket Dungloe, The Cope Kincasslagh, Bonner's Dungloe and Clerkins shop in Leitir.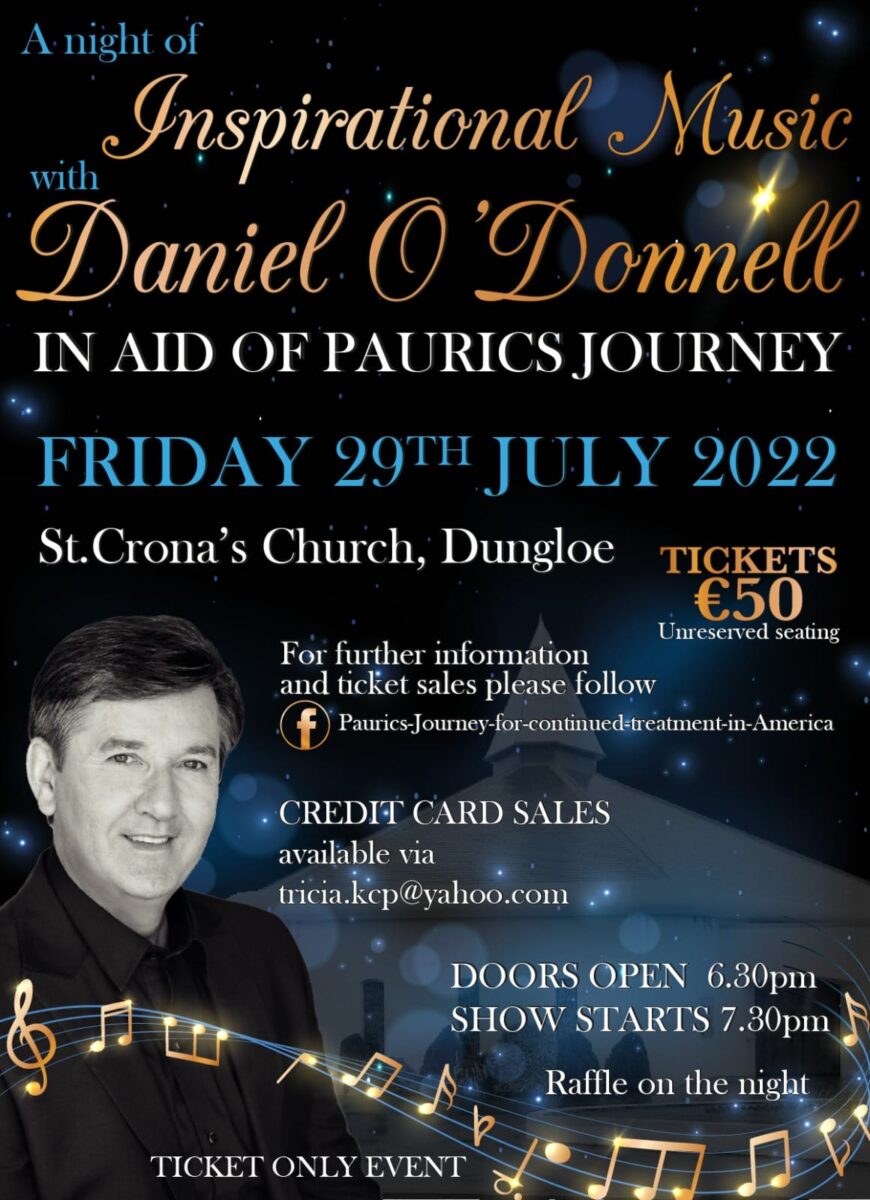 Daniel is currently holidaying in Tenerife, but he took time this week to promote his fundraising shows on RTE's Today Show. The two concerts are bringing Daniel back to where his musical journey started – singing in the Church. This June 9th he is teaming up with Linda Martin to perform at the Pro Cathedral in Dublin to raise funds for Peter McVerry Homeless Trust & Dogs Aid Animal Rescue.