Three local areas of Donegal currently have the lowest rates of Covid-19 in Ireland, new figures show.
Buncrana, Carndonagh and Glenties are all at the bottom of the table of rates per local electoral area this week.
Overall, county Donegal has Ireland's fifth lowest Covid-19 incidence rate from PCR-confirmed testing. The 14-day incidence rate in the county is now 150.1 per 100,000. There were 239 new cases of the virus officially recorded in Donegal in the past two weeks.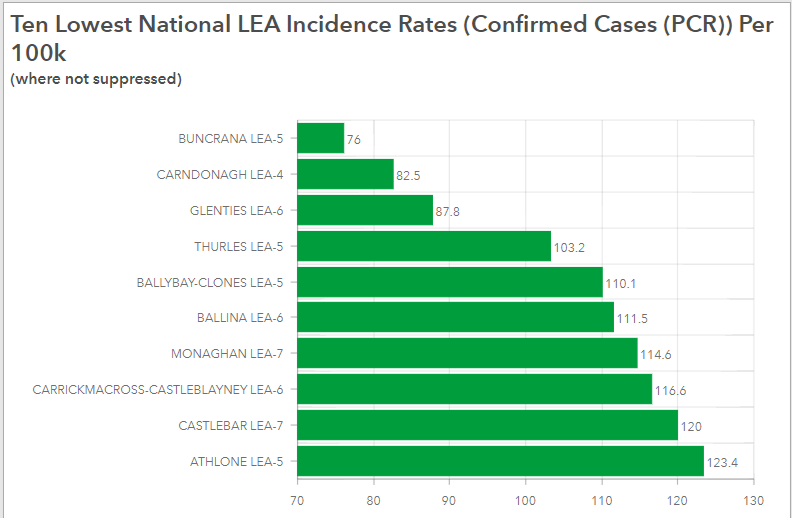 At a local level, the Buncrana electoral area continues to have Ireland's lowest Covid-19 rate, with 17 cases confirmed in the two weeks up to Monday 16th May. The incidence rate in the south Inishowen region is now 76 per 100,000.
The Carndonagh local electoral area incidence rate is the second lowest in Ireland at 82.5 per 100,000. Fourteen cases were confirmed in the past two weeks.
The Glenties area has the third lowest national rate at 87.8 per 100,000, with 21 new cases confirmed.
Milford and south Donegal recorded above-average rates this period. The national average rate, as of Monday, was 209.7 per 100,000. Milford recorded 41 new cases in the past fortnight.  Sixty-three new cases of Covid-19 were detected by PCR among locals in the Donegal area in the same period. The incidence rate is now 237.8 per 100,000.
The Lifford-Stranorlar incidence rate is 146.8 per 100,000, with 38 new cases.
The Letterkenny LEA rate has fallen to 157.8 per 100,000, with 47 new cases confirmed in the past fortnight up to Monday 2nd May.