Donegal suffered a late defeat in extra-time as Derry won their first Ulster Championship since 1998.
Derry 1-16 Donegal 1-14
It's been a tough couple of weeks for the Donegal teams, with the senior and women losing late on in extra-time and the minors losing on penalties in the semi-finals.
And today as another tough one to take for Donegal fans, with Derry going ahead to win in the second half of extra-time.
Derry went ahead in the first half with an early goal and had a three point lead, but an Odhran McFadden-Ferry goal early in the second half had the sides level at 1-6 apiece. Neither side could take advantage in the second half as both finished on 1-12.
Photography by Evan Logan
But Brendan Rogers and Conor Glass scored vital points from play to give Rory Gallagher's side a massive win.
In what was a cagey beginning to the game, both sides had a couple of wides early on, with Michael Murphy having both misses for Donegal, but the first score of the game was massive for Derry.
As Niall Toner made a quick manoeuvre to go in around the back of Odhran McFadden-Ferry, he squared the ball to Niall Loughlin and he feinted a shot, fooling the Donegal defenders, before hammering the ball into the net.
Shane O'Donnell replied quickly with a point for Donegal but Derry would go on to take a hold of the game.
Paul Cassidy got the first Derry point and it was quickly followed by a Shea Downey point and a Shane McGuigan free after a foul by McFadden-Ferry.
Peadar Mogan wasn't allowing his side to lose sight of Derry however, as he kicked his first of three fantastic scores, and kicked two in three minutes in between a Loughlin point.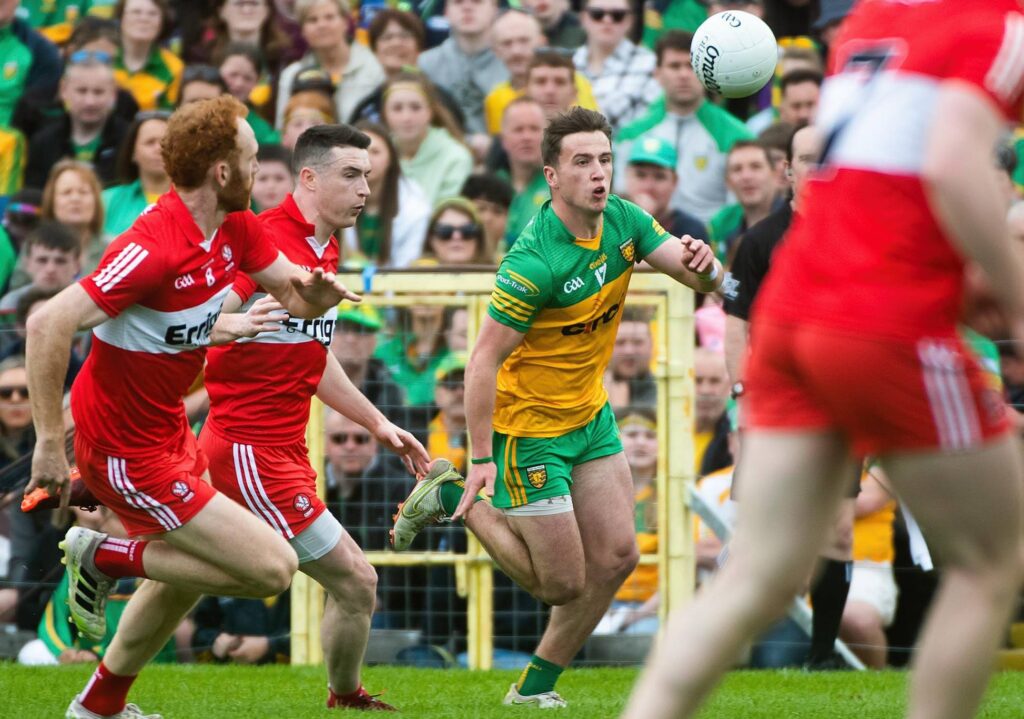 Mogan's second point saw a bit of momentum rise for Donegal as Murphy won the kick out and instantly pointed to make it 1-4 t 0-4 in Derry's favour.
Loughlin got his second point from a free that was debatably wide and Brendan Rogers made it a five point game with a good score out right.
But Mogan was again on hand to bring Donegal back into the contest while McBrearty pointed from a free and just before half-time, Donegal pointed again.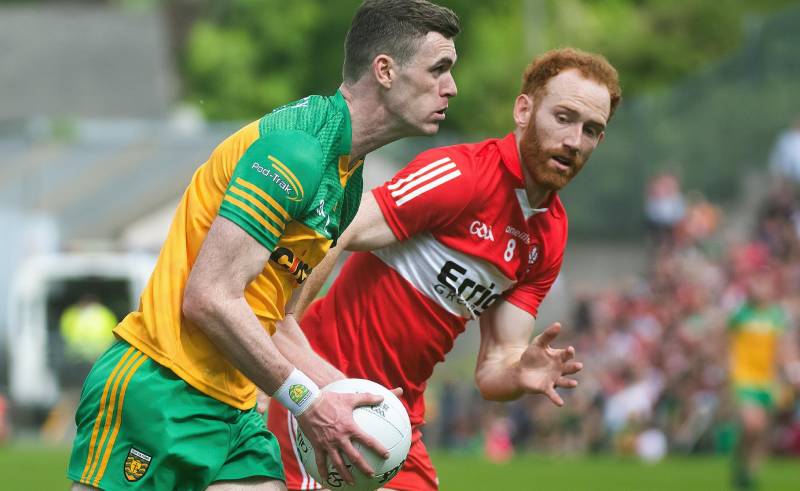 A Caolan Ward attempt dropped short, but Odhran Lynch could only punch the ball away to Michael Langan and the St. Michael's man opted for the safe point when there was a goal chance on, concluding the first half at 1-6 to 0-6.
Once again, the first score of the half came in the form of a goal, but this time it was for Donegal.
Langan and Stephen McMenamin played a 1-2 and the former's strike at goal was parried by Lynch but McFadden-Ferry was on hand to fire the ball into the net.
Rogers got his second point of the game as he turned in on his right foot and pointed but Donegal soon replied.
Langan found Jason McGee who smartly took a point to level.
Ryan McHugh then scored a point when McFadden-Ferry won the ball back to have Donegal in the lead for the first time in the game. It was also the first time this year in the Ulster Championship that Derry had gone behind.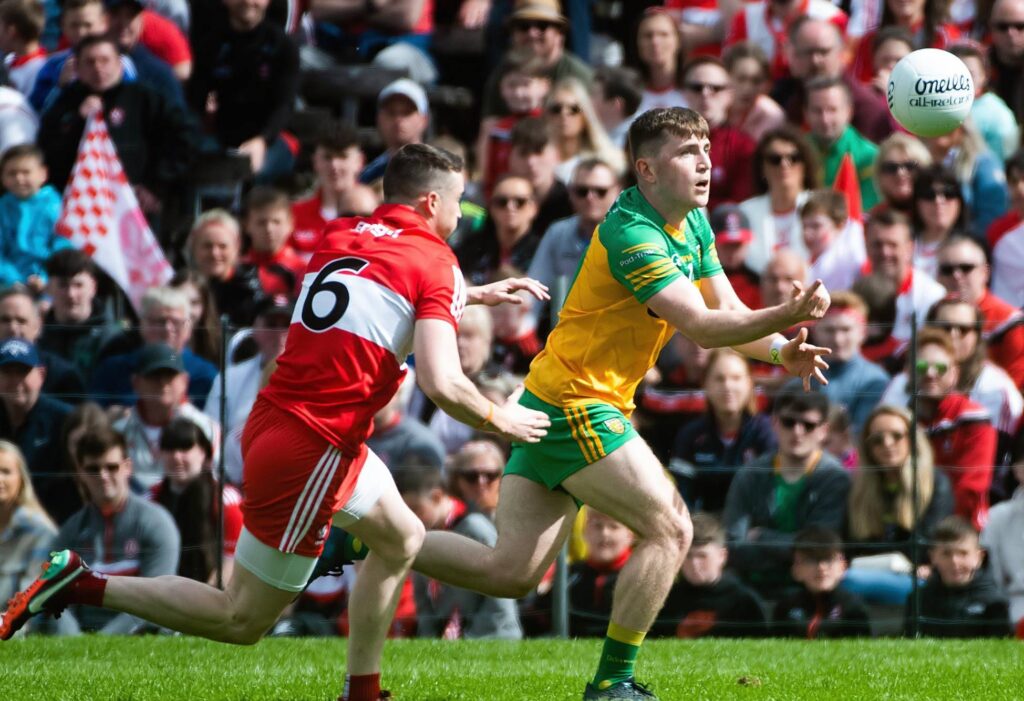 Shane O'Donnell had Donegal two points ahead for a short spell until a McGuigan free and a Conor Doherty point levelled the game up after 50 minutes at 1-9 each.
Patrick McBrearty scored his second free of the game but again McGuigan replied, this time from play.
Murphy and McGuigan traded scores, with the latter being a free, and Jason McGee had Donegal ahead again in a very back and forth match.
Another McGuigan free levelled for Derry with 10 minutes remaining and it would be the last score of normal time as the game finished 1-12 apiece.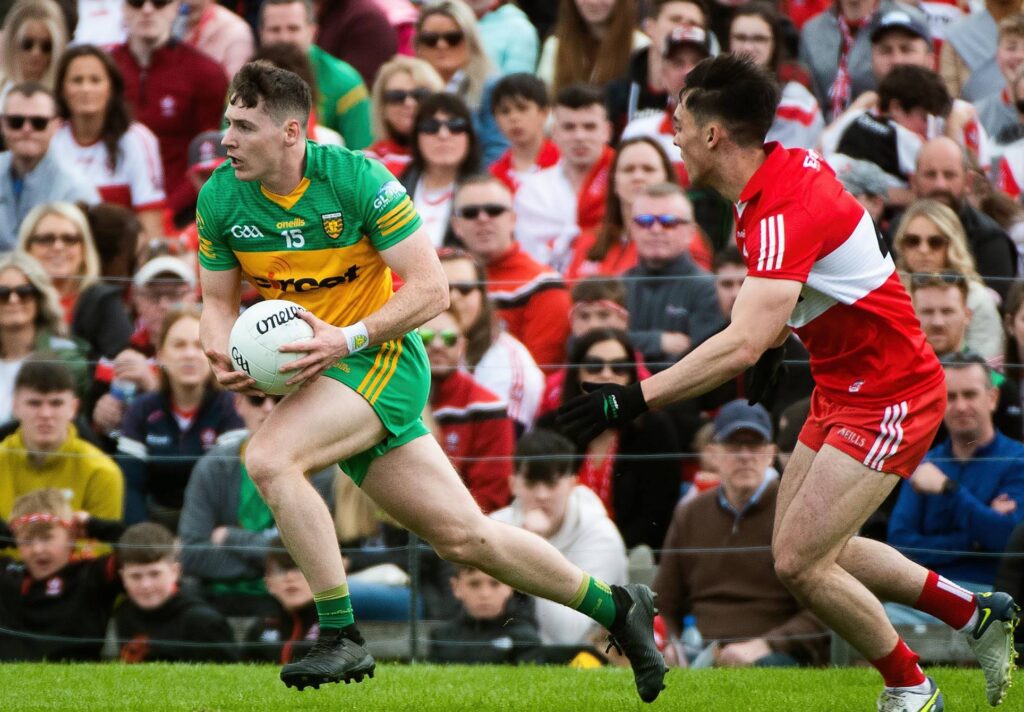 A cagey affair in extra-time saw just one point each with Aaron Doherty claimed a mark, and the Naomh Columba man converted.
But substitute Emmett Bradley levelled the game once again minutes later at 1-13 each.
Derry won the throw-in in the second half and were patient in their build-up. A  fine save by Shaun Patton was brought back for a foul and again, McGuigan converted.
Rogers gave Derry a huge boost with a two point lead as the game looked all but over with three minutes remaining.
But a Ciaran Thompson point had Donegal back within a point but McBrearty wasted Donegal's last chance as Derry got possession back and Conor Glass scored the final point of the game.
Donegal looked for a goal and a free just outside the square gave them hope but Murphy's attempt was blocked on the line by a sea of red and white as Derry won their first Ulster Championship for 24 years.
Donegal: Shaun Patton; Caolan Ward, Brendan McCole, Stephen McMenamin, Ryan McHugh (0-1), Eoghan Ban Gallagher, Odhran McFadden-Ferry (1-0), Caolan McGonagle, Jason McGee (0-1), Peadar Mogan (0-3), Shane O'Donnell (0-2), Michael Langan (0-1), Patrick McBrearty (0-2f), Michael Murphy (0-2), Jamie Brennan.
Subs: Conor O'Donnell for Brennan (58 mins), Aaron Doherty (0-1) for McFadden-Ferry (63 mins), Niall O'Donnell for Shane O'Donnell, Hugh McFadden for McGee (70 mins), Ciaran Thompson (0-1) for McGonagle (81 mins), Ethan O'Donnell and Paul Brennan for Mogan and Langan (80 mins)
Derry: Odhran Lynch; Christopher McKaigue, Brendan Rogers (0-3), Conor McCloskey, Conor Doherty (0-1), Gareth McKinless, Padraig McGrogan, Conor Glass (0-1), Niall Toner, Paul Cassidy (0-1), Shea Downey (0-1), Ethan Doherty, Benny Heron, Shane McGuigan (0-6,5f), Niall Loughlin (1-2,1f).
Subs: Emmett Bradley  (0-1) for Loughlin (47 mins), Ben McCarron for Toner (68 mins), Paul McNeill for Downey (72 mins), Oisin McWilliams for Ethan Doherty (87 mins)