The Department of Computing at Atlantic Technological University (ATU) Donegal is delighted to welcome back the popular on-campus Computing Summer Camps.
The camps have been entirely virtual for the past two years, however, this year, the Computing Camps will be taking place both online and off-campus during June.
The camps are open to young people aged between 12 and 17 years and is open to anyone keen to learn more about computing discipline.
There is no cost to attend this year's camps, the aim is to improve the skills and knowledge of secondary school students in the field of computing.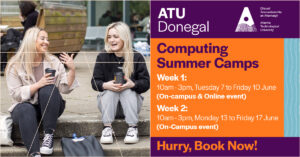 Thomas Dowling, Head of Department of Computing, said: "Engaging students at secondary school level is an important focus of the Department of Computing at ATU Donegal.
"The Computing Summer Camps have provided participants with an introduction into disciplines such as web design, networking and virtual reality."
He said that the camps also "provide second level students with a fun and engaging way to enjoy computing."
If you are interested in learning more about python and turtle graphics; web design with WordPress; wearable technologies and virtual reality or how to make a mobile app, then be sure to register to attend the Computing Summer Camps.
Two Computing Summer Camps will take place in June:
Week 1: 10am-3pm, Tuesday 7th to Friday 10th June                                                                                                               (On-campus and online event)                                                                                                                                                       Pre-register your attendance either online or on-campus using this link:                                                                                https://www.eventbrite.co.uk/e/344799954947
Week 2: 10am-3pm, Monday 13th June to Friday 17th June                                                                                                             (On-campus event only)                                                                                                                                                                          Pre-register your attendance to the on-campus camps here:                                                                                                          https://www.eventbrite.co.uk/e/344819403117
To find out more about the ATU Donegal Computing Summer Camps, visit: https://www.eventbrite.co.uk/e/344819403117