Sponsored Post
What's New @ATU Donegal – Special Needs Assistance Degree, CAO Spotlight
The Department of Early Education & Social Studies at ATU Donegal has an excellent reputation for delivering higher certificate and degree programmes in early years education and health and social care for many years.  
The department recently introduced an exciting new CAO programme for September 2022 entry. This programme is now available to choose on the CAO 'Change of Mind' platform.
BSc Inclusive Practice in Special Needs Assistance (CAO Code: LY007)
BSc Inclusive Practice for Special Needs Assistance – CAO Code: LY007
The new level 7, three-year bachelor degree in Inclusive Practice for Special Needs Assistance will equip graduates to be able to work effectively in contemporary educational contexts and will qualify graduates to work in primary and post-primary settings as SNAs with specialisms in Inclusive Practice.

This innovative programme is further designed to enable SNAs across primary and post-primary sectors to integrate Inclusive Practice into their working environments.

Competencies in areas such as inclusive practice are becoming increasingly important for schools to maintain a content and productive environment. This programme equips graduates to lead, integrate and promote inclusive practice as part of their SNA duties. Working in the education sector is an important job which comes with significant responsibilities. Learners on this course, will become part of increasingly multi skilled teams in the workplace.
This exciting new CAO programme is now available on the CAO 'Change of Mind' platform, find out further programme detail here: https://www.lyit.ie/CourseDetails/D202/ATU_LK_1002/InclusivePracticeforSpecialNeedsAssistance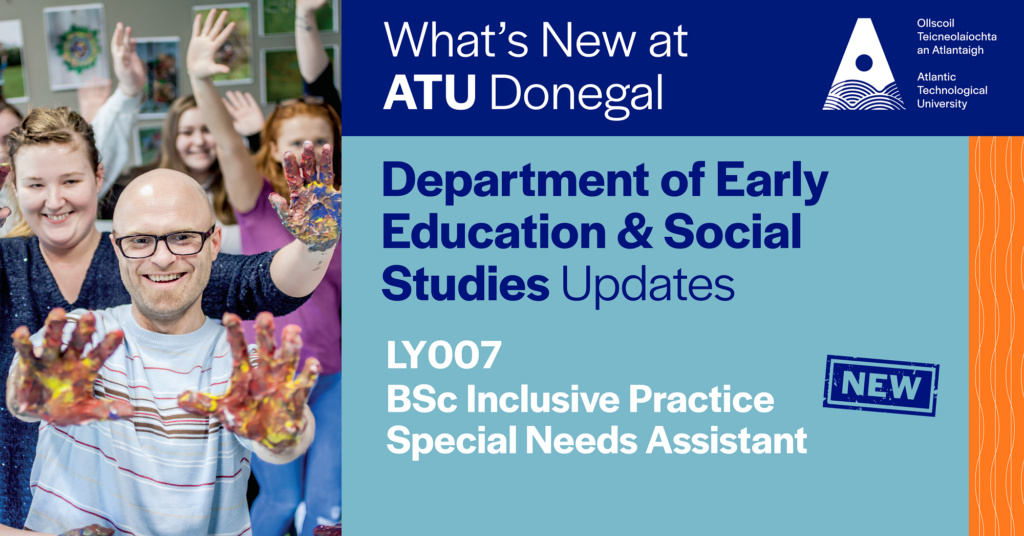 If you are interested in applying to the CAO programme above visit www.cao.ie 
To find out further programme information or to book a campus tour of ATU Donegal, email the ATU Donegal Student Recruitment Team on lauren.reynolds@lyit.ie or fiona.kelly@lyit.ie 
Tags: