Sponsored Post
What's New @ATU Donegal – CyberPsychology Degree, CAO Spotlight
The Department of Computing at ATU Donegal has been delivering innovative, cutting edge full-time, part-time and postgraduate programmes at the Letterkenny campus for over two decades. 
The department recently introduced a 'one-of-a-kind' honours degree programme to the CAO undergraduate market in a growing field – CyberPsychology. This four-year level 8 honours degree is a multidisciplinary qualification across computing and psychology which is applicable to a wide range of organisations and systems.
This programme is now available to choose on the CAO 'Change of Mind' platform.
BSc (Hons) in CyberPsychology (CAO Code: LY758)
If you enjoy technology and want to examine and prioritise the human factors in the development of our online and digital environments this course could be for you.
BSc (Hons) in CyberPsychology – CAO Code: LY758
The new level 8, four-year honours degree in CyberPsychology will be of particular interest to students who wish to develop psychological insights into human interactions with digital technologies, and to learn to apply this knowledge in a wide variety of sectors that deal with the human computer interface point.
Graduates from this programme will become part of increasingly multi skilled teams that design, deliver and regulate all manner of software and hardware solutions for humans. ATU Donegal will equip our graduates to be able to work effectively in contemporary workflow settings and to do so in an effective and ethical manner.
This exciting new CAO programme is now available on the CAO 'Change of Mind' platform, find out further programme detail here: https://www.lyit.ie/CourseDetails/D303/NC2081/BScHonsinCyberpsychology 
If you are interested in applying to the CAO programme above visit www.cao.ie 
To find out further programme information or to book a campus tour of ATU Donegal, email the ATU Donegal Student Recruitment Team on lauren.reynolds@lyit.ie or fiona.kelly@lyit.ie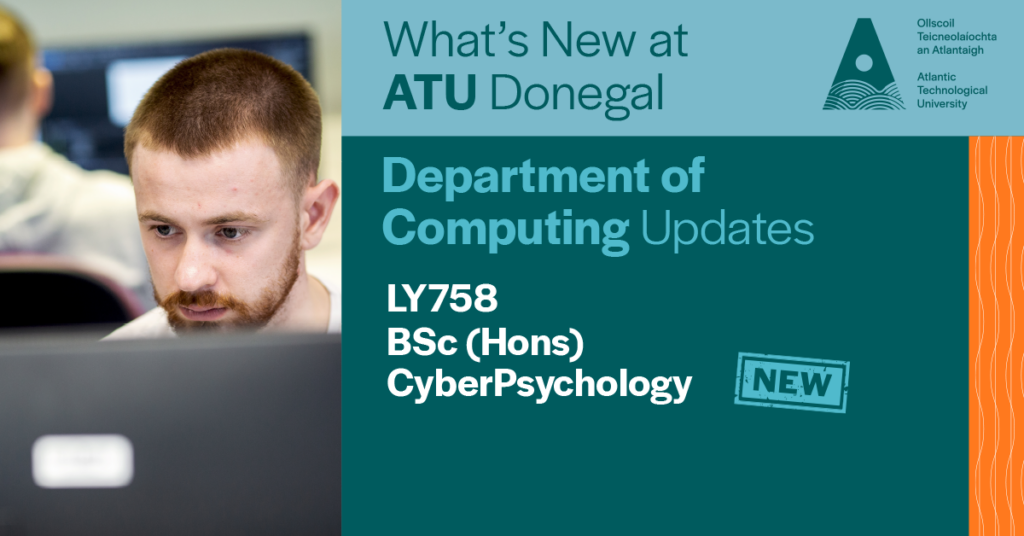 Tags: