Sponsored Post
The Department of Electronic and Mechanical Engineering at ATU Donegal is pleased to announce the launch of an innovative new degree programme in Electric Vehicle Engineering. This programme had previously been available as a level 6 higher certificate programme and due to demand the programme was re-purposed to become a bachelor degree.
The new degree programme has been designed to allow graduates to work in the rapidly expanding industry – Electric Vehicle Engineering.
This programme is now available to choose on the CAO 'Change of Mind' platform.
BEng in Electric Vehicle Engineering (CAO Code: LY637)
Hyundai, who are major players in the roll-out of Electric Vehicles are supporting partners of this unique and innovative degree programme at ATU Donegal. 
BEng in Electric Vehicle Engineering – CAO Code: LY637
The new level 7, three-year degree in Electric Vehicle Engineering will cover technology associated with a wide range of vehicles, including: cars, public transport vehicles, goods vehicles, and specialist industrial vehicles.
Course content includes modules focused specifically on the technical aspects of the electric vehicle from system operation and safe working to advanced diagnosis. The programme will be complemented with further modules in Electrical and Mechanical principles to broaden the understanding and ensure that Fundamental Engineering content is at the core of the course. The degree programme will also include a third-year automotive design and build project – a unique aspect of the programme.
This exciting new CAO programme is now available on the CAO 'Change of Mind' platform, find out further programme detail here: https://www.lyit.ie/CourseDetails/D301/ATU_DL_1001/ElectricVehicleEngineering 
If you are interested in applying to the CAO programme above visit www.cao.ie 
To find out further programme information or to book a campus tour of ATU Donegal, email the ATU Donegal Student Recruitment Team on lauren.reynolds@lyit.ie or fiona.kelly@lyit.ie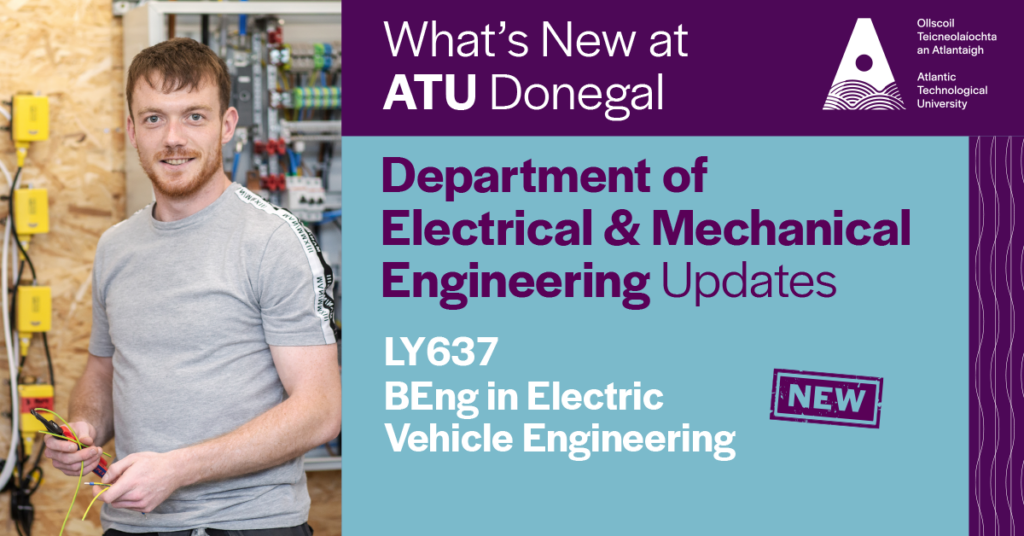 Tags: