Anybody in Co Donegal whose property has been affected by defective concrete blocks are to be given the opportunity to have a legal appointment to discuss their case – completely FREE of charge.
Legal firm, Coleman LLP, are to hold a two day appointments seminar in Inishowen next week to discuss the issues facing thousands of families across the county.
The legal case is being funded by two Donegal businessmen Sean Hegarty and Adrian Sheridan.
A number of members of the Coleman legal team will be available for individual consultations at the Inishowen Gateway Hotel in Buncrana, on June 15th and 16th next.
It is important that those interested in speaking about their individual situations and their legal entitlements make an appoint with Coleman LLP.
This can be done by emailing defectiveblocks@colemanlegal.ie or phoning Sumedhaa on 01 531 3800.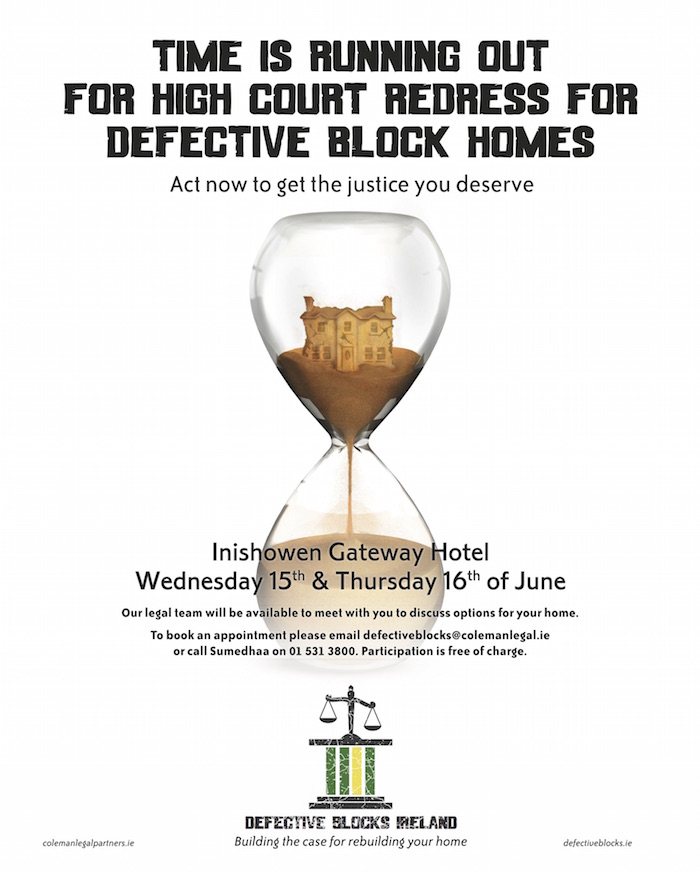 The company is currently taking a 'Deleterious Products' case against the National Standards Authority of Ireland, a Buncrana quarry and Donegal County Council.
There are already 200 clients signed up with Coleman to take cases on their behalf.
Owner of Coleman Legal, Mr David Coleman stressed that the cases are being taken on a not-for-profit basis.
At present there are a total of six 'pathfinder' cases including the group's first case, Inishowen couple William and Grainne Doherty.
It is these lead cases which will hold the majority of legal costs but anybody affected by MICA are being actively encouraged to join the group and take cases.
Mr Coleman said he would ask anybody who found themselves with defective blocks in their property to come along to either of the two day appointments sessions and to speak with a legal adviser.
He said inaction on the issue by individuals is the biggest danger people face saying people will be left with a financial shortfall between the grant and the cost of a rebuild in the vast majority of cases.
ALL questions on your individual situation and how to proceed with your case will be answered by a member of the Coleman legal team once an appointment time is booked.
To make your appointment for next week email defectiveblocks@colemanlegal.ie or phoning Sumedhaa now on 01 531 3800.