'Sweep, I thought I won the sweep!', a term only rally fraternity would appreciate.
It's the run up to the Donegal International and the one and only DC (the late Danny Caddye) lands into the garage: "I see you're not doing the rally this year, Hughie."
Hugh Tinney was the local Mazda dealer for Donegal at the time.
"That's right Danny, we were a bit tied up work wise, the car is ready to go but I thought we would give it a miss this year."
Rolling up the sleeves as Danny Caddye would always do, he asked Hugh a question: "Would you be interested in giving us a hand in the rally?"
"If I can help I will," Tinney replied, "What do you want me to do?"
"I want you to sweep," Caddye said.
Of all the years Hugh Tinney had done the Donegal Rally this was up there with the best, simply because before DC landed into Hughie's garage in the run up to the rally, Tinney was only going to spectate that year.
"We had a very special purpose built four wheel drive Mazda 323 that year and it was the fastest rally car I ever had.
"My son Barry and I ran as one of the 00's that year and it was very memorable, running a minute ahead of all the crews."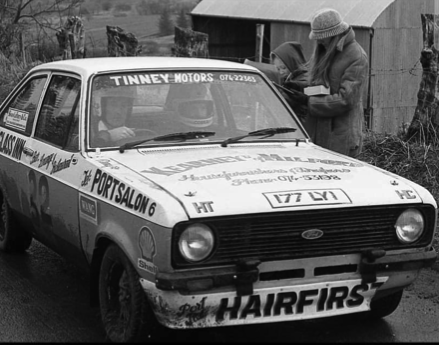 Thousands of teams
If you multiply 50 (the years)  by say 150  (the average entry) you get 7,500. That's a good starting point to give an idea of how many different sets of teams and their stories of them taking part in a half a century of the Donegal International Rally.
Donegal Club Members like Hugh Tinney are just one of the local teams that make up the history of the Donegal International Rally.
Machinery
It would be nearly to tell which rally cars Hugh Tinney didn't compete with during the Donegal Rally over the years because he has driven so many over his career.
Hugh teamed up with his wife Patricia, competing in a few navigation rallies before they got married and before the International Rally arrived.
One of his first cars was a Mk1 Ford Cortina, which Hugh and Patricia first plotted their early rallying days.
Hugh rallied a circuit racing Anglia on early events, which originally belonged to Robert Ward.
It had the bubble arches and twin forty carburettors and he recalls a rally man and garage owner for Strabane by the name of Johnny Crossle, who has competing in that same early rally, remarking on how sweet that engine sounded in that early Ford.
It's been a good few years since Hugh competed in the Donegal Rally and is more likely to be seen on the famous Knockalla Stage on a Raleigh bicycle than a rally car these days.
While talking to Hugh, it wasn't long before he was reliving the rallies and the drivers over the years.
Ari Vatenan would be one of the top international drivers that stands out in Hugh's memory and recalls watching the 'Flying Finn' on Knockalla, when the ran the opposite way down the hill climb section.
Seeing Vatenan on the left hand side driving, taking both sides of the road was amazing.
He admired the Rosses man Vincent Bonnar days in the big Opels, and was a big fan of Billy Coleman in the early days when he first landed in Donegal in the now famous tatty Mk1 Ford Escort TIU 250.
Hugh himself rallied escorts Mk1 and Mk2 1300 and 1600 and maybe even a 1500, all cross flow Fords.
Burton heads and high lift camshafts were a good way of getting more power out of these power plants and a limited slip differential (LSD) to spread the power on to both rear wheels and an Escort was ready for the road.
Motor trade
Hugh was a mechanic by trade, serving his time as an apprentice mechanic in McClean and McLaughlin's  Main VW dealership at the time, rising to the position of foreman in the 14 years he worked on the Port Road.
Hugh started his own garage business when he rented a small garage at the back of the Market Square from car electrical technician, the late Ted Cox.
Hugh expanded his business when he made the move out to the Glebe, just off the Ramelton Road, where he also now resides, and built his own garage to meet his needs.
On the rally scene, it was a Mk2 Escort that Hugh competed in along with long time navigator Hugh Carron.
Businesses like the Ard Glass Inn and Hair First and with Hugh's own business Tinney Motors on the team, old sun visors were all familiar on his Escort.
Hugh recalls the days when signage was painted by hand with one shot paint by local artists and sign-writer John Baird, and in the run up to the rally, you would see him with a seat down in the garage pit, to give him just the right height as he painted sponsors' names onto the front spoiler of the car.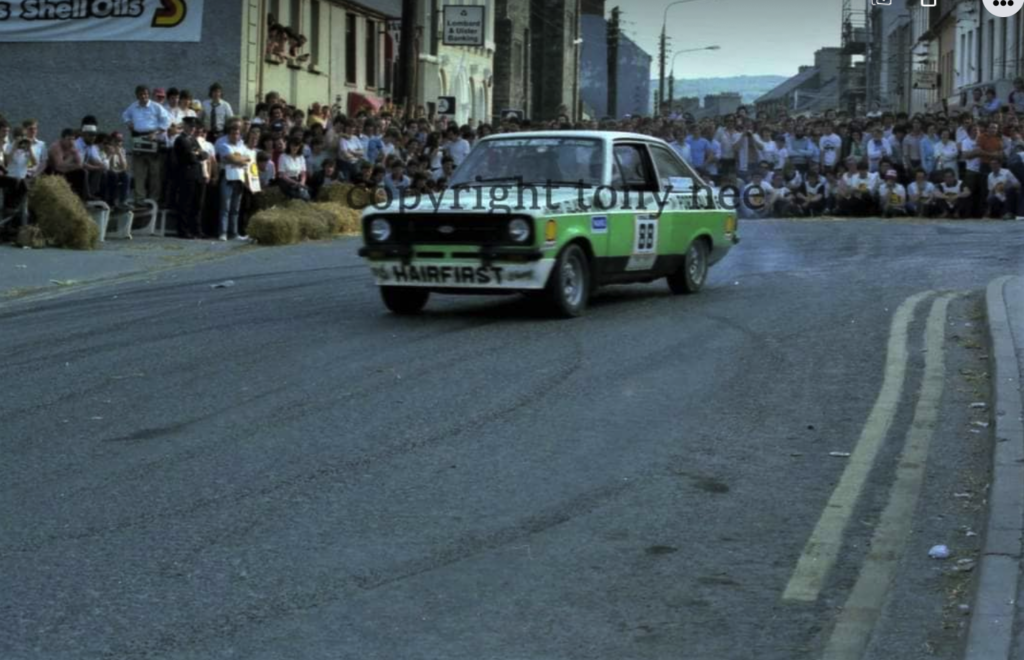 Kelly's Carpet
Back in the days when Multi Winner of the event, Brian Nelson, was promoting Tuca Carpet Tiles, Hugh recalls getting sponsorship from Kelly's Mills from the late AD Kelly to promote the addition of carpet in their shop at the Corn Market at Lower Main Street.
Hugh moved from a Ford to a Sunbeam, which he bought from Roy Baldrick. The difference in the Ford, which had leaf springs in the rear, compared to the Sunbeam, which had coil springs that made it better to push on in and was less giddy than the Ford.
Hugh enjoyed a good few years in the Sunbeam before getting his first 2 wheel drive Mazda 323.
Then he heard of a four wheel drive rally prepared 323 for sale in Scotland.
Himself and his son Barry went over, looked and bought the car along with a load of spares.
Hugh and Dominic Rob, who worked in Hughie's Mazda dealership, which now had moved to the Port Road, went in search of the problem which was sorted by a fuel pump the swapped from a road going 323.
Hugh went for spin out the road and could not believe how much power this wee Mazda was pumping out.
Along with sweeping on the Donegal, Hugh's son Barry drove the Mazda in a couple of events as Hugh decided to  retire from the motor trade, where he started on the Port Road all those years ago.
Hugh most recent trip in a rally car was organised by his son Barry and Rory Kennedy, where they got Hugh strapped into Garry Jennings' Subaru to go testing for a day.
"Even though I have driven for all of my rallying years, I had no bother sitting on with the double Donegal winner as Fermanagh's Garry Jennings put the WRC Subaru through its paces," Hugh recalls with a smile.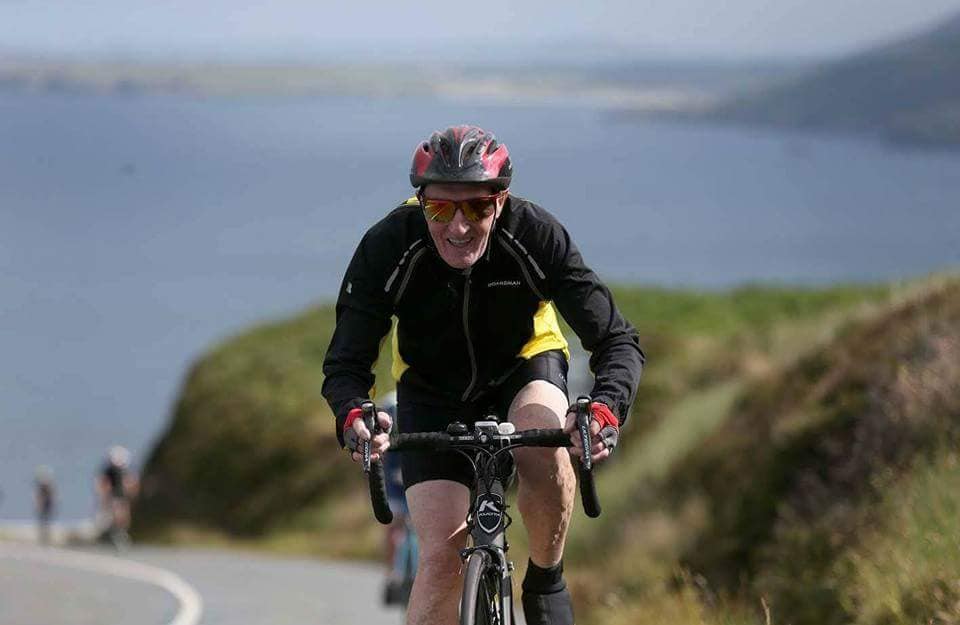 Driving gloves
Mazdas, Vauxhall, Frienza, Cortina, Anglia, Escorts, Sunbeams, Hugh rallied them all.
Hugh wears different driving gloves now.
Just a few weeks ago, he signed up this year again for membership in Barn Hill, his local golf club, where once his trophy cabinets were full of rally awards in his sitting room, there are more likely to be golfing achievements, two holes in one over the years are just some of his achievements on the green.
Hugh will be out on the stages for the Donegal Rally over the next weekend as a very proud octogenarian and, every so often, the sound of a rally car at full tilt will pull at a wee rallying heart string, making Hugh want to be back behind the wheel again.
Happy Motoring Folks!