A heartbroken mother has pleaded for the public's help in finding a cross and chain given to her son by his late father.
Rosaleen McShane issued the plea after son Eamon lost it while playing football at the weekend on Arranmore Island last Saturday.
Rosaleen revealed "As he left the dressing room he was told to take off the chain for safety reasons which he did and put it in his bag but for one reason or another it seems to have got mislaid.
"As a last resort I am hoping that it can be found with the power of social media.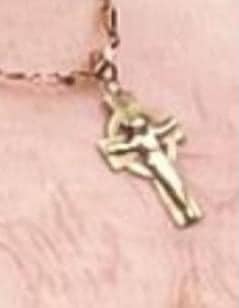 "It's off great sentimental value to Eamon as it was a gift given to his late dad from me and the children. When his dad passed away 13 years ago I gave it to Eamon and as you can see in the photos of his dad in the post he always wore it with great pride and faith."
Rosaleen added that the family are 'devastated' by the loss of the cross and chain.
She said "So to say we are all devastated is an understatement. Please asking everyone to share the post in the hope that we could be lucky and by making people aware and with the help of St. Anthony whose Feast Day is Monday that it will be found. Thank you all in advance."