There was a huge turnout of nearly 300 people at yesterday evening's St. Eunan's National School Raphoe 5k.
Martin Devenney of Letterkenny AC was the first participant home in a time of 17:49, six seconds ahead of Rosses AC's Paul McKelvey, while Karol Doherty was third in 18:25.
Lifford-Strabane AC's Linda McGrath was the first woman past the finish line in a time of 19:03. Annie Gallagher was next in 19:44 with Dympna Houston third in 21:15.
Joe Boland of North West Newspix captured some shots of those who took part with results below.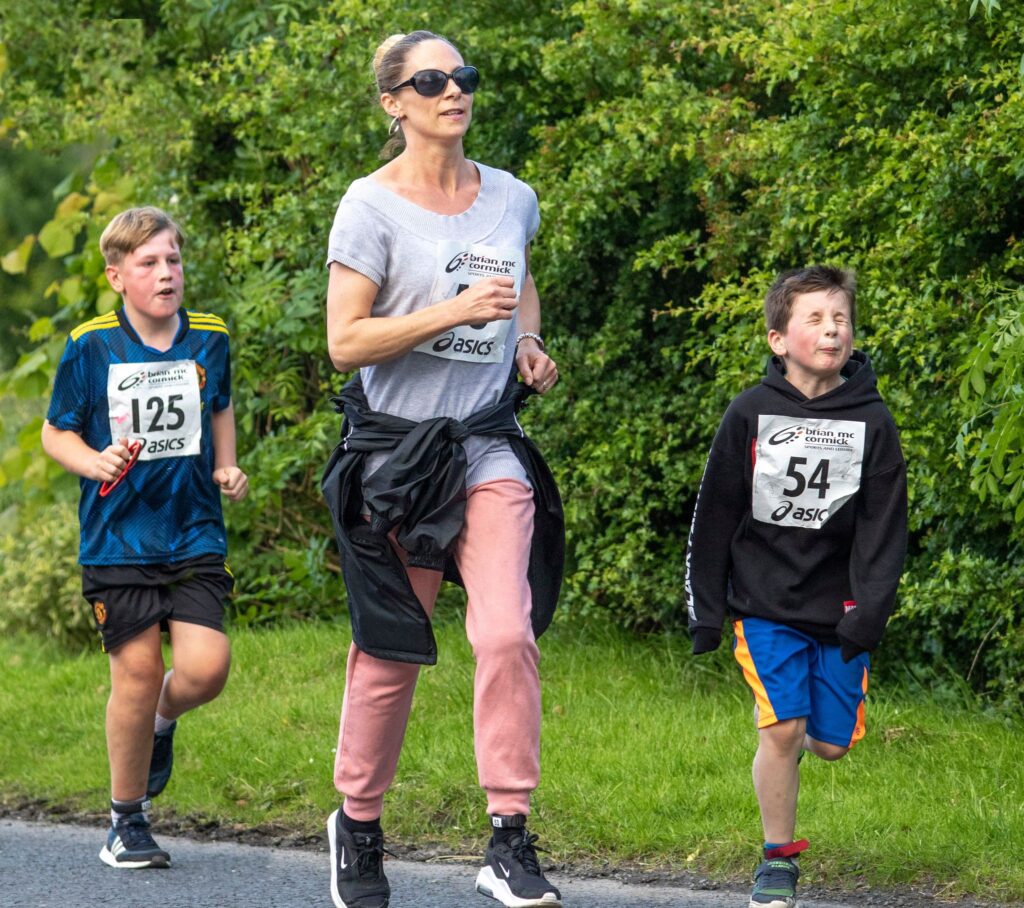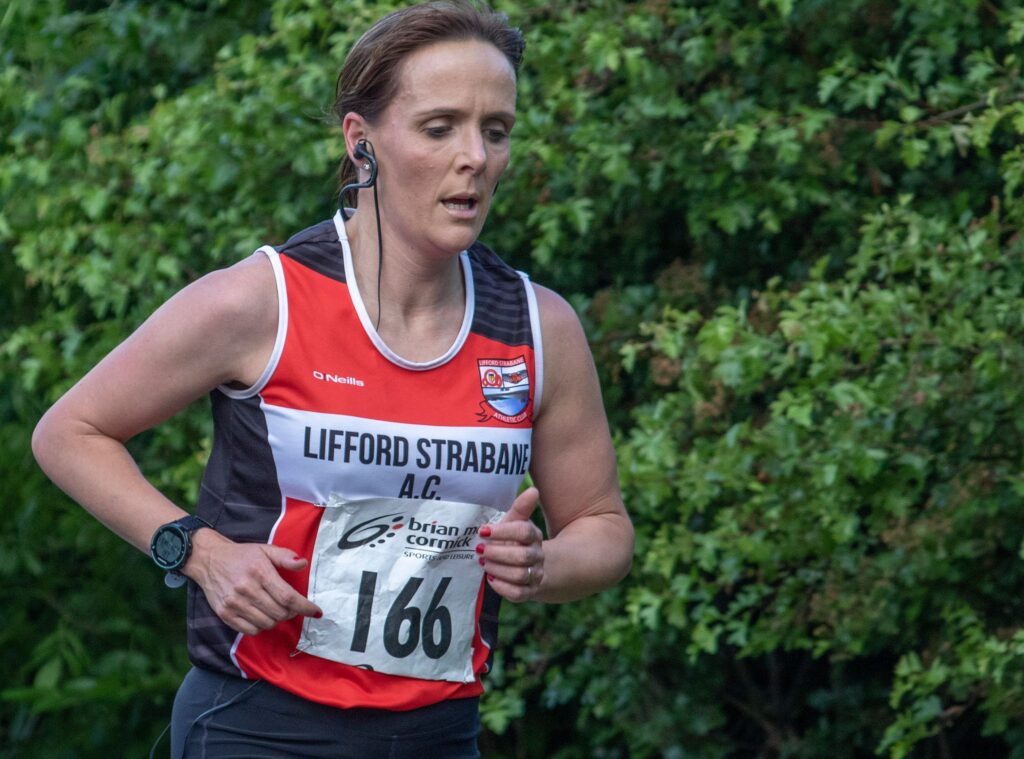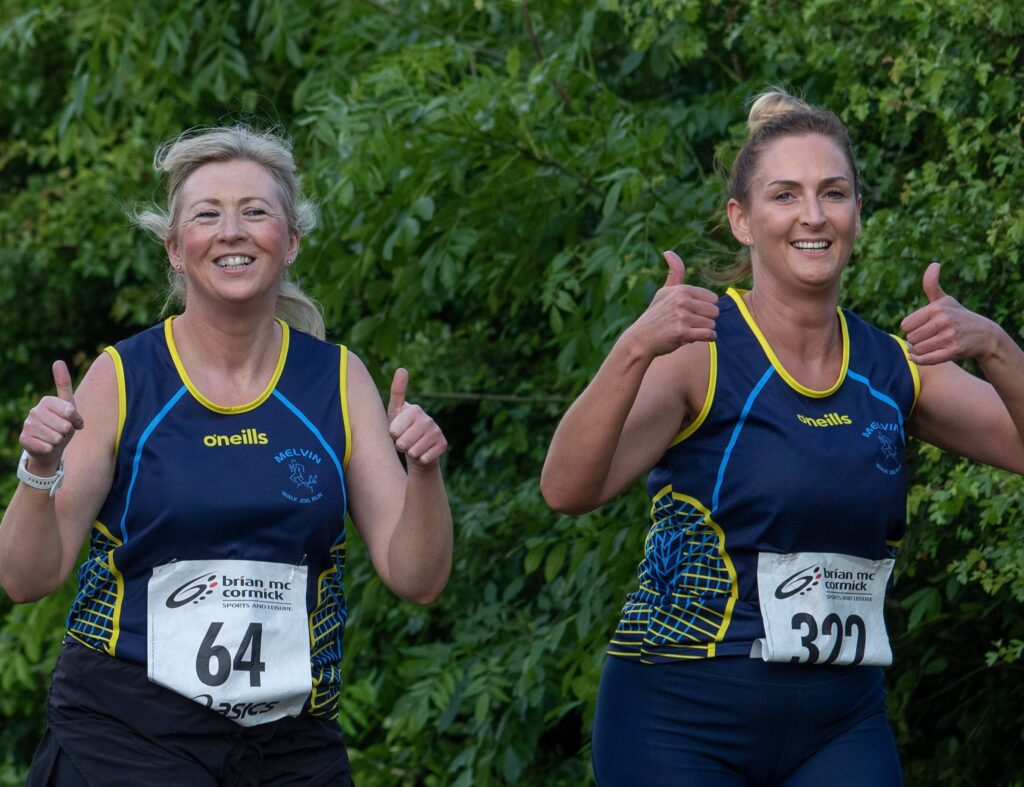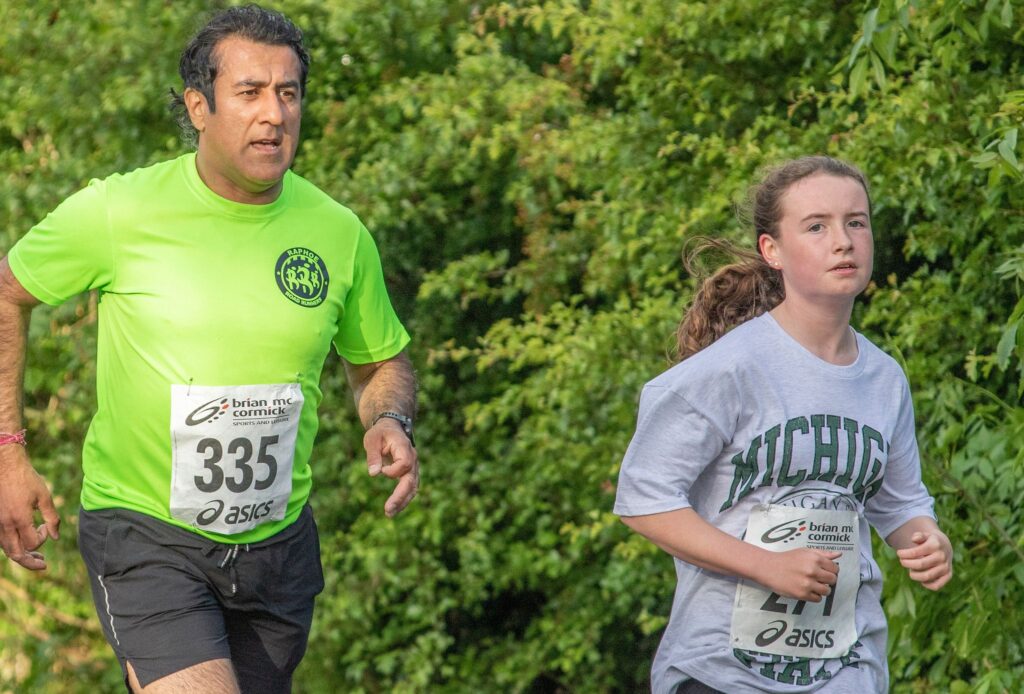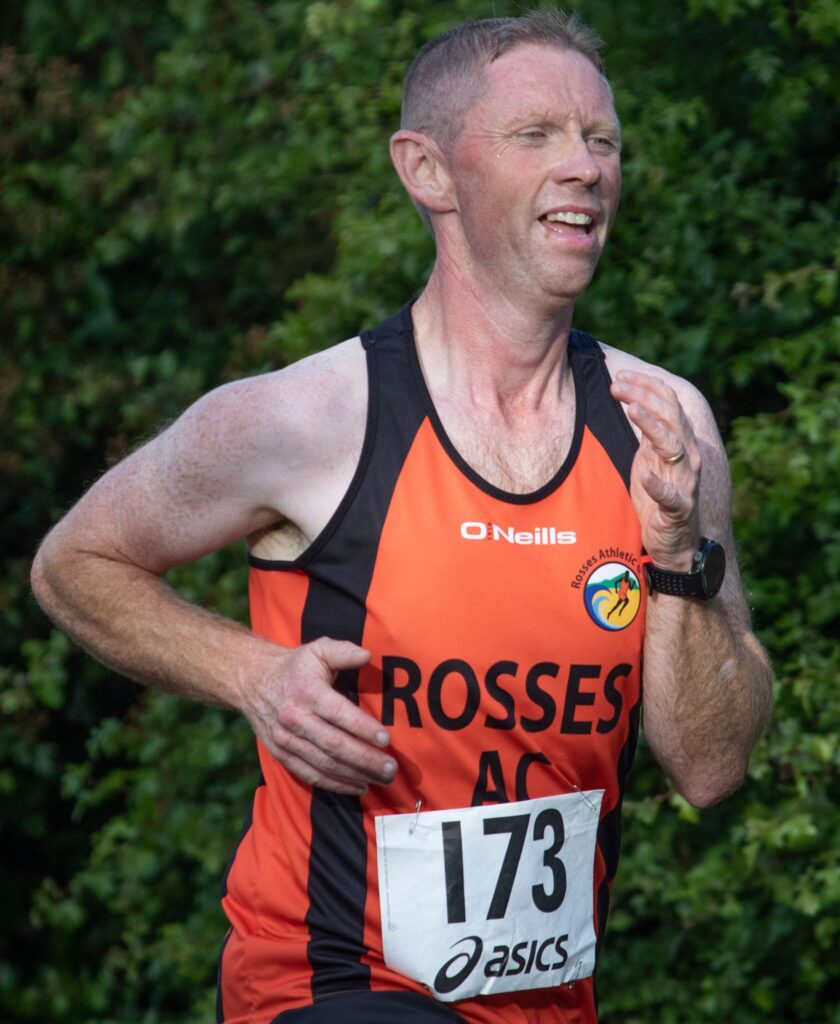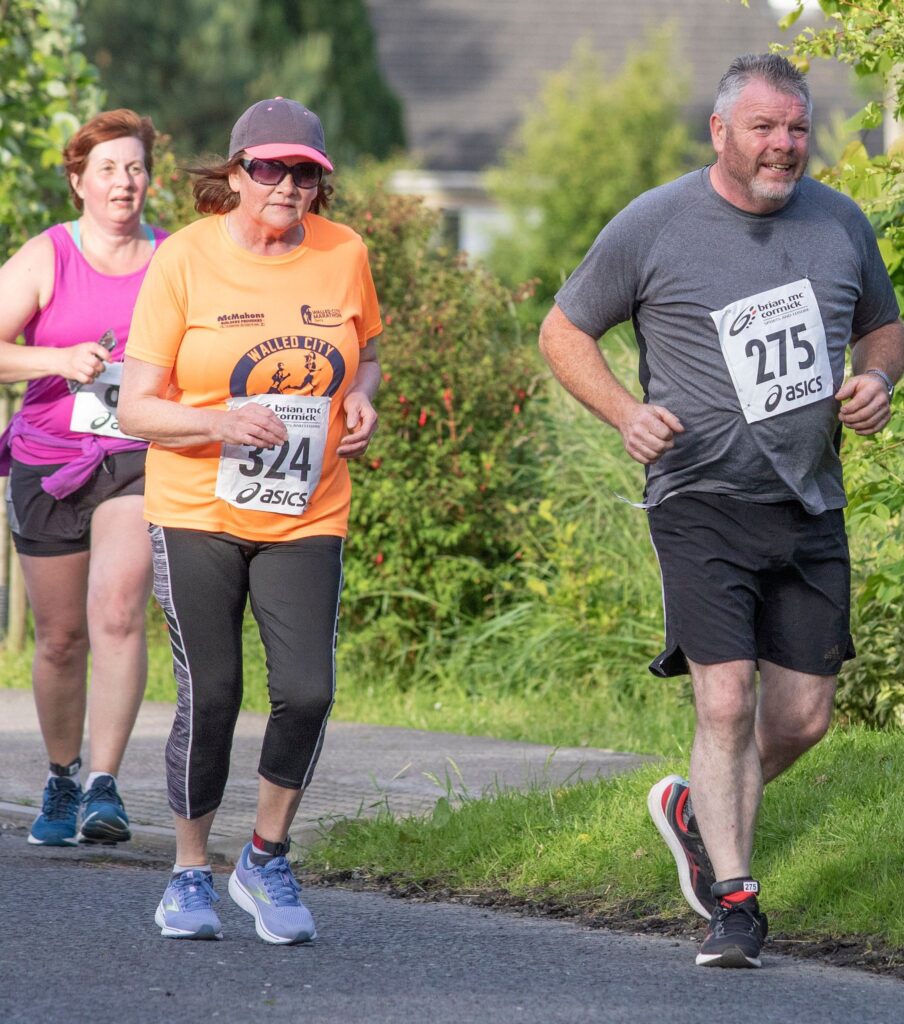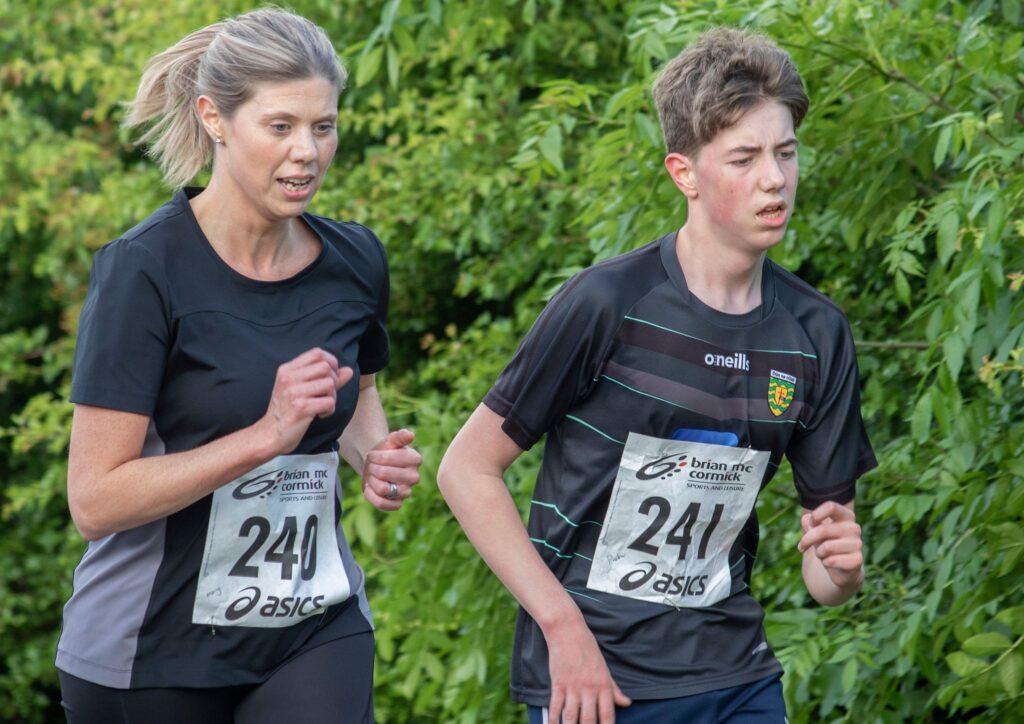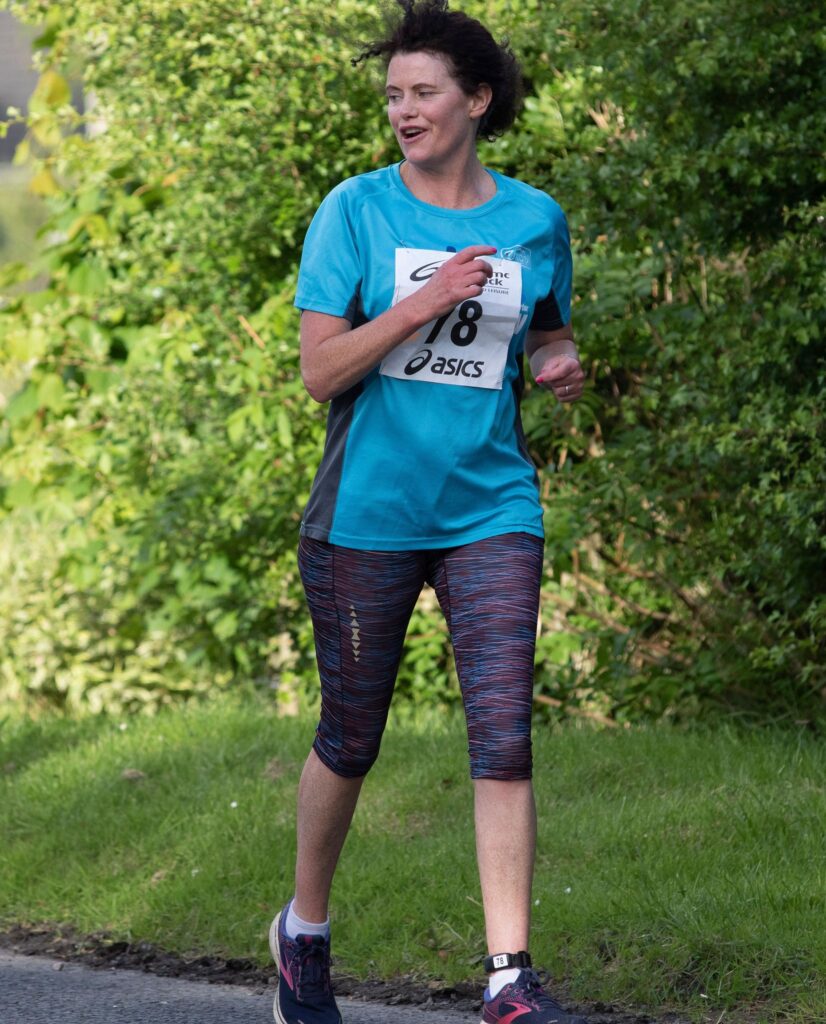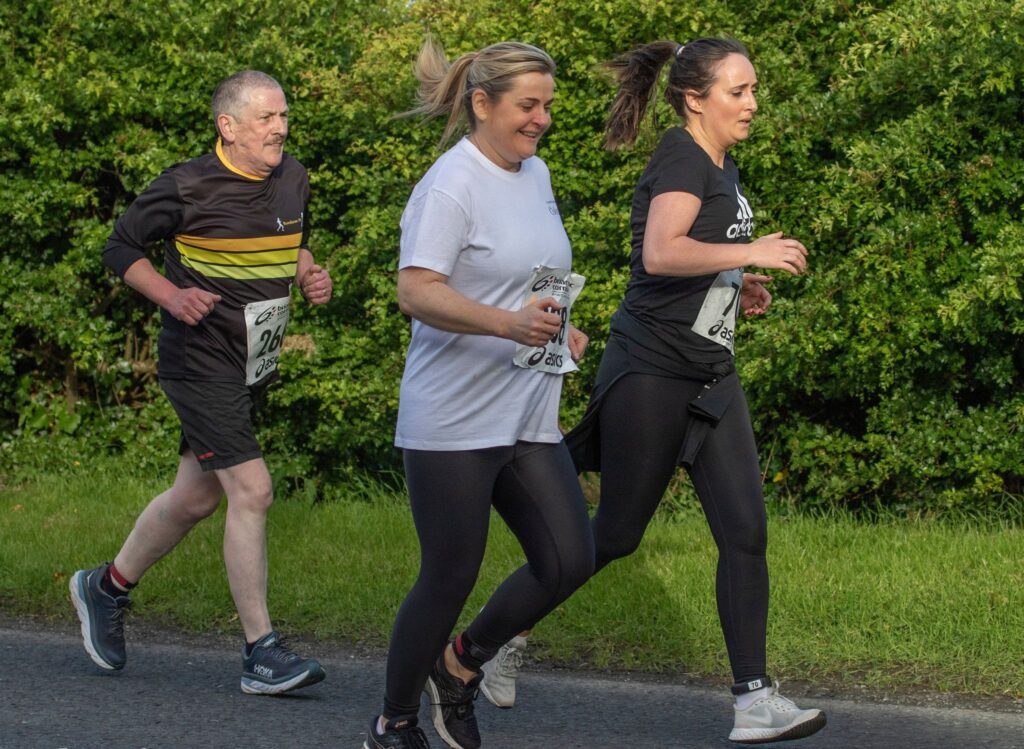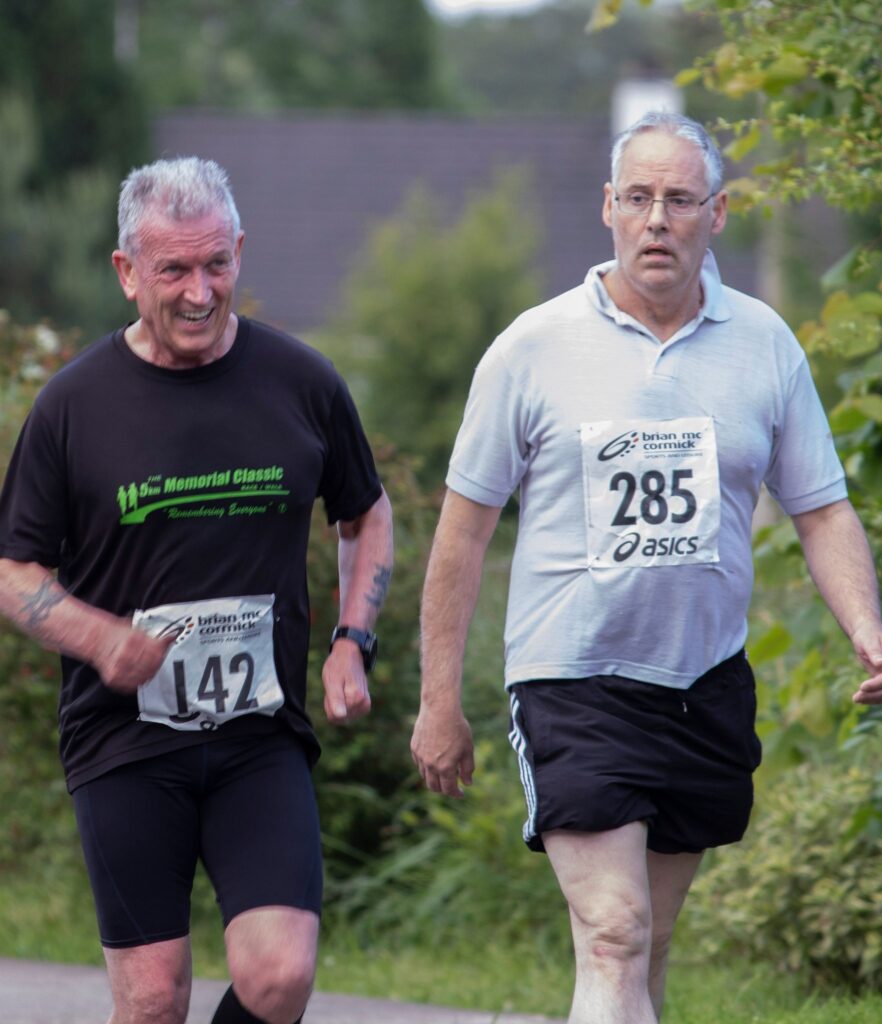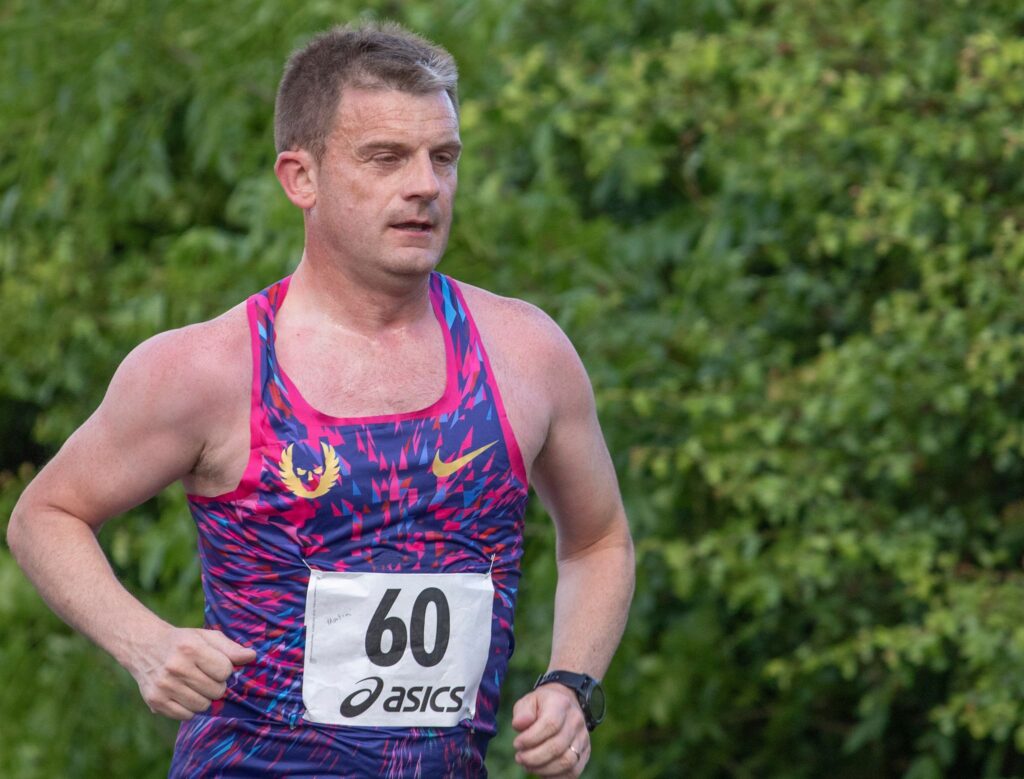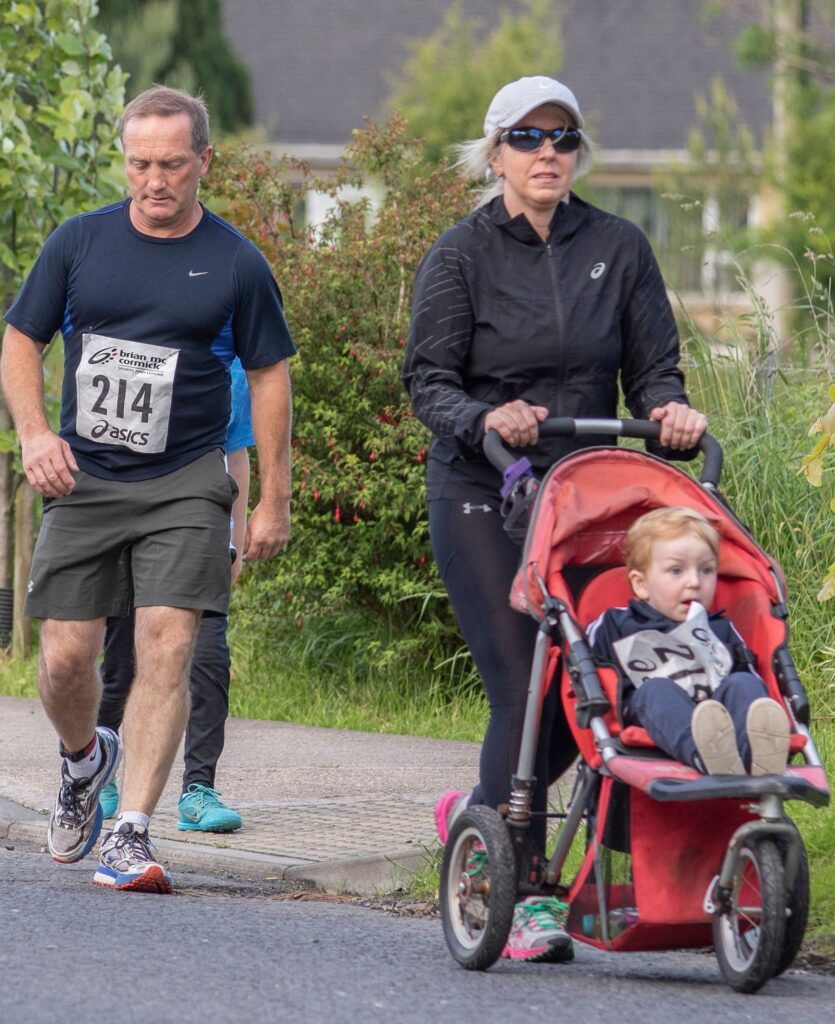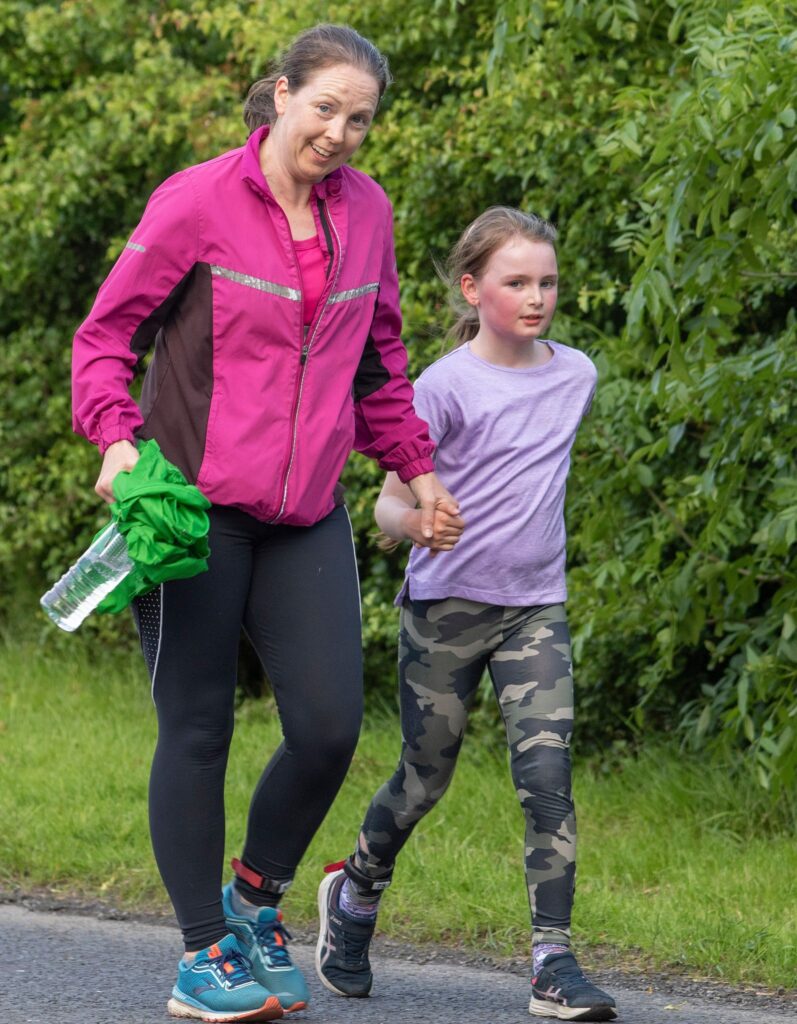 St Eunan's NS Raphoe 5K 2022
Place Bib Name M/F AG Club GunTime
1. 60 Devenney, Martin M MO Letterkenny ac 17:49
2. 173 Mckelvey, Paul M M40 Rosses ac 17:55
3. 302 Doherty, karol M W/C M 18:25
4. 259 Watson, Gary M MO 18:44
5. 329 bogle, christopher M MO 18:49
6. 166 Mcgrath, Linda F FO Lifford strabane ac 19:03
7. 118 Kelly, Martin M M40 Lifford/strabane ac 19:20
8. 82 Gallagher, Padraig M Boys 16 St.eunans 19:43
9. 72 Gallagher, Annie F Girls 16 St.eunans 19:44
10. 312 mc namee, raymond M MO 20:24
11. 122 Lafferty, Jayme M Boys 16 St eunans national school raphoe 20:52
12. 9 Boner, Denis M M40 Rosses ac 20:55
13. 192 Murphy, Damian M M40 Raphoe road runners 21:09
14. 109 Houston, Dympna F F40 Lifford strabane ac 21:15
15. 139 McCarron, Garrett M M40 21:23
16. 228 Shiels, Gary M M40 21:28
17. 327 maguire, thomas M MO Finnvalley fit 4 life 21:35
18. 142 Mccarthy, Joseph M M40 Sparta ac 21:41
19. 292 Lynch, Ailish F FO Finnvalley fit 4 life 21:44
20. 277 breslin, cathy F F40 21:58
21. 183 Mcwilliams, Geraldine F FO City of derry spartans 22:01
22. 69 Farrell, Brid F F40 St eunans ns raphoe 22:14
23. 67 Duffy, Decky M M40 Melvin 22:15
24. 126 Leckey, Zach M Boys 10 St eunans ns raphoe 22:18
25. 328 craig, stephen M MO 22:22
26. 27 Burke, Geraldine F F40 22:58
27. 167 Mcgroarty, Ed M M40 St. eunan's 22:59
28. 291 Patton, Brendan M M40 finnvalley fit 4 life 23:01
29. 264 Quinn, lewis M Boys 10 23:31
30. 45 Conaghan, Stephen M M40 Raphoe town football club 23:35
31. 263 Quinn, Gary M MO 23:39
32. 8 Bogle, Seamie M MO 23:39
33. 294 Bangert, Tom M M40 Raphoe Road Runners 23:50
34. 2 Allan, Hugh M M40 Raphoe road runners 24:01
35. 83 Gallagher, Sadie gallagher F Girls 16 St. eunans 24:05
36. 113 Kee, Orran M Boys 16 St. eunans ns raphoe 24:08
37. 76 Gallagher, Connor M Boys 16 St.eunans n.s 24:18
38. 227 Roulstone, Gary M MO Raphoe road runners 24:22
39. 80 Gallagher, Garvan M M40 St. eunans 24:22
40. 293 Greeden, Andrew M M40 Finnvalley fit 4 life 24:23
41. 198 Nelis, Ciara F Girls 10 St eunans ns 24:47
42. 278 Allan, Ciaran M MO 24:50
43. 7 Bell, Rachel F F40 Raphoe roadrunners 24:50
44. 276 griffin, john M M40 24:55
45. 284 scott, emmett M MO 24:56
46. 26 Burke, Dorothy F FO 24:58
47. 127 Macbeth, Linda F FO Raphoe road runners 25:01
48. 171 Mcguire, Shaun M MO 25:27
49. 247 Mc Nulty, Jarlaith M M40 25:30
50. 226 Rice, Grainne F F40 St eunans ns 25:30
51. 272 Melly, Lyndsy F FO Donegal Town AC 25:34
52. 310 mcmenamin, Michelle F FO Finnvalley fit 4 life 25:39
53. 158 McGahern, Finola F FO St eunan's ns 25:44
54. 334 boyd, william M M40 25:49
55. 157 McGahern, Christopher M M40 25:59
56. 156 McGahern, Amelia F Girls 10 Sessiaghoneill ns 26:00
57. 159 McGahern, James M Boys 10 Sessiaghoneill ns 26:01
58. 295 Bangert, marjan F F40 raphoe Road Runners 26:07
59. 311 anderson, Emer F FO Finnvalley fit 4 life 26:13
60. 321 mc menamin, siobhan F F40 melvin 26:15
61. 336 quinn, terence M M40 26:22
62. 68 Farrell, Ben M Boys 16 St eunans ns raphoe 26:52
63. 274 Gallagher, James M MO 27:16
64. 66 Donaghey, Gloria F F40 Finn valley ac 27:29
65. 316 craig, rory M MO 27:38
66. 335 Mehan, Raj M MO Raphoe road runners 27:41
67. 320 mc ginley, eugene M MO 27:41
68. 58 Devenney, Jennifer F F40 Melvin walk jog run 27:51
69. 271 okane, Taylor F Girls 16 28:02
70. 174 Mclaughlin, Patricia F F40 Melvin 28:10
71. 175 Mcmonagle, Danny M Boys 10 St. eunan's ns 28:18
72. 24 Browne, Aoife F Girls 16 St eunans 29:14
73. 78 Gallagher, Dymphna F F40 St. eunans 29:15
74. 148 Mccullagh, Priya F Girls 10 St eunans ns 29:18
75. 244 Nelis, Kelsey leigh F Girls 10 29:19
76. 106 Haughey, Rachel F Girls 10 St eunans 29:21
77. 248 Brindle, Carmel F F40 29:25
78. 250 Monaghan, Damian M M40 29:25
79. 317 porter, john M MO 29:35
80. 319 porter, karen F FO 29:40
81. 246 Nelis, Emily F Girls 10 30:10
82. 297 Mc grath, Daniel M MO 30:15
83. 322 mc manus, mary F F40 melvin 30:15
84. 64 Doherty, Majella F F40 Melvin wjr 30:15
85. 181 Mcshane, Brendan M M40 Non 30:16
86. 273 Melly, Senan M MO Donegal Town Ac 30:20
87. 63 Doherty, Harry M Boys 16 St eunans national school 30:36
88. 269 okane, Melissa F FO 31:06
89. 176 Mcmonagle, Lisa F F40 St. eunan's ns 31:09
90. 84 Gallen, Joe M M40 Kcr 31:19
91. 208 O'connell, Cara F Girls 16 St eunans national school 31:36
92. 262 Mc Bearty, Neil M Boys 16 31:49
93. 182 Mcshane, Kieran M M40 Non 32:10
94. 177 Mcmonagle, Paddy M Boys 16 St. eunan's ns 32:12
95. 98 Harkin, Cian M Boys 16 32:14
96. 136 McBride, Riley M Boys 16 St eunan n.s 32:15
97. 186 Meehan, Conor M Boys 10 St eunan's ns 32:15
98. 62 Doherty, Harry M M40 St eunans national school 32:51
99. 225 Reynolds, Zac M Boys 10 32:53
100. 150 McCullagh, Rocha F FO St eunans raphoe 33:36
101. 149 McCullagh, Riley M Boys 10 St eunans ns raphoe 33:36
102. 89 Goudie, Lorna F F40 33:45
103. 124 Laird, Stephanie F F40 33:45
104. 340 bradley, hollie F FO 33:49
105. 339 bradley, sarah F FO 33:50
106. 245 Nelis, Abbie F Girls 10 34:02
107. 57 Devenney, Harry M Boys 10 St eunans ns 34:06
108. 206 O'kane, Rowan M Boys 10 St eunans 34:06
109. 207 O'kane, Simon M M40 St eunans raphoe 34:06
110. 99 Harkin, Sinead F F40 St eunans ns 34:08
111. 203 Nelis, Margo F FO St eunans ns 34:09
112. 121 Lafferty, Donncha M Boys 10 St. eunan's national school 34:09
113. 200 Nelis, John paul M M40 Sr eunans ns 34:11
114. 210 O'connell, Mandy F F40 St eunans national school raphoe 34:15
115. 143 Mcconnell, Lauren F Girls 10 St eunans ns raphoe 34:16
116. 56 Devenney, Alison F FO None 34:19
117. 123 Lafferty, Stephen M M40 St. eunan's national school 34:19
118. 70 Farrell, Conor M Boys 10 St eunans ns raphoe 34:20
119. 275 Gallagher, Oliver M MO 34:30
120. 266 Doherty, Laurence M M40 Lifford Ac 34:35
121. 6 Barnett, Scarlett F Girls 10 St eunans ns 35:07
122. 4 Barnett, Isabella F Girls 10 St eunans ns 35:07
123. 324 mc namee, margaret F F40 orange and lemon 35:11
124. 168 Mcgroarty, Harry M Boys 16 St.eunan's 35:18
125. 162 Mcginley, Peadar M Boys 10 St eunans 35:21
126. 5 Barnett, Kyomi F FO St eunans ns 35:22
127. 3 Barnett, Graham M MO St eunans ns 35:22
128. 75 Gallagher, Clodagh F Girls 10 St eunans n.s 35:22
129. 282 Gormley, Tyler M Boys 10 35:22
130. 74 Gallagher, Catriona F F40 St eunans n.s 35:23
131. 115 Keeve, Charlie M Boys 10 St eunan's ns 35:34
132. 85 Gallen, Liz F F40 Kcr 35:57
133. 213 O'reilly, Lena F F40 Kcr 35:59
134. 61 Doherty, Corey M Boys 10 St eunans national school 36:09
135. 49 Crawford, Deborah F FO St eunans 36:20
136. 261 White, James M Boys 16 36:21
137. 35 Campbell, Ethan M Boys 16 St eunans raphoe 36:21
138. 323 o brein, patricia F FO kcr 36:36
139. 270 OKane, Anita F FO 36:51
140. 50 Crawford, Emily F Girls 10 St eunans n.s. 37:03
141. 93 Halton, Emily kate F Girls 16 St. eunan's n. s 37:12
142. 161 Mcginley, Aoife rose F Girls 10 St eunans 37:29
143. 235 Toye, Grace F Girls 16 St eunans 37:30
144. 236 Toye, John M M40 St eunans 37:30
145. 130 McAteer, Sonia F FO At eunan's national school 37:38
146. 129 McAteer, Ollie M Boys 10 At eunan's national school 37:38
147. 116 Keeve, Pascal M M40 St eunan's ns 37:43
148. 114 Keeve, Bobby M Boys 10 St eunan's ns 38:00
149. 333 bogle, jermy M M40 38:04
150. 211 O'donnell, Finola F F40 St eunans raphoe 38:05
151. 17 Brennan, Khloe F Girls 10 St eunans n/s 38:06
152. 15 Brennan, Angeline F F40 St eunans n/s 38:06
153. 16 Brennan, Don M M40 St eunans national school 38:07
154. 125 Leckey, Ben M Boys 16 St eunans ns raphoe 38:25
155. 254 Brownlie, Desmond M M40 Lagan Valley AC 38:26
156. 216 Page, Davin M Boys 10 38:42
157. 217 Page, Lorcan M Boys 10 St eunans 38:56
158. 215 Page, Charlie M M40 St eunans 38:56
159. 214 Page, Camillla F Girls 10 38:56
160. 258 kelly, Shauna F FO Raphoe Road Runners 39:19
161. 287 curran, Joe M Boys 10 39:53
162. 232 Tourish, Ava F Girls 10 No 39:53
163. 233 Tourish, Kieran M Boys 10 No 39:54
164. 243 Carson, Nicole F FO 40:10
165. 241 Vanruiven, Pieter M Boys 16 40:25
166. 240 Vanruiven, Mary F F40 40:25
167. 220 Porter, Rhonda F F40 40:33
168. 249 Gibson, Pamela F F40 40:33
169. 97 Hamilton, Lewis M Boys 10 St eunans 40:36
170. 38 Catterson, Maya F Girls 10 Sion mills primary school 41:48
171. 40 Catterson, Shona F F40 Melvin wjr 41:48
172. 54 Daly, Oisin M Boys 10 St eunans 42:44
173. 53 Daly, Deirdre F F40 St eunans 42:45
174. 44 Conaghan, Mariea F FO St eunans ns 42:56
175. 41 Conaghan, Anthony M M40 42:57
176. 43 Conaghan, James anthony M Boys 10 43:00
177. 185 Meehan, Ciarán M Boys 10 St eunan's ns 43:58
178. 184 Meehan, Andrew M MO St eunan's ns 43:58
179. 229 Simmons, George M M40 St eunans raphoe 44:01
180. 238 Toye, Olivia F Girls 10 St eunans 44:08
181. 237 Toye, Natasha F FO St eunans 44:09
182. 90 Griffin, Jacqueline F F40 44:16
183. 342 toland, lianna F Girls 16 44:46
184. 343 quinn, courtney F Girls 16 44:47
185. 178 Mcmonagle, Pj M M40 St. eunan's ns 44:59
186. 281 Gormley, Jack M Boys 10 45:11
187. 120 Krishnan, Feargal M Boys 10 45:44
188. 188 Mullen, Catherine ann F F40 45:46
189. 344 toland, wendy F FO 45:46
190. 260 Thompson, Hillary F FO 45:48
191. 81 Gallagher, Lorna F F40 St.eunans 46:04
192. 134 McBride, Denis M M40 St eunan n.s 46:33
193. 131 McBride, Aisling F FO St eunans n.s 46:34
194. 195 Murtagh, Skyler F Girls 10 St eunans raphoe 46:40
195. 19 Brolly, Cillian M Boys 16 46:48
196. 21 Brolly, Farrah F Girls 10 46:48
197. 33 Campbell, Angela M M40 St eunans raphoe 48:02
198. 132 McBride, Alison F F40 St eunan's 48:04
199. 36 Campbell, Gregg M M40 St eunans school 48:04
200. 285 casey, joseph M M40 48:05
201. 255 Mc Carron, Jake M Boys 16 48:12
202. 257 Mc Carron, Tory F Girls 16 48:13
203. 338 mc colgan, michael M MO 48:32
204. 337 mc cullagh, ryan M MO 48:33
205. 179 Mcmonagle, Tommy M Boys 16 St. eunan's ns 48:36
206. 239 Vanruiven, Lucy F Girls 16 48:38
207. 22 Brolly, Louise F FO St eunans ns 48:40
208. 242 Whyte, Sharon F F40 St eunans 48:41
209. 20 Brolly, Deacon M Boys 10 48:57
210. 23 Brolly, Shaun M M40 48:58
211. 286 O Flanagan, Ciara F F40 raphoe Road runners 49:06
212. 330 quinn, donna F F40 49:06
213. 309 o doherty, margaret F F40 49:07
214. 318 mc ginley, kate F F40 Raphoe Road Runners 49:07
215. 95 Hamilton, Catherine F F40 St eunans ns 49:10
216. 59 Devenney, Lisa F Girls 10 St eunans national school raphoe 49:10
217. 71 Friel, Paula F F40 St eunans 49:10
218. 151 Mcdaid, Christine F FO 49:23
219. 146 Mccormick, Eva F F40 St eunans 49:26
220. 341 McNamee, Emma F FO 49:31
221. 234 Tourish, Marie F FO No 49:35
222. 172 Mcguire, Tiarnàn M Boys 10 49:37
223. 189 Mulrine, Leah F FO 50:20
224. 204 Nelis, Oisin M Boys 10 50:38
225. 199 Nelis, Clodagh F Girls 10 50:38
226. 37 Catherine, Mccullagh F FO St eunans ns 50:38
227. 25 Browne, Jacqueline F F40 50:38
228. 202 Nelis, Luke M MO 50:39
229. 104 Haughey, Gemma M M40 St eunans 50:39
230. 201 Nelis, Lily F Girls 10 St eunans ns 51:18
231. 326 kerr, jodie F Girls 10 51:18
232. 299 mc elchar, anthony M Boys 10 51:25
233. 290 Baird, Gill F F40 51:27
234. 79 Gallagher, Eimear F FO 51:31
235. 73 Gallagher, Bernadette F F40 51:31
236. 34 Campbell, Dylan M Boys 10 St eunans raphoe 51:32
237. 300 o neill, lj M Boys 10 51:32
238. 331 , hanna F Girls 10 51:33
239. 325 kerr, kieran M M40 51:34
240. 219 Patterson, Vera F F40 St eunans 51:41
241. 147 Mccready, Olive F F40 St eunans 51:41
242. 298 mc elchar, gerard M MO 51:41
243. 87 Gildea, Mia F Girls 10 No 51:44
244. 29 Callaghan, Mary F F40 St.eunan's n.s. 51:46
245. 137 Mccaffrey, Eleanor F F40 51:46
246. 315 duffy, oisin M Boys 10 52:40
247. 283 Gormley, Gary M MO 52:41
248. 296 o Donnell, Eve F Girls 10 52:58
249. 252 kelly, koah M Boys 10 52:59
250. 279 Gormley, samantha F FO 53:03
251. 314 duffy, peter M MO 53:04
252. 332 , andrzez M M40 53:07
253. 187 Meehan, Sarah-jane F FO St eunan's ns 53:23
254. 144 Mcconnell, Meghan F Girls 10 St. eunans ns raphoe 53:30
255. 301 o kane, ellen F Girls 10 53:35
256. 47 Connolly, Mairead F F40 St eunans ns raphoe 53:44
257. 145 McConnell, Odhran M Boys 10 St. eunans ns raphoe 53:44
258. 280 Rodgers, Carol F F40 53:45
259. 256 Mc Carron, Iona F Girls 10 53:58
260. 209 O'connell, Katie F Girls 10 St eunans national 53:58
261. 86 Gildea, Kate F F40 No 54:25
262. 304 kelly, emma F FO 54:34
263. 305 kelly, mia F Girls 10 54:36
264. 221 Reynolds, Abbie F Girls 10 St eunans 55:07
265. 251 kelly, Stacey F FO 55:08
266. 253 kelly, Alexa F Girls 10 55:08
267. 105 Haughey, Pj M Boys 10 St eunans 55:09
268. 190 Mulrine, Mia F Girls 10 55:09
269. 140 McCarron, Natasha F F40 St eunans national school , raphoe 55:22
270. 267 Logue, Jack M Boys 10 55:27
271. 268 Logue, Karen F FO 55:27
272. 107 Haughey, Stephen M M40 St eunans 55:30
273. 141 McCarron, Noah F Girls 10 St eunans national school, raphoe 55:38
274. 308 mbride, ciaran M MO 55:42
275. 306 ni mhurtagh, aileen F FO 55:47
276. 191 Mulrine, Michael M M40 55:52
277. 307 mc bride, bernie F F40 55:52
278. 91 Guram, Anoop M M40 St eunans national school, raphoe 56:57
279. 289 Curran, Sophie F Girls 10 58:18
280. 288 curran, Michael M MO 58:46