A mother and daughter who had a miracle journey after adoption had a birthday celebration beyond their wildest dreams in Donegal.
Convoy native Esther Doherty will be 60 years old this year. Her daughter Louise turns 40. 
They hosted a '100th birthday' together at the beginning of June, with 100 reasons to celebrate. 
For 20 years, Esther and Louise were apart, separated by adoption through a mother and baby home. 
After years of worry, wondering and guilt, a series of 'miracle' events brought Esther back in contact with her first-born daughter in 2001. Since then, they have bonded, shared special family moments and braved the highs and lows of life. 
"Everything has been a miracle for us, it really was beyond our wildest dreams," Esther said. 
In 1982 Louise was adopted out of St. Patrick's Mother and Baby Home by a loving couple in Dublin, Tony and Maura Clarke. The Clarkes had adopted another child, Julie, who became Louise's older sister. The girls had a good upbringing, knowing from an early age that they were adopted. 
Louise said: "It was something I always knew, which I think is a lot better. We had a great childhood and we always knew that when we were older we would go and look for our respective families." 
Esther had grown up in rural Donegal, so when she got pregnant at the age of nineteen she had few options and little support. 
"I was young, in a small village, I was a disgrace," Esther said. 
She found a number for a service that arranged for her to move to St. Patrick's on the Navan Road in North Dublin. 
"It's hard to go back there," Esther said, but she feels it's important to share her experience now.
Esther moved into the home at five months pregnant. Her job was to scrub the stairs of the multi-story building on her hands and knees.
Esther gave birth in Saint James' hospital, which she said was an ordeal in itself. After she left, her baby girl was always on her mind. It became more difficult in the years after when her sisters began having their own children. Their circumstances were a world apart from Esther's. 
She said: "As much as I wanted to keep Louise I knew that I couldn't give her the life I wanted to give her." 
Esther was offered a new start by an aunt in New York state. She moved to the US, began working and returned to school. She later married and had a little girl, Bridget. 
When Bridget was seven, she saw an old photograph of her mum holding a baby. Esther decided to tell her about her half-sister. It wasn't long after that that she got the call that her firstborn wanted to reach her. 
"I had left it that if Louise ever wanted to contact me I was an open book, I wasn't allowed to contact her. It was up to her to look for me," Esther said.
 "Thank God they found me when she did."
 Louise found Esther through the Rotunda Girls Aid Society.
"There were a lot of coincidences," Esther said. "I got the phone call two weeks before I was coming to Ireland for a wedding. They don't normally rush things through life that but they made an exception." 
"They were very helpful," Louise said.
Little Bridget was over the moon too. "That's such a wonderful feeling as a mother to know my two girls are going to meet," Esther said. 
Esther and Louise's first meeting was at an office in Dublin on April 1st 2001. 
There were no tears, just laughter. Louise remembers being shocked to hear an American accent from Esther. 
"It was a bizarre experience but it went great," Louise said.
They went around the corner to the Gresham Hotel where Louise met Esther's second husband and Bridget. Bridget, over the moon to have a half-sister, had a teddy custom made for Louise.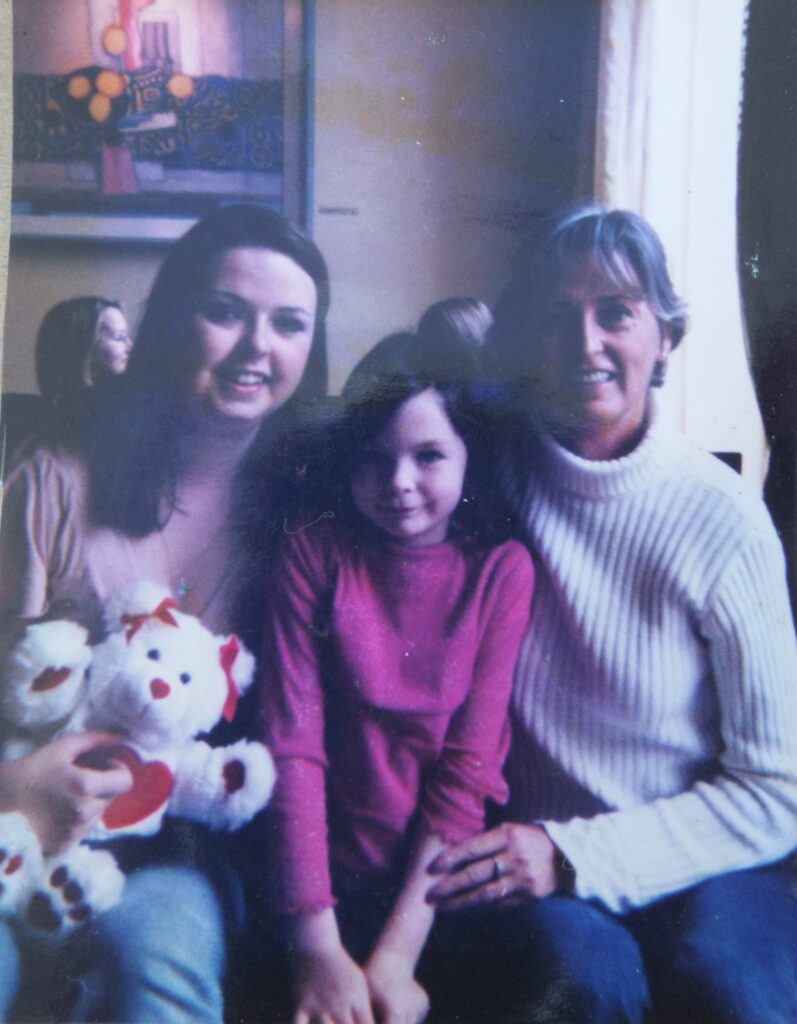 Things moved quickly after that, with Esther meeting Louise's parents and Louise travelling up to Donegal to meet Esther's family, the Quinns. 
Louise now lives in Holland with her husband and seven-year-old girl Diana. She has always kept a close relationship with her biological mother. 
Louise counts herself lucky to have Esther and her adoptive parents for her milestones in life – the good and the bad. A cancer diagnosis two years ago made her realise how fortunate she was to know her biological mother. She fell ill with an unknown disease in 2020. As doctors tried to make a diagnosis, they had a lot of questions about her family history of illness. 
"It turns out that it was hairy cell leukaemia, which is not inherited, but what Esther could tell me helped the doctors narrow it down," Louise said.
For this reason, Louise feels strongly about Birth Information and Tracing Bill – which aims to give adopted people full access to their birth certs, early life information and medical records. 
"Some people don't have the relationship that I have and are impacted by that," Louise said. 
Esther said she was scarred both physically and mentally from her time at St. Patrick's. She sought her own support for the mental trauma through 20 years of therapy. 
She said: "I had a lot of guilt. When you give a child up for adoption, every birthday was horrible. You ask are they okay? Are they still alive? Did they end up in a good place? 
"My biggest fear was that she would be sick or not be around anymore." 
Meeting Louise, Esther said, took 50% of that trauma away.
Last year Esther and Louise had an emotional visit to the site where St. Patrick's institution once stood.
The discovery of a mass grave of babies and children at the Bon Secours Mother and Baby Home in Tuam has led survivors to demand an investigation at the grounds of St. Patrick's too.  
"What haunts me today, because there are government buildings on that site, is how many babies are buried underneath there? That breaks my heart," Esther said. 
"I didn't recognise anything except this one wall. There were little teddy bears and little shoes left by people."
Esther also identified a personal strength in being able to visit again. 
"It was one of the most wonderful feelings, to be standing there with my daughter who I left there," she said. 
Esther and Louise feel they are among the lucky ones to have a happy ending to their adoption journey. 
"We were very fortunate but we know that it doesn't always work out even when people meet," Louise said. 
As they met up again in Donegal this month, on a sunny June Bank Holiday weekend, Esther said it was "beyond my wildest dreams, to be back in my home village with my little girl." 
Esther's 60th birthday falls in December and Louise's 40th is in September, but they made Donegal their destination to have their celebrations early with family and friends. There was trad and country music, dancing, sing-songs and cake. 
Esther gave a speech which mentioned all the terrible things that are happening in the world now – Covid-19, the Mica crisis in Donegal, the war in Ukraine and the shootings in the US. 
Her message to her family was: "There is a lot of negativity in the world, but there is a lot of positivity. We need to look for it every day and hold onto it with both hands. We will get through anything if we do not give up hope."