Councillor Donal 'Mandy' Kelly has been elected as the new Mayor of the Letterkenny-Milford Municipal District.
The Fianna Fáil councillor from New Mills was handed the mayoral chain from Fine Gael's Jimmy Kavanagh this evening.
On an evening of mixed emotions, Cllr Kelly dedicated his honour to his late brother Manus and to his father Donal Snr.
Watching on in the Letterkenny council chamber was Cllr Kelly's close family including his father Donal and mother Jacquline, his wife Aislinn, his son Donal, and Manus' sons Charlie and Mandy Jnr.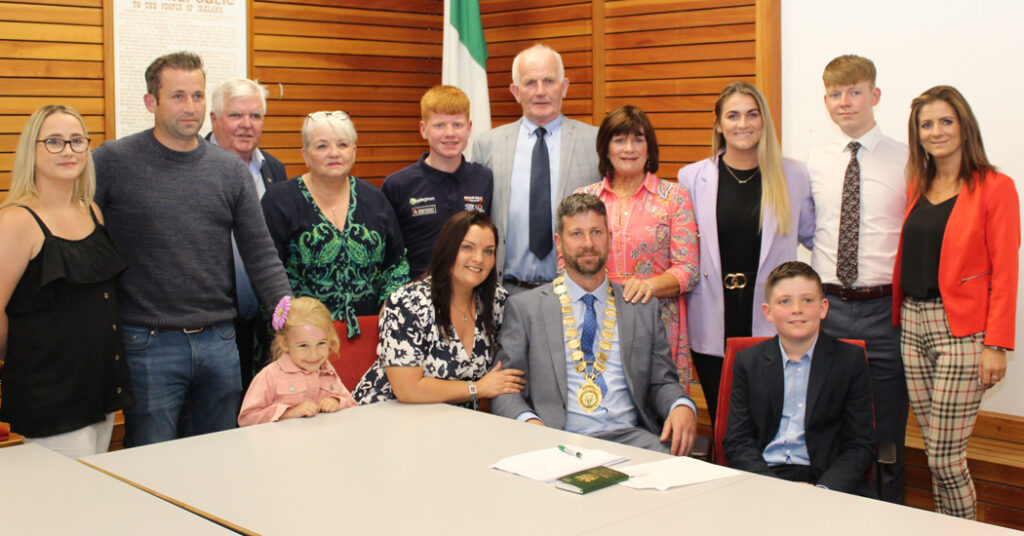 Cllr Kelly said it was an "absolute honour" to take on the role of Mayor. Donal Jnr has been carrying on the Kelly family name in the council since his father, Donal Snr, stepped down in September 2020. The Fianna Fáil seat was first won by Manus 'Mandy' Kelly in the May 2019 local elections – a month before his tragic passing in the Donegal International Rally.
Cllr Kelly paid tribute to his late brother's passion: "Helping get Manus elected was one of the happiest, proudest moments of my life," he said.
"To lift that man on my shoulders in the Aura Leisure Centre was just magical. Little did I know, or anyone else know, within a month he would be back on my shoulder in surreal circumstances. Although I had to lower him down the final time, no doubt he is whispering in my ear many times."
Cllr Kelly said he knew his brother would have been an outstanding councillor, "but the man above had different plans for Manus".
Cllr Kelly commended his parents' strength following the tragic loss of their son in June 2019. He told the AGM of his pride in his father's passion when he first stepped into Manus' role in the county council.
"You hold your head up high," Cllr Kelly told his father. "The time you served a sitting councillor not only, did you do Manus proud you did us all proud."
Cllr Kelly issued a special word of thanks to his wife Aislinn, his son Donal, Aislinn's parents and family and his own brothers and sisters for their continuous support during his time as councillor.
Cllr Kelly has so far spent his time on the council campaigning for road safety improvements, water supply upgrades, housing and other local matters. He isn't afraid to get to work when there's an emergency either, and was spotted clearing fallen trees in Glenswilly during Storm Franklin.
He said his work as Mayor will be dedicated to Donegal's most pressing issues such as the Mica crisis, HAP support, and the cost of living.
He also intends to promote the facilities in his home area, such as the Newmills Corn and Flax Mill, Churchill community development, Gartan and Glenveagh.
A farmer by trade, Cllr Kelly said he will engage with Minister Charlie McConalogue on crucial supports for the agricultural sector.
"Let's get to it," was Cllr Kelly's vision for his term as Mayor.
He said there are many positive developments to look forward to in the future for Letterkenny, and he looks forward to working hard with his colleagues, the executive and the teams of Donegal CountyCouncil to work hard to ensure as much as possible is delivered. 
Cllr Kelly's party colleague Ciaran Brogan was elected to the role of Deputy Mayor of Letterkenny-Milford today, taking over from Cllr Gerry McMonagle (Sinn Féin).