More than 500 families across Donegal affected by MICA have signed up to take legal advice as part of a multi-party court action.
Leading legal firm Coleman LLP are to host two days of legal appointments in Inishowen beginning tomorrow.
The aim of the individual meetings with families is to discuss their situations, how they have been affected by the defective blocks scandal and what the case entails.
Donegal Daily and other local media outlets revealed how the firm are hosting the free legal appointments with victims of MICA.
And the reaction to the appointments being held at the Inishowen Gateway Hotel has been nothing short of staggering.
Speaking to Donegal Daily, partner of Coleman LLP, Dave Coleman, said the action would be the largest in the history of the state.
Mr Coleman said he was not surprised by the number of people who had applied to make an appointment to speak with his firm about their cases.
He said "When people come along everything will explained to them in simple terms and we will explain to them what the case involves and assure them that they will not have to pay for this advice."
Mr Coleman said that five members of his staff will be attending the appointments but that there are twelve people working on the cases.
The legal case is being funded by two Donegal businessmen Sean Hegarty and Adrian Sheridan.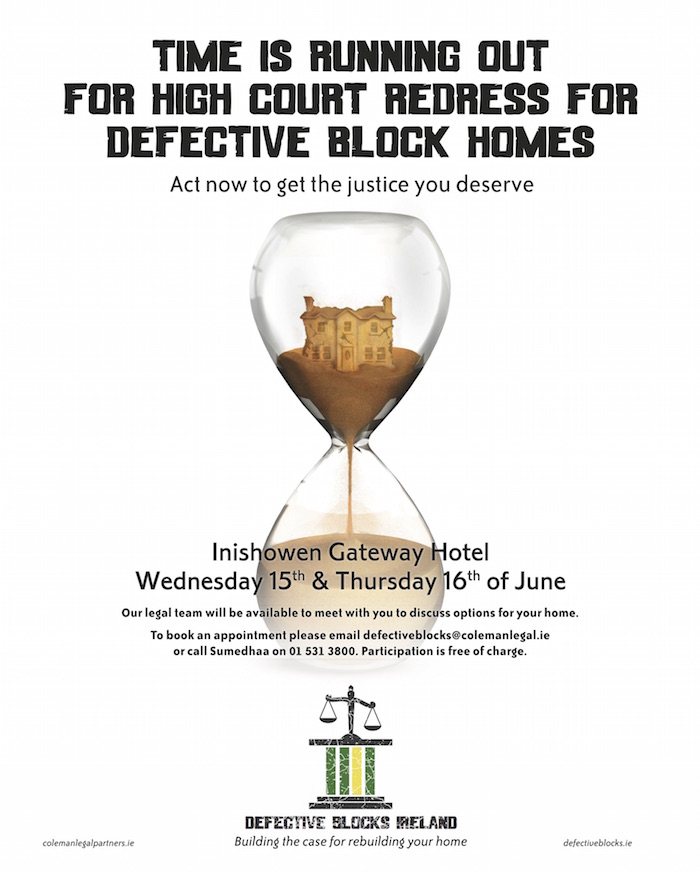 The company is currently taking a 'Deleterious Products' case against the National Standards Authority of Ireland, a Buncrana quarry and Donegal County Council.
Mr Coleman stressed that the cases are being taken on a not-for-profit basis.
At present there are a total of six 'pathfinder' cases including the group's first case, Inishowen couple William and Grainne Doherty.
It is these lead cases which will hold the majority of legal costs but anybody affected by MICA are being actively encouraged to join the group and take cases.
Mr Coleman said he would ask anybody who found themselves with defective blocks in their property to come along to either of the two day appointments sessions and to speak with a legal adviser.
He said inaction on the issue by individuals is the biggest danger people face saying people will be left with a financial shortfall between the grant and the cost of a rebuild in the vast majority of cases.
ALL questions on your individual situation and how to proceed with your case will be answered by a member of the Coleman legal team once an appointment time is booked.
To make your appointment for next week email defectiveblocks@colemanlegal.ie or phoning Sumedhaa now on 01 531 3800.