If you're looking for something different to do on a Friday night, why not head to Leghowney!
The Leghowney Community Hall outside Donegal Town is hosting an evening stroll event including storytelling from Keith Corcoran followed by a BBQ with Zack Gallagher on Friday 24th June.
Enjoy a guided walk from 7pm including storytelling from Mysteries & Legends of Donegal Author Keith Corcoran.
This will be followed by a BBQ at 8pm with Irish Food Guide Zack Gallagher at Leghowney Hall.
Limited tickets available online at: www.eventbrite.ie/e/a-evening-of-strolling-storytelling-tickets-360542029917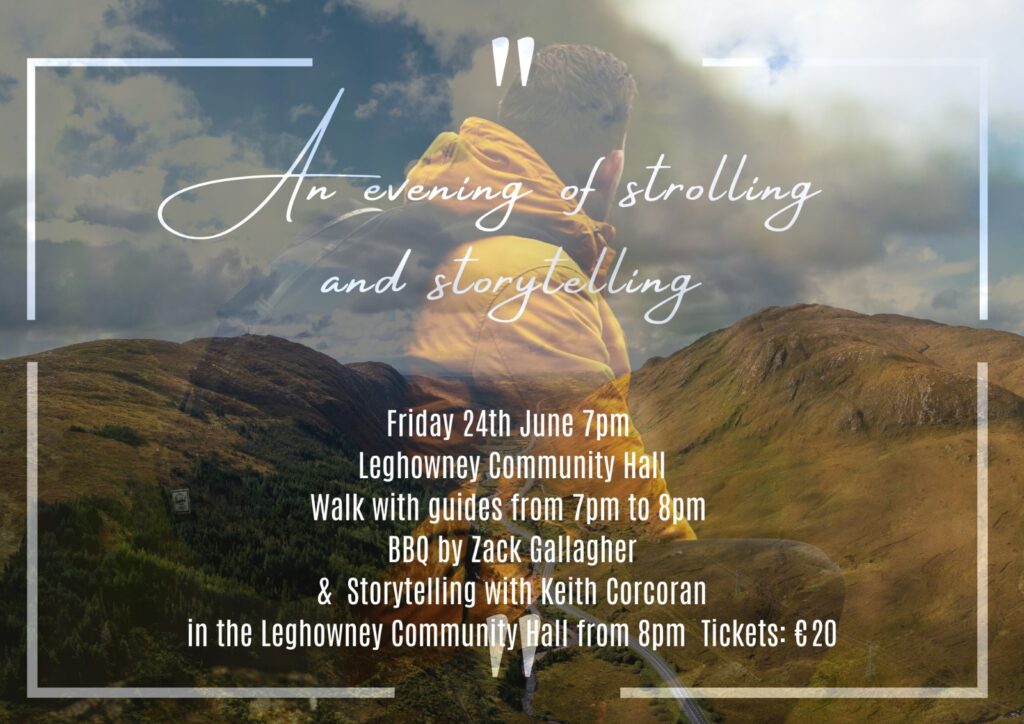 Keith is a native of County Donegal on Ireland's Atlantic Northwest coast. He is a seanchaí, following in the ancient Gaelic tradition of storytelling. Keith's wise and engaging voice is the voice of millenia of oral storytellers. He is the teller who collects and preserves the legends, folklore and ancient knowledge of his people and passes it on to succeeding generations. Keith is the author of three critically acclaimed books. His new book 'Mysteries and Legends of Donegal' is available for purchase through this site.
Zack Gallagher, from Donegal Town, is a professional chef, a food blogger, social media advisor, food tourism mentor and Fáilte Ireland Food Ambassador. He is a judge at the Blas na hEireann Irish Food Awards, a judge for the Foodie Destinations of Ireland competition. The Irish Food Guide, at www.IrishFoodGuide.ie, shares information on all aspects of food, food producers and food tourism, on the island of Ireland, to over 2.5 million readers.
Tickets at €20 each, including BBQ, book now at: https://www.eventbrite.ie/e/a-evening-of-strolling-storytelling-tickets-360542029917?utm-campaign=social&utm-content=attendeeshare&utm-medium=discovery&utm-term=listing&utm-source=cp&aff=escb