Donegal Schoolboys were defeated 3-2 by Midlands in the final of the Kennedy Plate in Limerick.
Evan Hickey of Letterkenny Rovers and Darragh Riordan scored for Midlands to make the scoreline read 1-1.
Tomas Carr of Drumbar United got Donegal ahead again but goals from Tadhg Slattery and Shay McGuinness saw Midlands take the trophy.
Donegal topped their group with three wins from three, but were defeated in the quarter final of the Kennedy Cup by eventual overall winners Cork.
They then moved into the Kennedy Plate, for the four group winners who lost their quarter final game.
The semi-final saw them face Sligo-Leitrim and after a scoreless draw, Donegal won 11-10 on penalties.
With the final to play, they couldn't quite take advantage when ahead as Midlands fought back.
Despite the loss, the team can take pride in the fact their two losses were against the winners of two of the most prestigious Kennedy Cup trophies.
Donegal Schoolboys League squad: Oisin McDermott (Drumkeen Utd), Callum Long (Cappry Rovers), Filip Duraj (Letterkenny Rovers), Cathal McGee (Gweedore Celtic), Tomas Carr (Drumbar Utd), Evan Hickey (Letterkenny Rovers), Tadhg Boyle (Gweedore Celtic), Kyle Bonner (Keadue Rovers), Corey Monaghan (Copany Rovers), Danny McCready (Keadue Rovers), Ronan Buchanan (Bonagee Utd), Oisin Feeney (Bonagee Utd), Oisin Harrold (Cappry Rovers), Jamie Ward (Eany Celtic), Tarlach McBride (Gweedore Celtic), Taegan Coyle (Gweedore Utd), Cory Oliver (Letterkenny Rovers), Evan Daly (Illistrin), Peter Sweeney (Cappry Rovers), Cathal Doherty (Illistrin).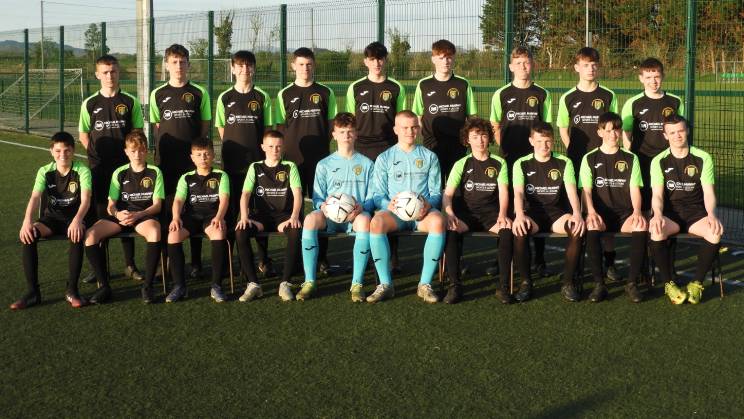 Management team: Head of Delegation – Eunan Brolly, Manager – Marty Duffy, Coach – Tomasz Duraj & Peter Brolly