As the second largest country in the world, Canada has so much to offer. From exploring the Rockies on the west coast to discovering the cosmopolitan cities on the east, a holiday in the 'Great White North' offers the perfect blend of natural attractions, culture and history. Plus, the locals are famous for being very warm, friendly and polite! Check out our selection of the best places to visit in Canada.
---
Before we start
Travel is BACK! The world is opening up again for some well-deserved travel experiences and so Donegal Daily and Travel Department want to help you fall in love with travel again in 2022 and 2023
Travel Department is delighted to offer readers of Donegal Daily, Donegal Woman and Donegal Sport Hub an exclusive code to use on a fantastic range of 2022 & 2023 holidays. 
SAVE €75pp* on any holiday of 8 nights or more. Use promo code: DON75
SAVE €50pp* on any holiday of 7 nights. Use promo code: DON50
SAVE €25pp* on any holiday of 6 nights or less. Use promo code: DON25
This offer is only available until midnight on 30th June 2022, so book today and secure your spot! You don't want to miss out on your chance to enjoy the holiday you very definitely deserve.
Browse and book: www.traveldepartment.com/donegal-daily
If you have any questions, or would simply like to learn more about their wonderful destinations, why not give one of their brilliant team a call on 01 637 1698
---
The Rocky Mountains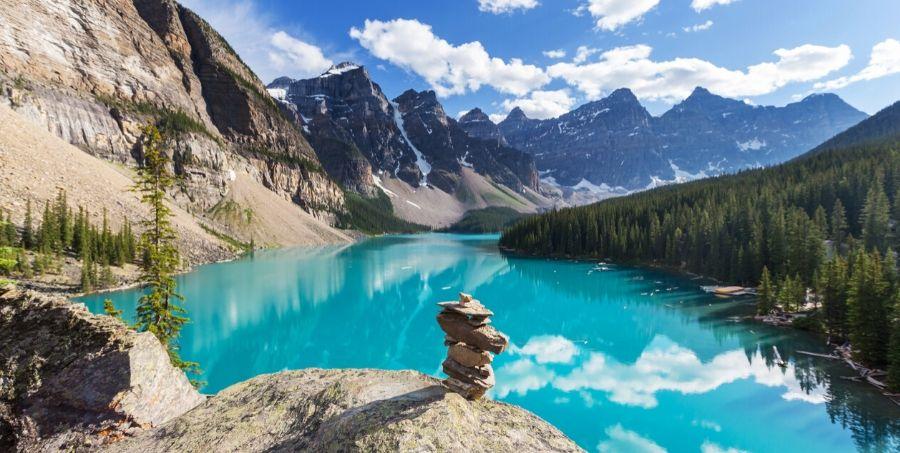 The snow-capped peaks of the Rocky Mountains are surely one of the world's most awe-inspiring sights. Make sure to bring your camera to capture those amazing vistas during regular comfort and photo stops. The highest mountain in the Canadian Rockies is in the awe-inspiring Mount Robson Park, where you'll also find glaciers, lakes, waterfalls, canyons and wildlife. Banff is the gateway to the Rocky Mountains and Western Canada's National Parks. It is an international resort town surrounded by spectacular mountains, lakes and rivers. Banff became Canada's first ever national park in 1885 to protect its natural hot springs. There aren't many places where you'll have the opportunity to set foot on a real live glacier. Along the spectacular route to Banff town, you can visit the Athabasca Glacier and drive out onto the ice on a Snowcoach, specially designed to tackle those slippery slopes. 
Niagara Falls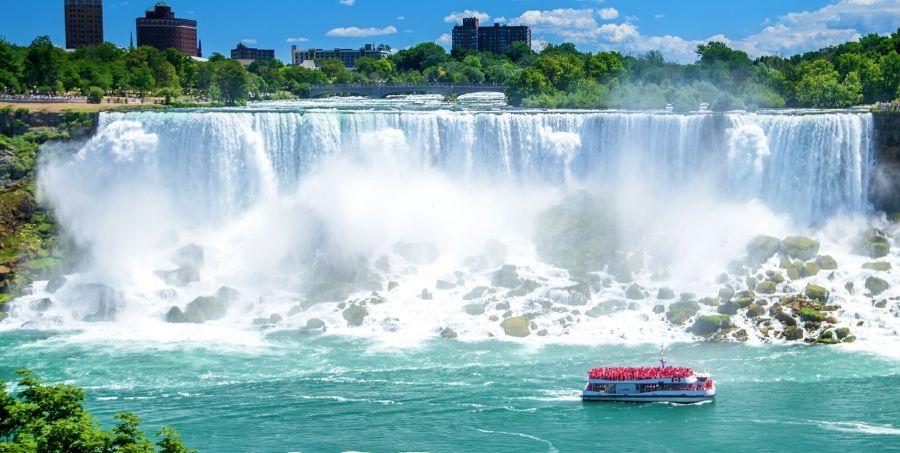 Located on the US-Canadian border, Niagara Falls is a natural beauty consisting of three waterfalls: the American Falls, Bridal Veil Falls and the Horseshoe Falls. They converge and rise over a 52-metre cliff, cascading into the rushing river below and creating the highest flow rate of any waterfall in the world. With more than 3000 tons of water per second flowing from a height of 55 metres into the Niagara Gorge, it's no wonder it's used as a source for hydroelectric power.
The Great Lakes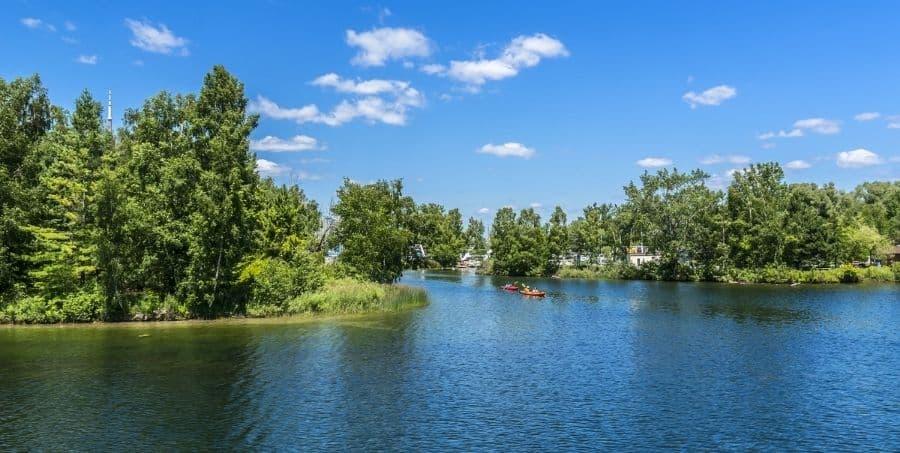 Canada has more lakes than all the other countries combined, and the Great Lakes contain about 23% of the world's supply of surface fresh water. Four of the Great Lakes are located appx half in Canada and half in the USA except Lake Michigan which is totally in the USA. Lake Ontario is 320km long and the smallest of the Great Lakes. 
Thousand Islands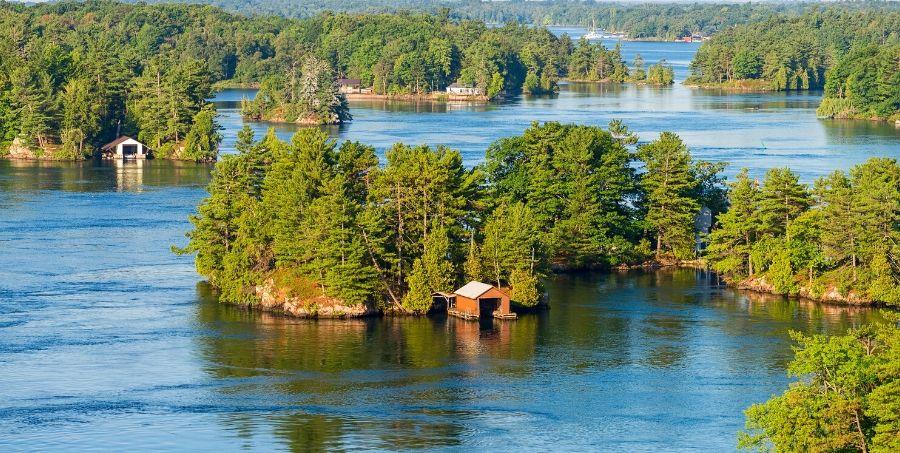 The Thousand Islands is an archipelago of 1,864 islands that straddles the Canada-U.S. border in the Saint Lawrence River as it emerges from Lake Ontario. Here you can embark on a relaxing cruise and take in the sights. 
Toronto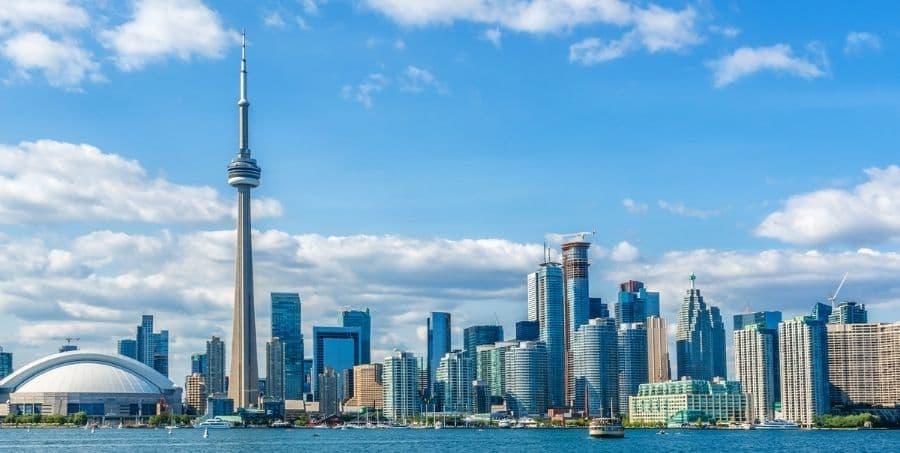 There's lots to see and do in Canada's largest city and it's said to be the most cosmopolitan in the world as more than 140 languages are spoken here. Highlights of this eclectic city are the financial district, Old and New City Halls, Casa Loma, the St. Lawrence Market, the Flatiron Building, Chinatown and much more. Visit the top of the CN Tower to get a panoramic view of the city.
Vancouver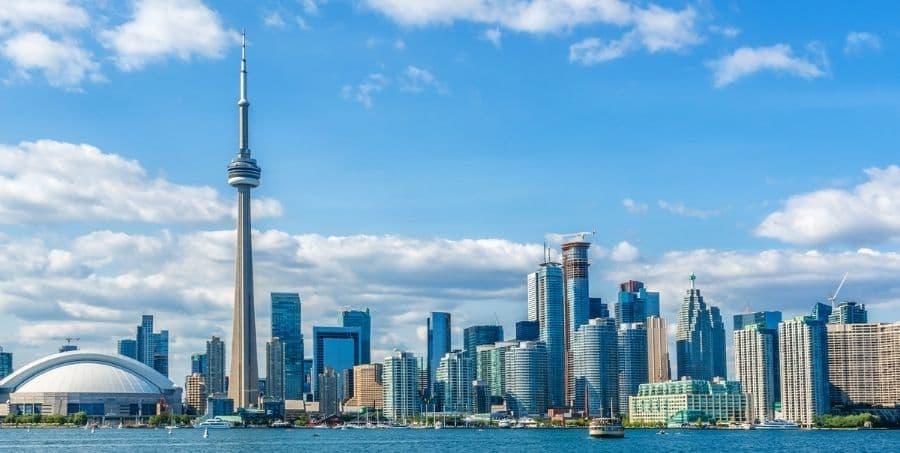 A bustling seaport, British Columbia's capital is in a stunning coastal location and has a beautiful backdrop of fiords, parks and mountains.. Visit the 1,001-acre Stanley Park with its collection of totem poles, the iconic Canada Place, an architectural landmark famous for its ship-like appearance and check out the historic Gastown, the oldest part of the city, Granville Island and much more.
Quebec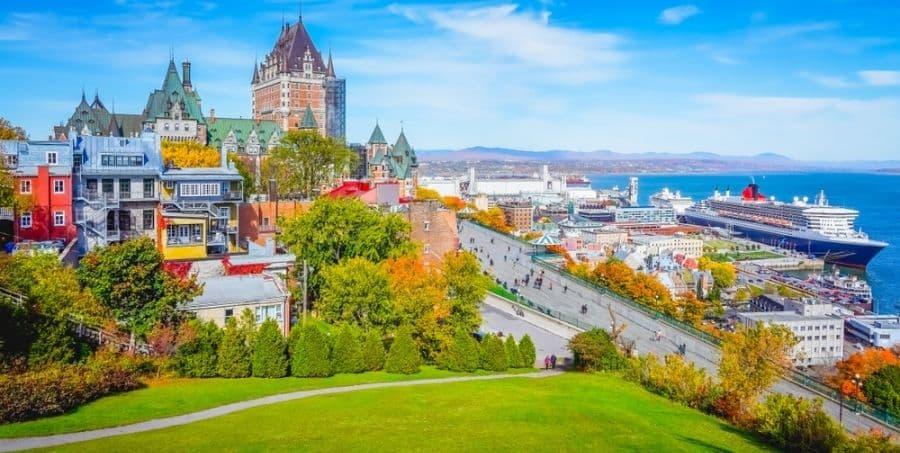 A historical and fascinating city in Canada, but given its French influence, you'll feel as though you're in Europe. Quebec is the only walled city in North America.  and in 1985 it was declared by UNESCO a world heritage site. It's the birthplace of New France founded in 1608 by Samuel de Champlain and is the oldest French speaking community in North America.
Okanagan Valley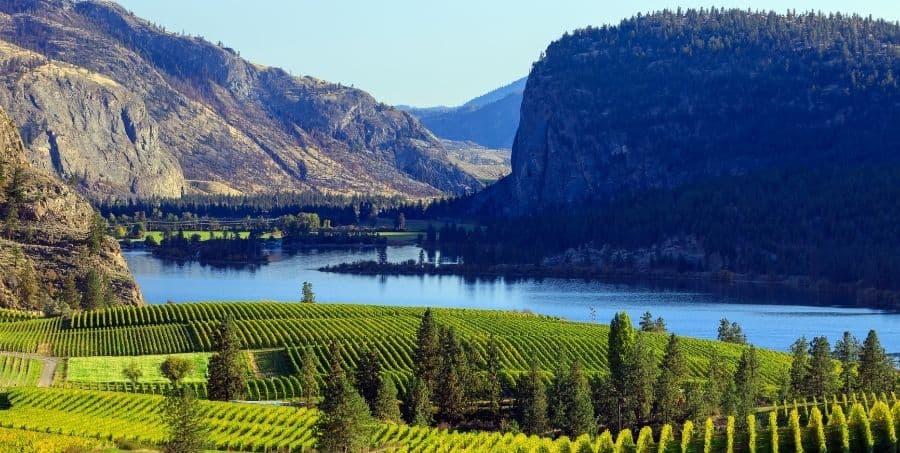 Sometimes referred to as 'Canada's Napa Valley', Okanagan is a lush and fertile region, and British Columbia's premiere wine producing region. It's also one one warmest regions in Canada and is a popular summer holiday destination with locals as the beaches surrounding the lakes provide the perfect spot to relax in the sunshine.
Montreal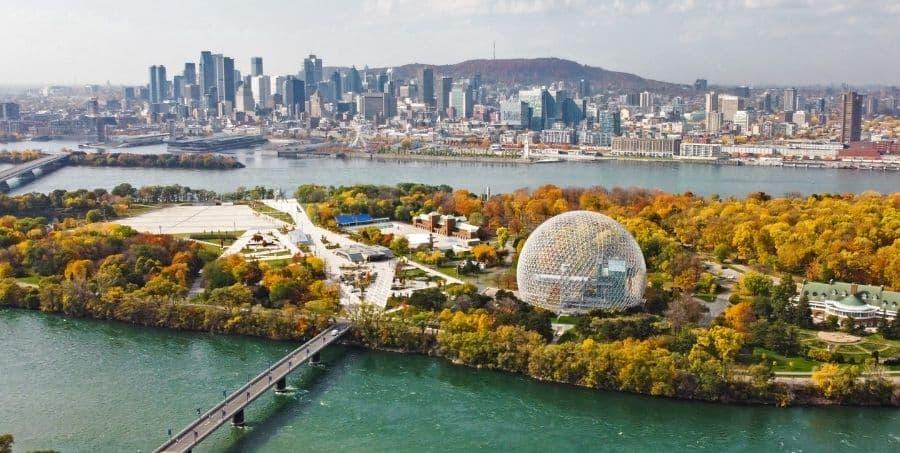 Located on a large island in the St. Lawrence River 1600k from the sea. Originally known as Ville Marie it was established as a religious community. Today it offers visitors many cultural attractions. French inspired joie de vivre pervades every part of its Quartier Latin. The second-largest French speaking city in the world and largest city in Canada's Québec province. On our city tour of Montreal, we'll discover the old part or as the locals call it "Vieux Montreal", where you'll find historic buildings dating back to the 17th century from the early French settlement. We'll see the islands on the St. Lawrence River where the Great Exposition of 1967 was held, the iconic Olympic stadium when the country held the Summer Games in 1n 976 and the most famous basilica in Canada, Notre Dame.
Whistler
The home of the 2010 Winter Olympics sits high in British Columbia's Coast Mountains and is the perfect spot to take in panoramic views of the surrounding countryside or explore this charming mountain resort. Whistler Blackcomb is one of the largest ski resorts of North America, but there are also many great summer activities such as hiking and biking. The Whistler Village is the beating heart of Whistler with shops, restaurants, museums, restaurants, galleries, and events and festivals deliver many options for all seasons. 
Now you know the places to see you can now start planning your holiday to Canada! Discover wonderful destinations and witness miracles of nature on our superb Canada tours. Take our Canada's Maple Leaf Trail tour, from the bright lights of Toronto through to thrilling Niagara Falls and the historic cities of Montreal and Quebec; or experience the wonder of Western Canada & The Rockies on our 10-day holiday through the Great White North.
---
Travel with Confidence:
Your holiday is a very special time, and Travel Department craft the itineraries to make sure that you get the most enjoyment. The world is continuously changing, and they have been adapting to make sure that they deliver the best experience for you. Their priority is to bring you a wonderful experience safely. So, when you book with Travel Department, you can do so in the knowledge they'll look after you every step of the way.  
Travel Department is Europe's leading escorted tour operators with nearly 30 years' experience of crafting beautifully curated, inspirational itineraries to worldwide destinations, all accompanied by expert local guides. They offer a wide range of guided group holidays from City Breaks to Solo Travel to active and adventure holidays (including Walking, Yoga and Photography holidays) with their sister brand, TD active Holidays.
Flights are available from Dublin, Cork and Belfast in Northern Ireland.
The holiday mood is upbeat and friendly making for a fun, inclusive group where everyone feels welcome. 
Travel Department's escorted holidays typically include flights, accommodation, transfers and guided tours. They carefully plan your trip, so you experience the best holiday highlights accompanied by a friendly local guide. With Travel Department you see more!
Tags: