Parts of Donegal are expected to feel temperatures of up to 27 degrees today.
A Status Yellow High Temperature warning has been issued for the entire country by Met Eireann and will be valid until midnight tonight.
People across the country will experience "exceptionally warm weather" today with daytime temperatures of 27C to 32C generally.
Yesterday was the hottest day of the year, with temperatures of over 29 degrees recorded in Phoenix Park.
The forecaster has warned of the impact of the high temperatures, with the potential for heat stress, especially among vulnerable people.
Local agencies including the Donegal Mountain Rescue Team have issued warnings to people to take all precautions if out and about.
Gardai have pleaded with motorists not to block emergency access ways at piers and harbours.
Head of Forecasting at Met Éireann Evelyn Cusack said that today will be the "hottest day of mini-heatwave".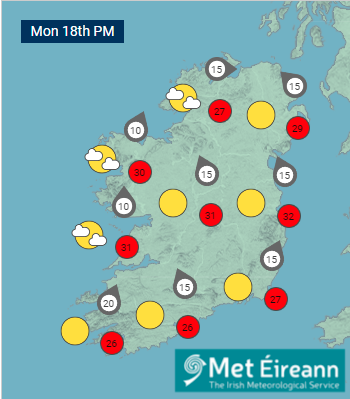 Speaking on RTÉ's Morning Ireland, Ms Cusack added that it will "probably be the hottest day of the summer".
"It's fair game, everywhere getting warm, sunny weather," she said.
"We may not reach the 32C. The July record is actually 32.3 in 2006, so I don't think we're going to breach that.
"That little bit of cloud is depressing it a bit. I doubt we'll breach the record, but we're going to get over 30, which is very unusual."
Ms Cusack said that for Ireland, this is considered "extreme" weather, adding that It has been an "extraordinary" summer across Europe.
"Unfortunately, climate change is here. When we get the air masses coming up from Europe, we too will experience some extreme weather and extreme weather events," Ms Cusack said.