Sponsored Post
The crème de la crème of traditional music talent will be in Ballyshannon this August Bank Holiday weekend for the 45th annual Ballyshannon Folk and Traditional Music Festival.
The festival returns to the Marquee from Thursday 28th July – Sunday 31st July 2022. Tickets are on sale now at ballyshannonfolkfestival.com.
Get your tickets now and see acts such as Kila, Dervish, No Crows, The Red Cortinas (playing the best of the Saw Doctors), Eleanor Shanley and Garadice, Muddlers Club, Dave Munnelly Band, Mairtin O'Connor, Cathal Hayden, Seamie O'Dowd, The Messages and lots more.
Ballyshannon Folk and Traditional Music Festival, the oldest festival of its genre in the world comes from Ireland's oldest town, with a great atmosphere, great value and family friendly events.
There will be free street entertainment during the day and unique fringe events including a Legend Sessions featuring Seamie O'Dowd and Cathy Jordan
Intimate concert with Declan Sinnott

Jam in the Dam with Meitheal (unique free concert in ESB Power Station)

All this and more. Click here for tickets: www.ballyshannonfolkfestival.com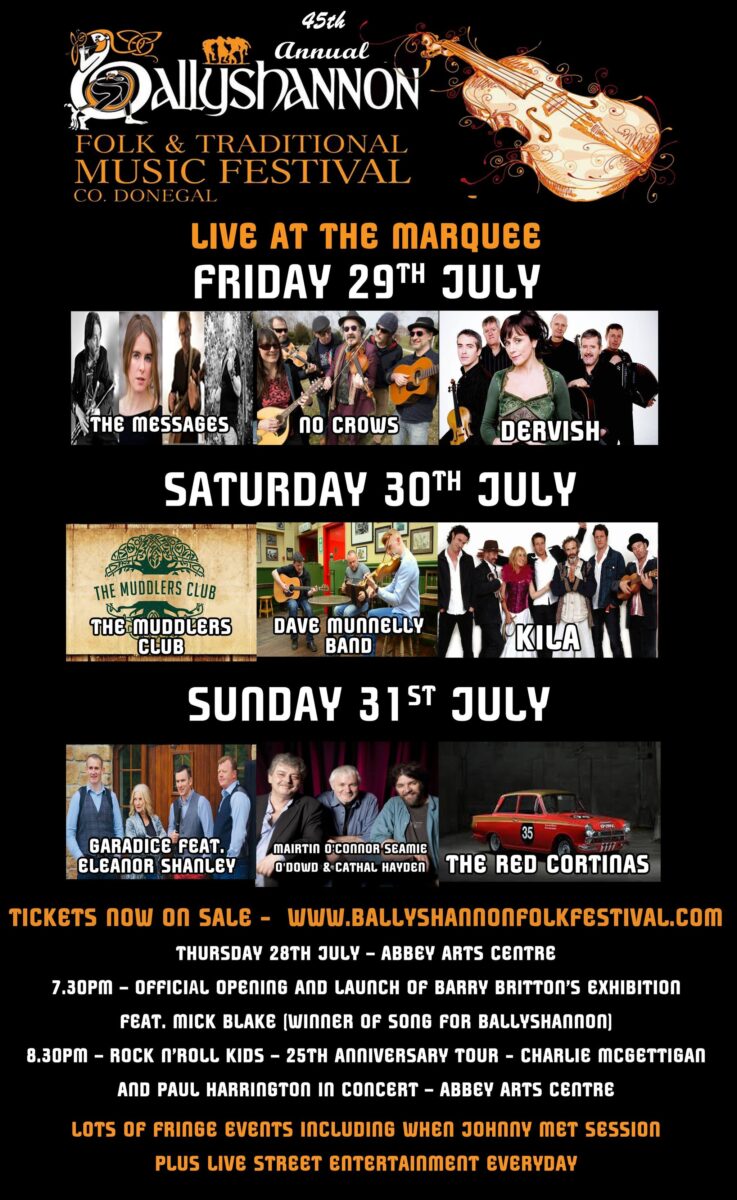 ---
Your Festival Guide:
The first concert of the 2022 Ballyshannon Folk and Traditional Music Festival, is  a very special show featuring Donegal's own Charlie McGettigan and Paul Harrington – The Rock n'Roll Kids – celebrating 25 years since they did Ireland proud and won the Eurovision – Thursday 28th July 8.30pm in the Abbey Arts Centre.  Don't be disappointed – limited tickets from https://abbeycentre.ticketsolve.com/tick…/shows/1173625838
More information – http://ballyshannonfolkfestival.com/thursday-night-rock-n-roll-kids/
---
It's getting closer, we are really looking forward to bringing you some fantastic entertainment over the Bank Holiday weekend …. and as well as super concerts in the Marquee, we have a host of free street entertainment on our Gig Rig at the Bridgend (Friday 3.30 to 6.30pm) and at the Gables (Sat/Sun 2pm to 6.30pm) including Mickey Joe Harte, Ronan Gallagher Band, Porter Bellys, The Red Cortinas and lots more.   http://ballyshannonfolkfestival.com/street-entertainment-guide/
---
Legend Sessions (Saturday 12.30 Bridgend Bar – FREE)
Ballyshannon Folk and Traditional Music Festival's 6th installment of  When Johnny Meets session is currently being developed
In the sixth of the series of LEGEND SESSIONS a tribute session of two musical greats who, although no longer with us in this life continue to have a major influence on our musical heritage, will be hosted. This year Sandy Denny (Fairport Convention) will be joining the music of Donegal fiddler, Johnny Doherty who died in the Rock Hospital in Ballyshannon in 1980.
This gig attempts to create the session that might have taken place if they had travelled through time and space to Ballyshannon. This year's session will be recreated by Cathy Jordan (Dervish) and Seamie O'Dowd and really will be one not to be missed!
---
The Red Cortinas – Sunday 31st July – Live in the Marquee 
See their recent rehearsal here:
http://ballyshannonfolkfestival.com/the-red-cortinas/
For more updates in the lead-up to the events, follow: Ballyshannon Folk and Traditional Music Festival on Facebook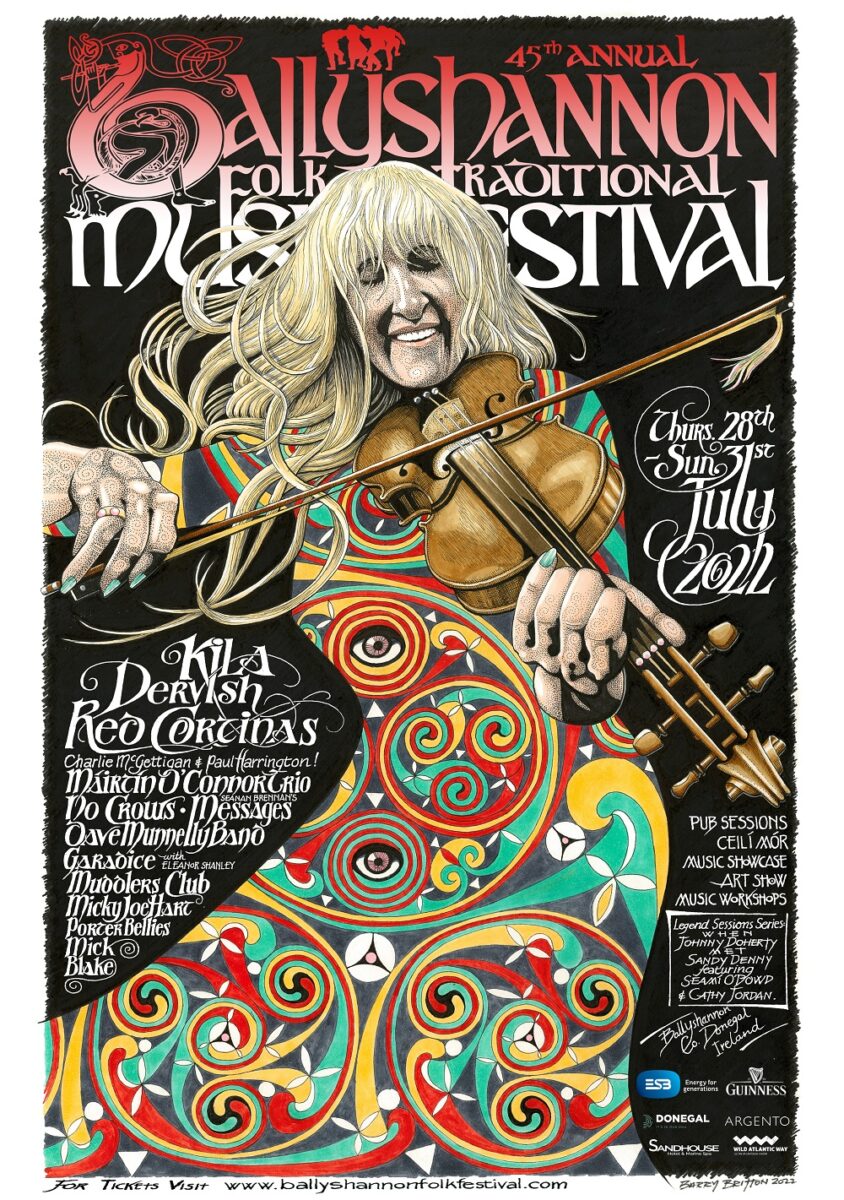 Tags: