Sponsored Feature
If you want to know the secrets of excellence within the science of sport, choose ATU Donegal's MSc in Sports Performance Practice this September.
This one year Level 9 programme is for students who want to learn the technical and professional craft of working in the sports industry. The dynamic and practical programme is created for those who want to pursue a career in Sports Performance, Strength and Conditioning, Exercise Physiology, Performance Analysis, Research, Education, Coaching or other science-based professions.
The programme is based on the very latest research and innovation in sports today, both locally and internationally.
For current student Leo McLoone, it's been a useful tool for developing coaching skills on the ground. The 2012 All-Ireland winner who is on Donegal GAA's Under-20 management team is just weeks away from finishing his course. He is undertaking a work-based learning project to carry out his thesis on personality traits among club players in the GAA. Such a useful piece of research is an example of the learnings that students can apply to their everyday work.
Leo, like all students on this programme, had the freedom to study the specialist area that he was particularly interested in.
"I enjoyed this course because Gaelic is my passion and I could go into my own field of interest," McLoone says.
The Naomh Conaill footballer puts many of the modules into practice in his own training, such as nutrition and strength and conditioning. As the coaching officer of the club, it's inspired McLoone to think outside the box. 
"We have implemented a long term athlete development programme with the young kids, trying to get strength and conditioning for them as they grow," he says.
This Masters degree is delivered by an experienced team with close ties to local clubs and with local industry. 
Lecturer Karl Lacey, for example, is also the Head of Academy Development for Donegal GAA. 
"ATU Donegal is well supported with the best facilities to make sure people get the full value of the learning experience," Lacey says.
The campus in Letterkenny has top level resources for teaching, research, and applying theory in the sports lab, the high-performance gym and equipment for exercise physiology, performance analysis and nutrition testing.
Lacey says: "We have An Danlann and the pitch too, which lends itself to a lot of applied practice. If you are working in the field anyway, you can use the audience in front of you to do your research."
The programme has been designed in a 'block delivery' format, where modules are taught one after the other.  The majority of lectures are online and recorded for students to watch from home. This better suits the cohort of students who may be working, teaching PE or other practitioners striving to enter the field while coaching, etc. Students visit the campus for intensive blocks of lectures, which also gives the opportunity to network and share experiences with their classmates.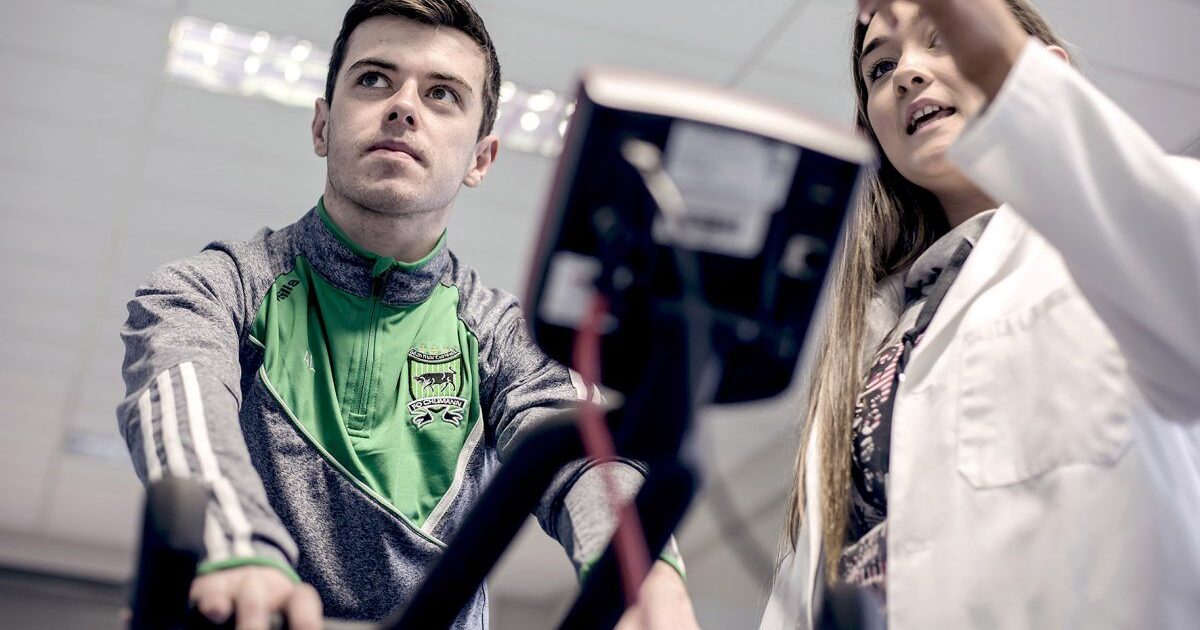 Dr Ken van Someren, lecturer at ATU Donegal says the school is keen to broaden the diversity and skill set of the people on the programme. One way this is achieved is through Recognition of Prior Learning (RPL). With this, non-sport degree graduates who have significant work experience in a related sport industry may gain entry to the programme. 
"RPL is all about making sure there is no barrier to the right people doing the right programme," Dr van Someren explains.
"Just because someone doesn't have a Level 8 honors degree it doesn't mean it's the right thing for their career development," Dr van Someren says.
"In a Masters, people learn a significant amount from each other and we are keen to encourage that."
Students on this programme also learn from PhD students doing cutting-edge research at ATU Donegal.
Dr van Someren explains: "We have up to five PhD students in topics related to sport performance and this is taking our knowledge and our impact to another level. The content that students are getting isn't coming from a textbook, there is foundation of that, but they are getting the very latest research and innovation coming out of the research being done in the university."
Not only that, but elements of the research are formed from ATU Donegal's industry partnerships, and students get the opportunity to apply their education in projects with business, governing bodies and social enterprises such as Triathlon Ireland, The No Barriers Foundation and Orico.
"That research and applied innovation is really exciting. The MSc student gets to hear from PhD students and it really opens doors both for their students and for future employment," says Dr van Someren.
"Students come out with a Masters and they also have 12 weeks of high-quality experience working in an industry."
"That is a great thing for new learners coming in and it is a great thing for us as we move into university status."
If you would like to gain specific knowledge of Applied Sport Science (i.e. Exercise Physiology, Sports Nutrition, Strength and Conditioning and Performance Analysis), further information can be found on this Masters programme at:
Master of Science Sports Performance Practice: https://www.lyit.ie/CourseDetails/D404/LY_HSPEF_M/SportsPerformancePractice
For Further Information, contact Department of Tourism & Sport at ATU Donegal: +353 (0)74 9186613 / +353 (0)74 9186612
Head of Department Nicola Dunnion
Email: nicola.dunnion@lyit.ie
Telephone: +353 (0)74 918 6645
Tags: