Water supplies in a number of holiday destinations around the county are under pressure as the warm weather and dry spell continues.
Nationally, Irish Water is already having to impose night-time restrictions and other measures to keep taps running in 13 areas.
Another 50-60 areas are on a watch list as water levels are lower than needed to provide certainty of supply to the end of the forecast hot weather.
Around six are expected to require restrictions in the next few days and the rest may follow in the next fortnight.
Most of the affected areas are in the midlands and south-east but parts of the west and north-west, where large numbers of holidaymakers have driven up demand, are also causing concern.
Supplies to the cities are holding up well, but some large provincial towns are affected.
Tom Cuddy, head of operations at Irish Water, told the Irish Independent the company's water scarcity committee was monitoring levels in all water sources very closely.
"It's very different across the country. The biggest challenge is in the south and midlands where rainfall has been 65-75pc of a normal year," he said.
"That's the issue on the supply side but demand is the other issue.
"When the weather gets hot there is a very noticeable spike in demand in outdoor use by domestic customers and in holiday resorts, seaside resorts and agricultural areas.
"So in the north-west, we've had pretty good rainfall but there are resorts in Donegal, Mayo and Galway where the capacity is being challenged because in some places the population doubles or even trebles in summer."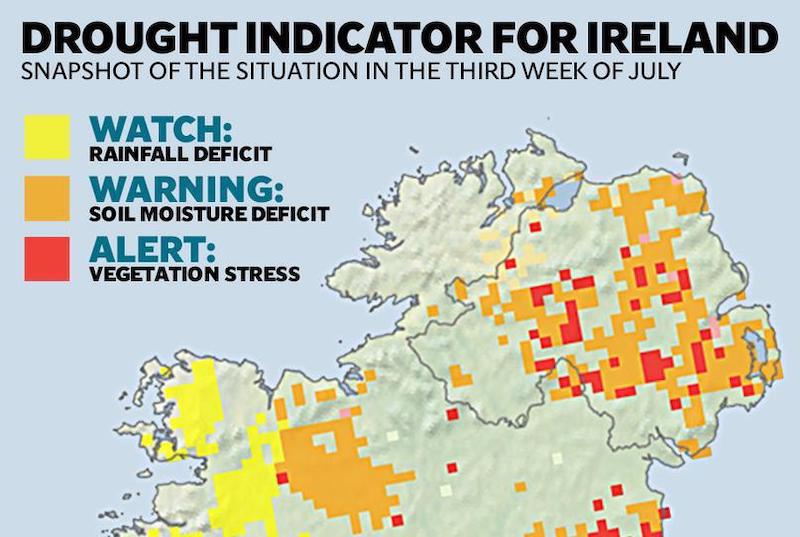 The warning comes as latest reports from the Environmental Protection Agency show water flows in almost half of the country's rivers either below normal or particularly low for the time of year.
A third of lakes also fell into those categories.
The vast majority of drinking water supplies come from rivers and lakes.
While a smaller proportion comes from groundwater, these are most immediately at risk as 75pc of groundwater sources are below normal or are particularly low.
Levels are expected to fall further as Met Éireann warns of a heatwave as this week progresses, with forecasts of 26C and above over many parts from today.
No rain is forecast until next Monday at the earliest and even then it looks to be short-lived.