The Kildarragh Fair is back and will kick off on Thursday the 18th and roar on until Sunday the 21st of August at McCarry's Bar in Dunfanaghy.
Once again the organisers have come up with a packed weekend and there really is something for everyone.
Bingo Loco will be taking place on the 18th of August, with complete non-stop party anthems, lip sync battles, dance-offs, confetti cannons, special effects, comedian MCs, dancers and a host of huge prizes, which includes a holiday to a European destination.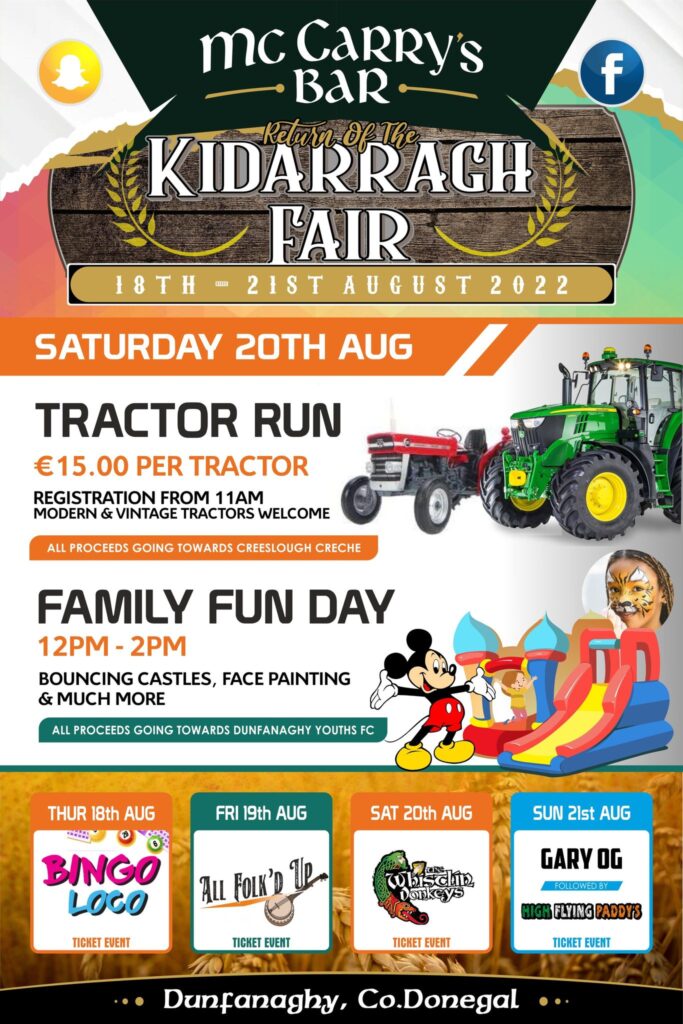 To purchase tickets for Bingo Loco, click the following link: https://www.eventbrite.com/e/bingo-loco-mc-carrys-bar-dunfanaghy-tickets-350398991817
'All Folkd Up' will be performing on the 19th, with both supporting acts and DJ to follow and tickets are available through this link: https://www.eventbrite.com/e/all-folkd-up-tickets-377885685257 
There will be more music in store as the Whistlin' Donkeys will take to the McCarry's Bar Stage on the 20th, and tickets can be bought here: https://www.eventbrite.co.uk/e/the-whistlin-donkeys-kildarragh-fair-dunfanaghy-tickets-368793309717?fbclid=IwAR2y5yG7GWhCAdfrcrHEb1LlKGDqto3il3MCHNcvHDYcBGTj7MquGxJRt0Q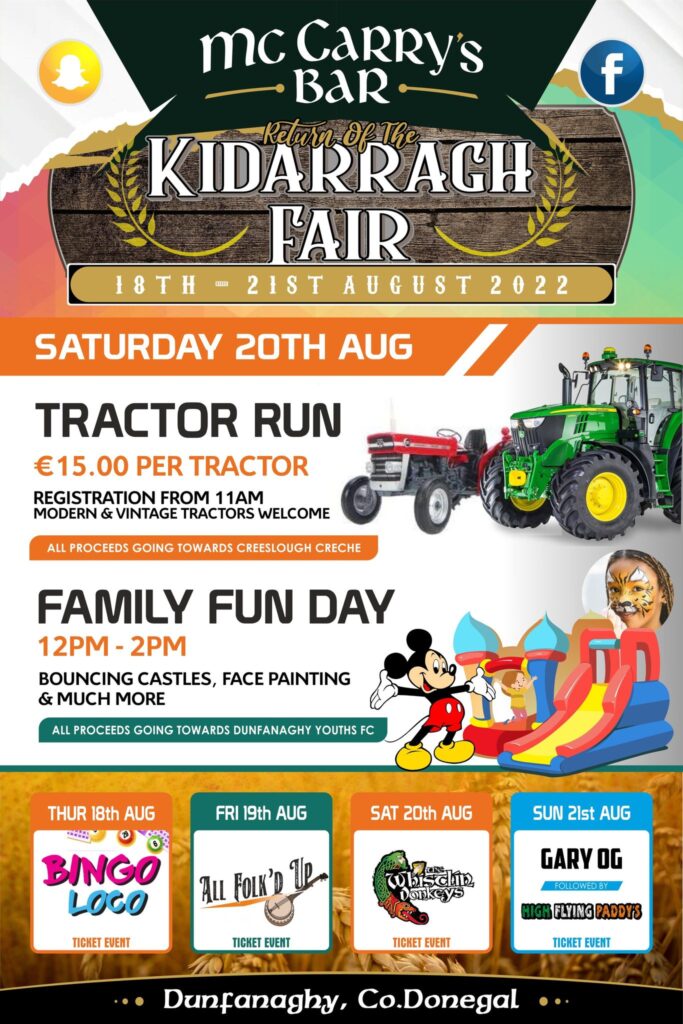 There will also be a Tractor Run taking place on the 20th, with registration taking place from 11am, with both modern and vintage tractors welcome. The fee is €15 per tractor, with all proceeds going towards Creeslough Creche.
That will then be followed by a 'Family Fun Day', which will take place from 12pm until 2pm, and includes bouncy castles, face painting and much more. All proceeds will be going towards Dunfanaghy Youths FC.
There will also be an auction, a 5k walk in aid of Dunfanaghy Youths, live entertainment and fortune teller Linda Greene on the day.
Finally, on Sunday, The High Flying Paddies will be performing on the 21st, featuring support act Gary Óg, and tickets for the performance can be purchased here: https://www.eventbrite.com/e/gary-og-tickets-377929034917