Sponsored post
A week-long festival celebrating the history of East Donegal is taking place from Monday 22nd August to Saturday 27th August. Admission is FREE to all events on the exciting schedule.
Special guest will be TV Chef Paula McIntyre, who will be demonstrating her culinary skills at Monreagh Community Hall on Monday 22nd August from 12 noon to 3pm.
Reserve Tickets Now: https://www.eventbrite.ie/e/east-donegal-family-history-festival-tickets-396491375377
---
MONDAY 22nd AUGUST
10am – 12noon Open Day at Monreagh Heritage Centre
12noon – 3pm Ulster Scots Cookery Demonstrations by Paula McIntyre (Monreagh Community Hall)
In Autumn 2001 Paula was given her own TV series on BBC 2 NI called "Taste for Adventure". She appeared as a guest chef with Eamonn Holmes on BBC 1 NI's "Summer Season" programme and was a reporter on food issues for BBC 1 NI's "Inside Out" programme. She has also been a guest chef twice on RTE 1's "Afternoon Show".
Here's a taste of what to look forward to:
3pm – 5pm Vintage Street Games / Linen Flax Demonstration at Monreagh Heritage Centre
TUESDAY 23rd AUGUST (Monreagh Heritage Centre)
10am – 1pm Family History Consultations with panel of local family historians (Monreagh Heritage Centre)
2pm – 3:30pm Tour of Taughboyne & Monreagh Graveyards with Dr William Roulston
WEDNESDAY 24th AUGUST (Monreagh Community Hall)
7pm – 10pm A Night with Local Authors
THURSDAY 25th AUGUST (Monreagh Community Hall)
7pm – 10pm Migration from Donegal & Ulster with Dr William Roulston, Dr Liam Campbell, Dr Patrick Fitzgerald, Brian Mitchell
FRIDAY 26th AUGUST (Monreagh Community Hall)
7pm – 10pm Bluegrass & Country Night with Live performances by Knotty Pine & Megan Villis
SATURDAY 27th AUGUST (Pick-up at Monreagh Heritage Centre)
10am – 5pm Cultural Bus Tour of the Foyle Valley
---
For more, visit the website: monreagh.net Facebook: monreaghheritagecentre
This festival is supported by the Ulster Scots Agency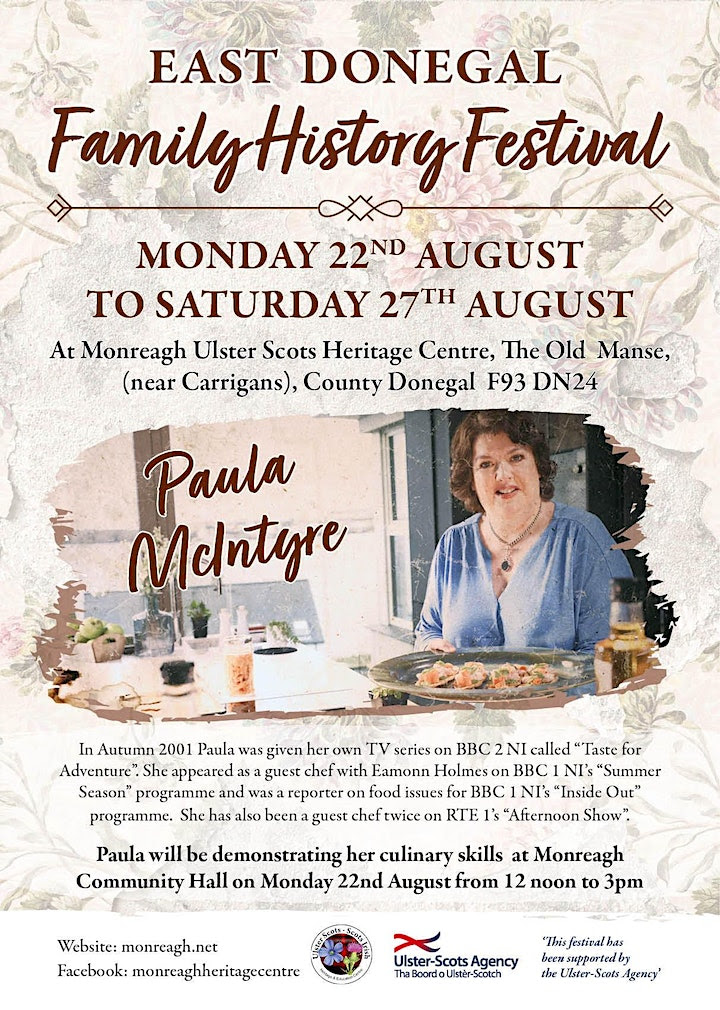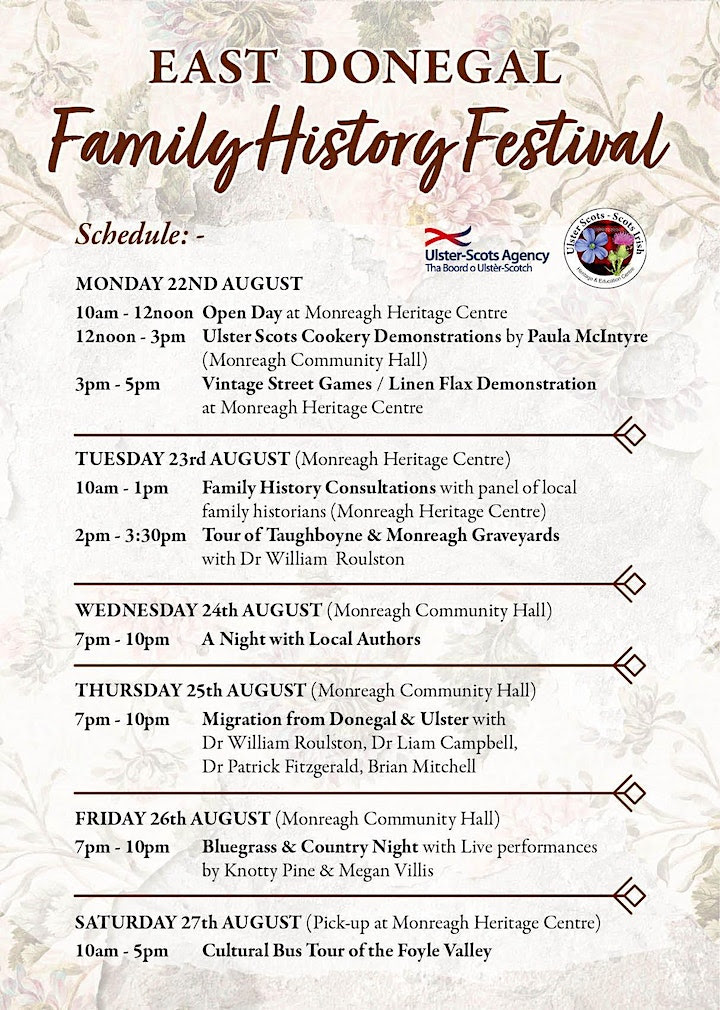 Tags: