Daniel O'Donnell has made a stunning gesture to a man he said believed in him 'when others didn't'.
Before the Donegal man sold out huge concert halls around the globe, Daniel regularly played Early's Bar on Arranmore Island.
This weekend, he returned to the bar to play a tribute concert to the original owner, Andrew Early, who sadly passed away in November, 2020.
Daniel stunned concert-goers and Andrew's son, Jerry who now runs the bar, by presenting him with a framed souvenir containing pictures of the Early family with Daniel and an engraved message.
Daniel became emotional when he read the message which said "To the Early family. In memory of Andrew. He believed in me when very few did. He will not be forgotten. We will meet again sometime."
But the audience were left gobsmacked when Daniel then donated the proceeds of the concert, more than €5,400, to the local Arranmore Lifeboat which was so close to Andrew's heart.
He then came down from the stage and embraced Andrew's wife Mary in emotional scenes.
Andrew's son Jerry said the souvenir and the donation said more about Daniel O'Donnell the person than anybody else could say.
He thanked Daniel and added that his late father would have been so proud of Daniel's gift, donation and kind words.
"We are so proud of the influence our father and mother had in Daniel's early career and to see the esteem they are held in by Daniel. The night was so emotional but also perfect in so many ways.
"A huge thank you to all our family and friends who traveled from all over the world to support us and share in the memories and stories. My Dad would have been so honoured to see the beautiful effect he had with so many people.
"There is nothing I can say about Daniel that has not been said already. He is a treasure to this area, this county and this country and his words and actions were so appreciated by all the extended Early family.
"The beautiful plaque he presented said it all " Andrew believed in me when very few did." It will hang proudly in the bar.
"Thank you Daniel and on behalf of the island thank you for the fantastic gesture of donating the ticket receipts €5k to the Arranmore lifeboat of which Majella O'Donnell is president.
"It was a night that will never be forgotten. There's no half measures from Daniel or his fantastic band and crew."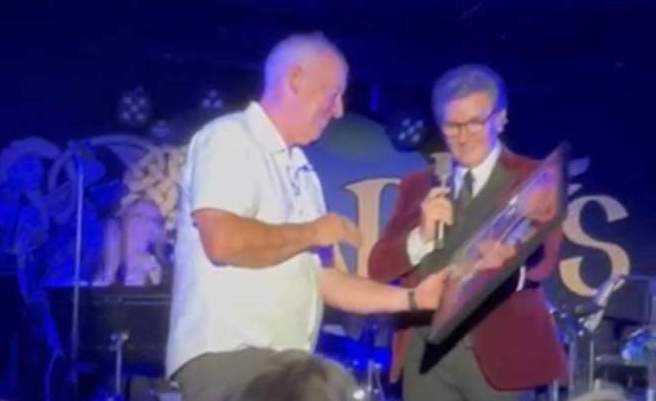 Tags: