There is widespread sadness following the passing of Ramelton bar-owner Breege Mackey.
Breege ran the bar with her husband Jose since 1988.
Up until then The Bridge Bar was a somewhat quiet establishment until Breege took a chance on music and the rest is history.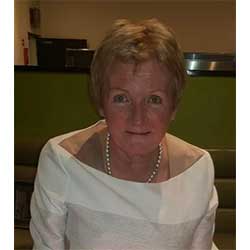 The bar soon became one of the hottest music venues in the north-west with names such as Brian Kennedy, Henry McCullough, Frances Black and Kieran Goss playing regularly.
Originally Breege Mellett from Hollymount in Mayo, she moved to Donegal where she worked as a telephonist at the post office in Letterkenny.
A very happy-go-lucky person, Breege also had a strong faith and was remembered fondly by everyone who were lucky enough to have known her.
She was predeceased by her husband Jose and her parents Patrick and Una Mellett.
She will be deeply missed by her daughter Ciara, sons Rory and Gavin, son-in-law David, daughters-in-law Carol Anne and Salena, grandchildren Louie and Darcy, brothers Joe, Dick and Martin, sisters Bernadette, Rosario and Sheila, brothers-in-law Pat and Brian, sisters-in-law Finola, Bernie, Marie and Marjorie, nieces, nephews, extended family and friends.
Her funeral mass will take place tomorrow (Friday) at St Mary's Church in Ramelton followed by burial in the adjoining cemetery.
May she rest in peace.