Donegal members of the charity Mary's Meals have traveled to Knock in their Step by Step journey to raise money to help feed hungry children.
Some well-known faces (see above) were among a large group which traveled to the Mayo shrine while raising money along the way.
The following is an account of that journey to Knock.
"It is hard to find words to describe the feelings when you get the first sight of Knock (Mayo) after walking for nine days to get there. The first sight is the very top of the Cross at the Basilica. There is elation of nearly being there and yet a wee reminder in the head – not yet for there are three or four kms still to go. The muscle aches seem to lose their pain and the blisters do not bother as much, for soon there will be no more walking. And you can rest tomorrow and the day after that if you so wish.
"The joyous excitement of making a difference is probably the most over-whelming emotion. Because of the walk, many people have responded to the plight of the poor children. Because of the effort of the walkers and collectors and all else involved in the walk literally thousands of children will receive a meal each day in a place of education with Mary's Meals.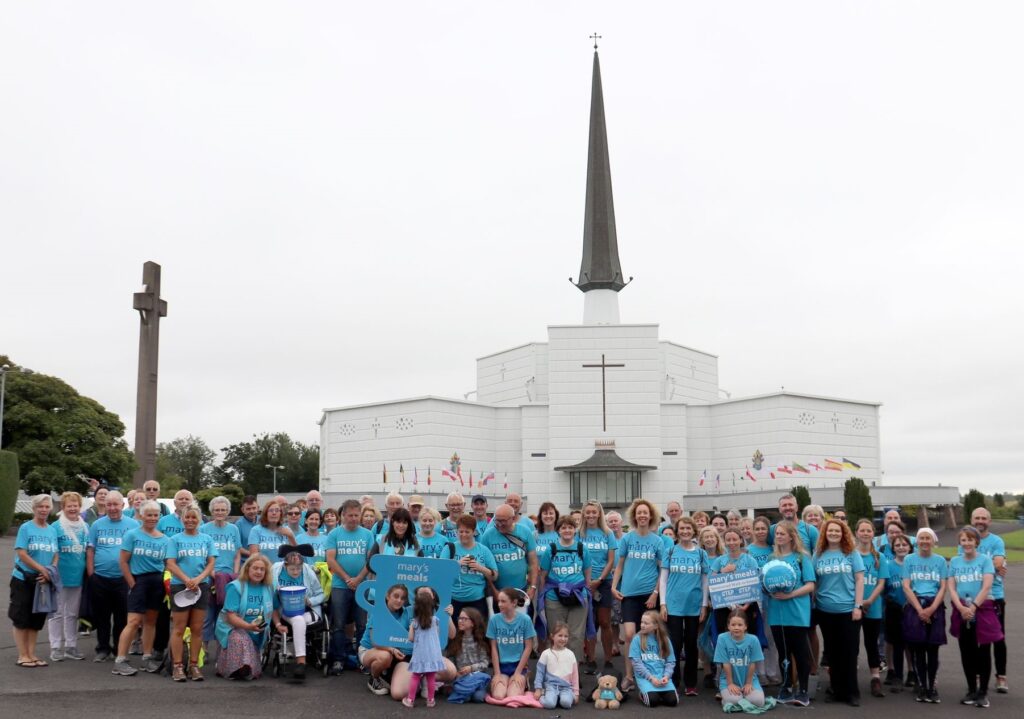 "Then as Knock gets closer, one can see walkers coming in from another direction and all walking for the same common purpose – to relieve the suffering of our little brothers and sisters. When the walkers meet, the hugs are genuine, with tears of relief and joy, of release and delight, of achievement and happiness. The walk up the main Street of Knock is very emotional as the stress of the nine days of pounding the tarmac gives way to the knowledge that another child has been fed and will be fed.
"After the final prayers of the two hundred plus kilometre trek, the adrenaline pumps through the veins and the smiling faces of the blue t-shirted walkers state clearly that it was all worthwhile. Hundreds and thousands of different and separate moments of the past nine days becomes blurred and melts into one big moment in your own induvial history. And deep in your heart you understand, beyond words, the work of Mary's Meals: ordinary people changing lives as they offer their money, skill, time, or prayer, and so provide the food to help those suffering the effects of extreme poverty in the world's poorest communities. Thanks to everyone who makes it possible."