Seven Donegal food establishments were award winners at the Food Awards Ireland 2022.
The Harbour Restaurant in Donegal Town received the highest award of Restaurant of the Year Overall Winner.
The popular Restaurant & Bar also won the Ulster Restaurant of the Year and the Chef of the Year.
A spokesperson for the Restaurant posted: "Absolutely over the moon to have won Restaurant of the Year and Chef of the Year of Ulster at the 2022 Food Awards Ireland.
"We are beyond delighted and proud of this fantastic achievement by our amazing team at the Harbour. There's no doubt your staff is the ingredient of any success in a business and we're beyond blessed to have an unbelievable Kitchen and Front of House team at the Harbour that strive every day to bring a quality hospitality experience to all our customers.
"Last but not least, a continued thanks to all our customers who have supported us on our journey over the last 5 years. We are forever indebted and grateful for your support and custom.
"Thanks from all the very happy team here at the Harbour."
The Rusty Mackerel in Teelin also picked up a trio of awards, winning Best Seafood Establishment, Outstanding Restaurant of the Year, and Gastro Pub of the Year Ulster.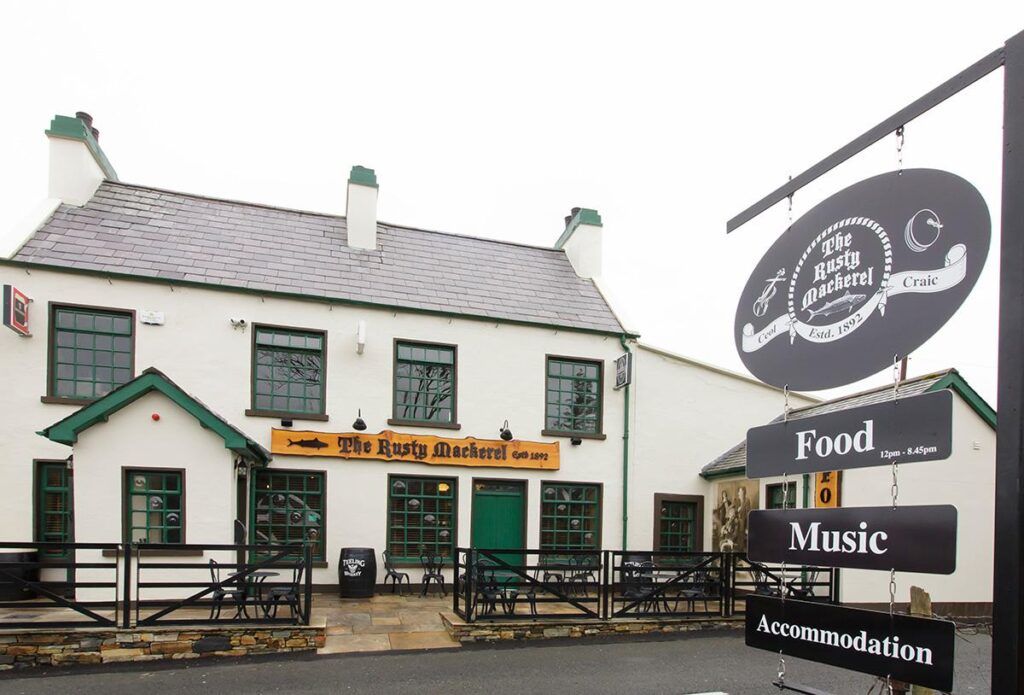 Johnny's Ranch in Ramelton won awards for Best Street Food and Cafe/Bistro of the Year Ulster, while An Capall Mara in Killybegs won Takeaway of the Year.
There were two winners in Letterkenny, with Honeypot Coffee House winning Best Vegetarian Establishment, while Lattea Da won Best Dessert Outlet of the Year.
The popular Biddy O'Barnes in the Barnesmore Gap won Best Fish N' Chips Establishment, the final winner from Donegal.
A Spokesperson for The Food Awards Ireland, said: "These awards aim to thank those that work hard within the country's food industry and contribute to making Ireland a great gastronomic place to visit.
"It is true that Ireland combines tastes and flavours from all over the world and the visitors can find different restaurants, gastro pubs and bistros to meet their needs.
"These people enhance the country's reputation nationally and internationally, and we would like to make sure that the hard work of Ireland's food professionals doesn't go unnoticed.
"It was lovely to be part of this celebration and we would like to congratulate all finalists and winners for their achievements!"
The winners of The Food Awards Ireland 2022 are: (Donegal winners in bold)
Takeaway of the Year: An Capall Mara (Killybegs)
Hotel Restaurant of the Year: Restaurant gigi's at the g Hotel (Galway)
Best Fish N' Chips Establishment: Biddys O'Barnes (Donegal)
Caterer of the Year: Treanlaur Catering (Mayo)
Best Indian Establishment: Chilli lounge (Cavan)
Best Italian Establishment: IL Vicolo (Galway)
Best Oriental Establishment: Ngai's Oriental Restaurant (Kildare)
Best World Cuisine: Good World Hong Kong Café (Dublin)
Best Vegetarian Establishment: Honeypot Coffee House High Road (Letterkenny)
Best Seafood Establishment: The Rusty Mackerel (Donegal)
Dessert Outlet of the Year: Lattea Da (Letterkenny)
Best Street Food: Johnny's Ranch Ramelton (Donegal)
Artisan Bakery of the Year: Buttercream Dream (Dublin)
Chef of the Year: The Harbour Restaurant (Donegal)
Cookery School of the Year: Multyfarnham Cookery School (Multyfarnham)
Outstanding Restaurant of the Year: Rusty Mackerel (Donegal)                                
Middle Eastern Restaurant Of The Year: Shouk (Dublin)
Best Asian Food Establishment: Okayu (Dublin)
Best Mexican Establishment: Tuco's Taqueria (Galway)
Best Pizza Establishment: Boco (Dublin)
Best of Dublin: Restaurant SIX
Burger Bar of the Year: Box Burger (Wicklow)
Buffet Restaurant of the Year: Zing By Chaska (Dublin)
Restaurant General Manager of the Year: Chapter One Restaurant (Dublin)
Best Irish Cuisine: Bofey Quinns Bar & Restaurant (Clare)
Fine Dining Restaurant of the Year: Seasons Restaurant (Dublin)
Best Mediterranean Establishment: Mykonos Taverna (Dublin)
Gastro Pub of the Year Ulster: The Rusty Mackerel (Teelin)
Gastro Pub of the Year Connacht: John Keogh's Gastropub (Galway)
Gastro Pub of the Year Leinster: PVs gastro pub (Longford)
Gastro Pub of the Year Dublin: Brannigans Bar
Gastro Pub of the Year Munster: Off The Bone Gastropub (Limerick)
Gastro Pub of the Year Overall Winner: Off The Bone Gastropub (Limerick)
Cafe/Bistro of the Year Ulster: Johnny's Ranch (Ramelton, Co Donegal)
Cafe/Bistro of the Year Connacht: Roots Café Bar Shop (Galway)
Cafe/Bistro of the Year Leinster: Nosh (Louth)
Cafe/Bistro of the Year Dublin: Avoca Café
Cafe/Bistro of the Year Munster: CafeSIVEEN (Kerry)
Cafe/Bistro of the Year Overall Winner: Roots Café Bar Shop (Galway)
Restaurant of the Year Ulster: The Harbour Restaurant (Donegal)
Restaurant of the Year Connacht: Eala Bhan (Sligo)
Restaurant of the Year Leinster: Franzini's (Trim)
Restaurant of the Year Dublin: Lavanda Restaurant   
Restaurant of the Year Munster: La Candela (Tipperary)
Restaurant of the Year Overall Winner: The Harbour Restaurant (Donegal)