Mollie was a sheepdog and we were her flock. 
I'm happy for Mollie, she had a wonderful long life. Dog years are a bit different from  humans and that's a problem that we  suffer when beautiful pets come and, sadly, go as we pass through our lives.
By Brian McDaid
Our Mollie sadly passed away at the weekend communicating with her eyes (as she always did so well), to the very last moment as she slipped peacefully away.
Her passing opens a new chapter for those who were lucky enough to get to know her and, over the last few days, have shared some of the happiest and funny memories of one of the most intelligent dogs.
I'm not saying that because we owned this dog for the last 12 or 13 years. It was more of a case that Mollie owned us!
Mollie was a sequel to the dog that came before her, Daisy, both sheepdogs. She lived to the ripe old age of 15, or even 16, so between them they have given us nearly 30 years of companionship.
Love of dogs
As a child growing up, we always had dogs, everything from a lassie dog (Border Collie) called Shep, to a German Shepherd called Sheba.
However, from my memory growing up, it was a sheepdog or Collie called Rover that we had for the longest time, around 15 years.
Me and my brothers had Rover as children growing up in Wolfe Tone Place in the 70s and 80s and when I was looking at the few photos I have of him, I found one of him flying through the air going up to catch a stone (that's what he was the happiest doing).
We also nicknamed Rover 'Roadstone' as he was forever lifting stones of the road, especially if we were sitting on an old summer seat my father built in the ditch across the road from the back of our house.
Rover would drop the stone at your foot to throw for her to retrieve.  This picture was taken when I was starting out in photography when cameras only went up as far as 250th of a second to freeze the frame in my price range.
This week after the passing of Mollie, I can't get over how alike both dogs were in their mannerisms. The only difference is that Mollie would be going after a ball and a wasp or the rattle of a blue bottle would have her on high alert.
Mollie would have been thirteen  human years in November but sadly this last year or so her health was starting to fade.
Her life nearly ended when she was only a pup, when she was knocked down. To this day, we don't know how she made it back to the front door with two broken legs, a fractured shoulder and broken ribs. She took a long time to recover but, in a way, her accident settled her down a lot and, for last 10 years, she never went out on the main road.
She was brave, barking out the window at the postman, dogs or cat that went into her front garden, but she would seldom bark when she was outside and was always happier in the house looking out.
Compared to Daisy, who always stayed outside in her kennel and only came into the house when she got older, Mollie wouldn't stay outside and wasn't happy until she got into the house.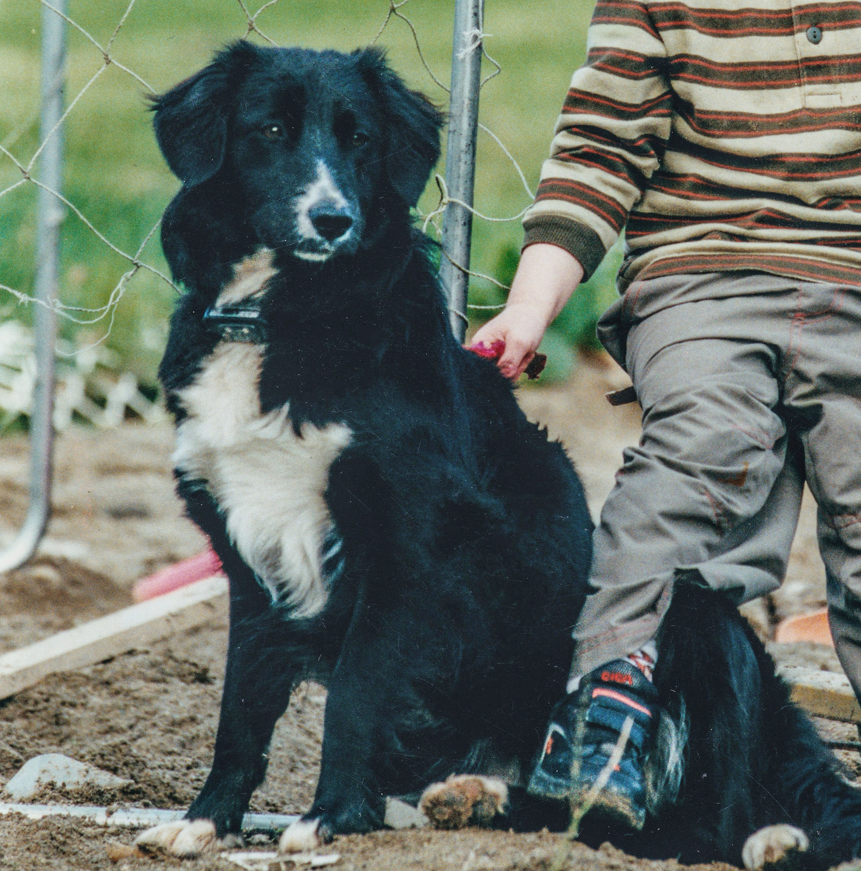 She loved her home comforts and would always know when a fire was on in the sitting room and wasn't happy until she was laying right in front of the fire with her two paws up in the fire surround.
Mollie could charm the best. She made everyone that came into the house believe that no one had fed her and many an evening she would eat two dinners and would still be begging from the dinner table. Food was her king.
She even joined in with one of the boys' birthdays one year, helping herself to cake. The hundreds and thousands on her paw gave her away as she retreated to her bed to plead her innocence!
Another favourite midnight treat was nicking the drip tray of the George Foreman Grill and you would find it out at her bed in the back utility clean as a whistle!
Then, to make you look at her, she would give you the most sincere look with her beautiful brown eyes and you would think that butter wouldn't melt in her mouth, but I did!  A full pound on butter one occasion, when we spotted the wrapper out in her bed and thought it was going to make her ill but it didn't take a flinch out of her.
We had an old cattle grid at our entrance and she could tell the difference between the postman's van and my van when it would rattle over the cattle grid. She would head to the window of the postman's van to give out to them as they dropped the letters into the post box.
If she heard my van, she would go into "Plan B mode" and would head out into her bed and wait for me to come in and she let on that she never left where she supposed to be while I was away.
One of the funniest things about Mollie was the way she could open and even close doors. She had brilliant dexterity with her paws to jump up, rest in one paw and use the other to press down on the door handle.
She would then let on that it wasn't her that opened the door, and sit back and wait for you to call her into the room. She even used this when she went visiting!
She would see our neighbour car going in from work next door and, as we would arrive, she would go out to do her needs and also take a quick trip up next door, open the back door and call in to say hello and avail of a wee stack of treats that they had ready for her visit and would be back down before she was missed waiting to get fed in our house as well.
Mollie could tell you to the minute what time everyone got up at in the morning, nearly chatting to you in all the different sounds she would make.
She knew when everyone came in from school or college or work, knew if you were in good form or bad form and knew when to give you space. She knew that 5.30 in the evening was her official time she got her dinner. She would go through all these stretching moves and wee dances around the kitchen to let you know that her official dinner time had arrived.
The only thing that our wee Mollie never really mastered was the changing of the clocks  from summer to winter time, when her dinner time was a full hour late!
One of the positives of lock down over the recent few years was that we were all at home and got to spend a lot of time with Mollie. She would be the first outside, up behind the goal nets if she heard a ball bouncing, even though her joints were getting stiffer and didn't take much to exhaust her.
My late father always believed that a dog always knew when it was going to pass on from this world, and had wee  mannerisms they would do, like spending time a long time along hedge rows.
Sadly, I saw Mollie at this these last few weeks and sitting in the house, she gave me a look like no other to say she was "ready to go". One of our boys got the same look from her and it was only after the passing of our wee dog that we realised the way that, even in sickness, she communicated with her eyes.
Double act
A long time ago, I went to the dog compound to do a story on getting pets as presents for Christmas for the Donegal Democrat, and broke all the rules of the message we were trying to convey.
I ended up coming home with a wee pup which was impounded along with her mother. That wee pup was Daisy and she was our family pet for the next 15 or 16 years.
When she passed away, we fondly remembered her and always said there never will be another Daisy. We were right, there never was another Daisy, but there was a Mollie.
She also arrived from a job of taking photos at the Donegal Hospice for the Democrat and ending up finding out about pups that Isobel's wee Collie Nell had.
One Saturday morning, we went out to look at them with a possible view of picking one, when Mollie made her way over from the litter of pups and sat down on my son's foot. Even as a pup she was the boss, even though she was happy enough to let you believe that you made the decision.
Growing up, Daisy and Mollie were two different dogs but the same. Both would sit out under the trampoline in the shade, watching everyone flying above their heads in the air.
As pups, Daisy chewed legs off the table, and, for Mollie, her favourite thing to eat was runners. They both grew up fast in their long lives for dogs but relatively short lived for us humans.
Their memories rest together in an imperfect world of growing up and feeling so privileged to have known them both.
Both dogs would have little chance of winning anything at 'Crufts', but they were both were successful in winning our hearts.