Dunkineely/Bruckless/Killaghtee Community Notes – Killaghtee Festival Special
26th to 28th August we will be celebrating all weekend.
The information desk can be found in the Dunkineely Community centre all day Saturday, along with tea and coffee for sale.
Come along and find out more about the event, the organisers and see our huge display of local photographs.
We will also be showing the film "A Turning Tide in the Life of a Man" which documents one man's quest to regain his right to fish in the seas off Donegal.
Full details are at www.killaghtee.ie and keep an eye on the Dunkineely Community Ltd Facebook page for up to date information.
Click here to view the Timetable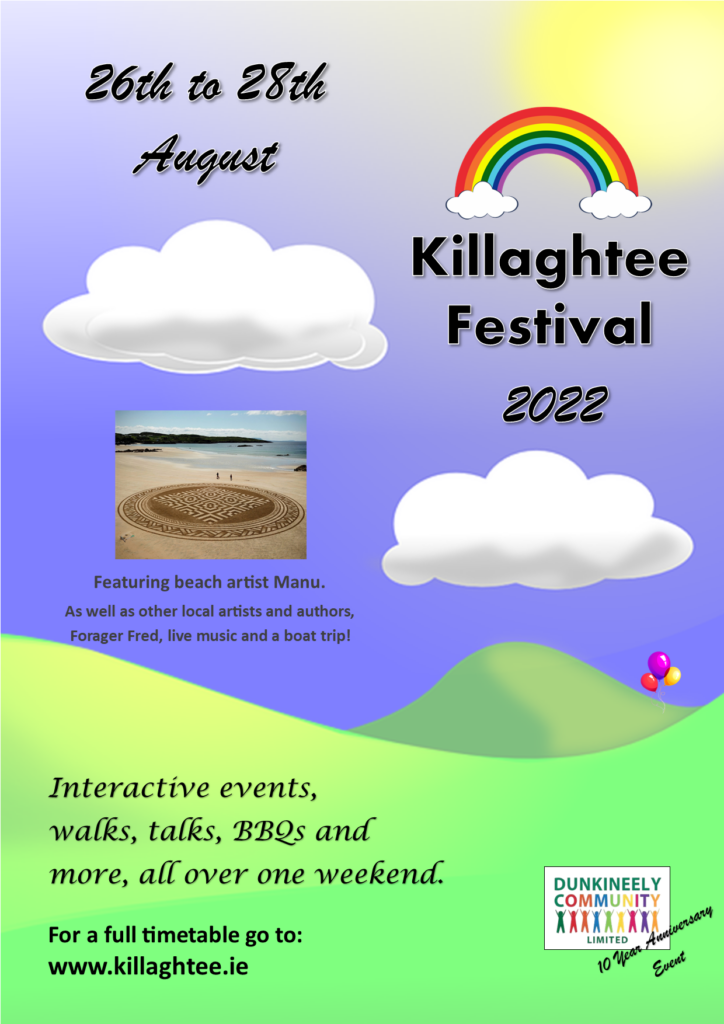 The Beach
Join us at Trá Bán (Coral Beach on St. john's Point) for art, creativity and a BBQ.
All day Saturday 27th August, 10am to 4pm.
Our main attraction will be the artist Manu, creating a supersized image of the Killaghtee Cross in the sand of Trá Bán Beach.
He will be joined by St. John's Point resident Olive of Donegal Sea Pictures, who will be making their own special art from things found on the beach.
Fancy Something more creative?
Unleash your Creativity on the Beach.
Come and have fun creating your own beach art with artist Heather Cassidy at 10:30am to 12noon.
​Each of you will have your own area with which to create your own art from things found on the beach. Make sure you bring a camera! Suitable for children accompanied by adults.
​Installations on the Beach Whale of a time. 
2pm to 4pm, come down and let's make a whale together. and maybe a few other creations, with Heather Cassidy 
A group event where you will create a giant whale from what you find on the beach. Suitable for children accompanied by adults.
Both events are free.
We will also be having a BBQ 12noon to 2pm.
A free bus shuttle will leave Dunkineely on the hour from 10am to 1pm and a last bus down at 2:30pm. Places are limited
Fancy Dress
Join us at 7pm on Friday, in the centre of Dunkineely for our Grand Opening of the Killaghtee Festival and children's Fancy Dress Competition.
Open to 0-10 year olds, there will be four categories:
Best Individual

Most Original

Best 0-5 year old

Best 6-10 year old
Don't miss it! Prizes galore!
Old Photos
Do you have any old photos of Dunkineely, Bruckless, Killaghtee or St. John's Point?
Would you lend them to us for the weekend?
Bring them in to Dunkineely Community Centre on Saturday 27th August, so we can display them for all to see.
By the way, if you take any great photos at the Killaghtee Festival, send them to us at dunkineelycommunity@gmail.com.
Foraging
Wild Food Foraging and Nature Walk starting at the Dunkineely Community Centre and exploring the area at the Bunlacky outlet.
​Take a leisurely walk in the wild with Forger Fred and see the world around you. Sessions on Saturday 27th at 10:30am and again on Sunday 28th at 10am.
€5 per adult, children free. Suitable for children accompanied by adults. No need to book. Get your ticket from Dunkineely Community Centre on the day.
Rediscover the wonder in every blooming ordinary thing, so that when you next go for a walk or ramble you see the natural world through a new way; as a friend that is there to feed you; to inspire you; and most importantly to amaze you. 
Fred is passionate about wildlife and foraging for wild food be that plants; fish; seafood or wild game and wants to help inspire you to look at the natural world around you as though through the eyes of a child.
Yoga and Relaxation
Join Rosabella for Yoga and a Sound Bath at the Killaghtee Festival. on Saturday.
Yoga suitable for all levels of experience and free.
Firstly, join us in meeting the sun at 6:15am at the end of St. John's Point*.
If you prefer a lie in, then don't miss out. The next session is at the Beach on the Point at 10:30am*.
And finally, join us in the Dunkineely Community Centre for a Sound Bath at 5pm and immerse yourself in meditative sounds.
Bring your own yoga mat, if you have one.
Old Killaghtee Church
Our very own Michael Cunningham will be giving talks at the Old Killaghtee Church at Spamount, F94 CK06 on Saturday at 2pm and Sunday at 11am.
It is from this site the parish of Killaghtee gets its name, Cill Leacht Aedh. The site contains the remains of a church that was believed to have been built in 1118. 
It also contains the Killaghtee Cross, which dates from between 650-700AD; this is an important example of an intermediate stage between early Christian inscribed slabs and sculpted High Crosses.
Come and learn about its history from the earliest times right through to the modern day.
There is no dedicated parking, but cars may be parked along the roadside opposite the entrance. It should be noted that the ground is uneven at this historical site.
Music at the Castle
Likely to be the highlight of the weekend, weather permitting, visit McSwyne's Castle for some live music by pupils of the O'Donnell School of Music, and some singing. 
Majestic views and plenty of talent on display.
Bring a chair or blanket, umbrella and a picnic!
Parking is available at the Castle.
Social Events
For the Killaghtee Festival the pubs have gone full out.
From Karaoke to traditional music, it's all going on.
On Saturday there will be live music at MacLaughlin's around 9pm.
McIntyre's have Mannie McLoughlin doing Neil Diamond and greatest hits from 60s, 70s and 80s. Starting at 9pm. Plus Karaoke!
On Sunday, join the celebrations at Mac's Bar after the Tractor run at 12noon for food a drink. Later see Kevin Perform at McIntyre's from 6 to 8pm. Finish off the day with Nao Cannon, back at Mac's.
Prefer more dancing? We have the monthly Sunday Social at the Dunkineely Community Centre, Sunday at 8pm. €10 per person. Music by Magic Black.
Please drink responsibly.
Weaving
Join Cyndi Graham for a weaving talk and demonstration, Saturday 27th August at 11:30am.
At the Cyndi Graham Handweaving Studio, F94 Y597.
A visit to this studio allows you to view a traditional working loom and the opportunity to purchase handwoven products directly from a local artisan.
Sing Along with Laura
A free event, just for kids, 10 to 11am Sunday at the Dunkineely Community Centre.
Sing, Dance, Play!
A morning of music, dancing and games for children of all ages and abilities. 
Come learn songs about Self-love and celebrating our unique gifts.  Create your own song as a group. Dance your very own moves to your own beat. And play games, just for fun and laughs. 
Sun-day Fun-day.
Sports Blitz
A free event, just for kids.
Join Dunkineely Celtic Football Club for a fun afternoon of football and sports day events.
All ages are welcome, must be accompanied by adults.
Taking place at Darney Park in Bruckless at 1pm on Saturday. Come down to Darney Park for lots of fun. 
Football, races and more for all ages.
Holistic Farming Tour
Heather Hill Farm is a regenerative farm that takes a holistic approach to farming, focusing on ecological, social and economical goals.
They produce pasture raised turkey, pasture raised chicken, pasture raised eggs, wildflower honey and grass-fed lamb. They operate a Holistic Planned Grazing system, meaning our animals are moved to fresh pasture every day.
Not only does this benefit the animals, but it helps build soil fertility and create habitats. They use a Silvopasture system where fruit trees, nut trees and berry bushes have been planted throughout their grassland. This increases biodiversity and contributes to healthy soil.
€10 per adult, children are free. F94 A568.
Parking and Bus Timetable
Parking will be available in the Centre of Dunkineely, on Saturday and Sunday, at Charlie Vial's Factory (follow the signs).
Parking is also available at McSwyne's Castle.
Limited parking is available at St. John's Point Beach and opposite the entrance to the old Killaghtee Church. Parking is at your own risk, and please be aware of the animals near the beach.
A free shuttle service will operate on Saturday 27th August from Dunkineely To St. John's Point Beach. Places are limited.
Church Services
Methodist Church: Normal Sunday Services will be held at 10:30am in Ardara and 12 noon in Dunkineely. 
Catholic Church: Mass will be held at the normal times. Mass can also be viewed on the "Bruckless Church – St Joseph and St Conal" Facebook page. 
Eucharistic Adoration is on Friday from 11am to 3pm, and on Sunday from 3pm to 4pm.
Confession can be heard before weekend Masses or arrange a time by contacting Fr Brady at the Parochial House (074 973 7015).
Church of Ireland: Normal services will be held on Sunday. Services will also continue online for the foreseeable future.
Dunkineely Celtic FC
Dunkineely Celtic will be playing again in the Shield Final on Tuesday 23rd August at 7pm versus Drumbar. Then in the Seamus McCallig Cup, Sunday 28th August versus Cappry Rovers, 7pm. Both at home.
Lottery: Dunkineely Celtic Lotto results for Sunday 14th August were 5, 22, 24, 26.  
There was no Jackpot winner. Consolation prizes of €20 each went to Patrick Cannon, Dermot McGlynn and Ryan Aaron Oisin McShane. 
The Jackpot is now at €940. Many thanks for your continued support.
Sports Bilitz: Don't miss the Sports Blitz on Saturday for kids. 1pm.
Naomh Ultan
All fixtures, results and match reports can be viewed on their website – www.naomhultan.com.
Naomh Ultan got their Junior A Championship campaign off to a winning start with a strong second half performance at home to Naomh Padraig Uisce Chaoin.
Naomh Ultan 2-12
Naomh Padraig, Uisce Chaoin 1-9
Cian Kennedy gave an exhibition of point taking as Naomh Ultan forged ahead to take the win comfortably in the end.
Monthly Meeting: The next monthly meeting is scheduled for Friday, 2nd September at 8pm, upstairs in the clubhouse. All members are welcome to attend!
Royal Flush Lotto: Lotto results for 21/08/2022 were 1, 4, 12, 20. 
There was no winner of the jackpot of €960, consolation prizes went to Sean Furey, Courtney Boyle and Stephanie Kyles.
Next week's jackpot now stands at €1,000. Make sure not to miss out by entering via www.naomhultan.com, the club app or local shops.