Donegal County Council said it will continue to investigate claims of illegal dumping and pump the necessary resources into preventing further damage to the county.
It comes following confirmation that 28 tonnes of illegal waste was dumped in a site outside Falcarragh recently.
The large dump contained all sorts of household and construction waste much of which could have been recycled, according to the council.
The illegal dumping was slammed by local county councillor Michael McClafferty.
A spokesperson for Donegal County Council told Donegal Daily that a fund of €135,000 has been secured for campaigns to fight illegal dumping and also to clean-up dumping when it takes place.
Some of this funding was used to pay for the clean-up at the site in Falcarragh which cost a total of €12,000 to undertake.
A council spokesperson said "Donegal County Council treats all dumping incidents very seriously and work with the community to identify culprits, clean up the area and put measures in place to prevent a reoccurrence. Our volunteers and other groups and agencies work tirelessly to keep our County looking so well.
"We take great motivation from the enthusiasm and the efforts of everyone involved which results in our beautiful county looking so well. We have a great product to offer our tourists and we are very happy to continue to support everyone involved.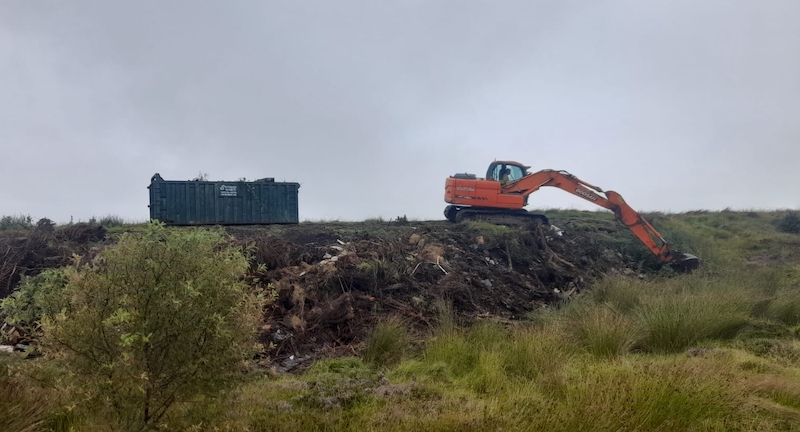 "We secure and provide significant materials and resources to this area every year. The record shows that things are improving, and Tidy Towns groups are continually increasing their points in national competitions.
"In 2022 Donegal County Council made a successful application for Anti-Dumping Initiative funding and secured funding of €135,000 from the Department of the Environment, Climate and Communications.
"Funding was also secured for equipment for our community groups, equipment to deter littering, a half price bulky goods collection drive at our Recycling Centres, awareness raising campaigns for visitors to the County and a Household Waste Management Survey.
"The funding also provided for several clean-ups of illegal dumping sites identified by the Council's Environment Team in conjunction with the public. One such site was identified in 2022 and in recent days 28 tonnes of illegally dumped waste was removed and disposed of from it in a responsible manner by a permitted waste collector. Much of the material, dumped could easily have been recycled at little cost and effort. Donegal County Council would like to thank the local community and the contractors for their assistance in cleaning this dump site up for the benefit of the community and flora and fauna in the area."
The council said it also wanted to remind the public to always ensure they deal with their waste in a responsible manner; to always use a permitted waste collector, waste collectors provide service for waste, recycling and food waste; use the waste and recycling services available at the 6 Recycling Centres located in Dungloe, Milford, Letterkenny, Laghey, Stranorlar and Carndonagh and use the network of over 70 Bring Banks for glass and can recycling.
They added that they will continue to work with all partners and use all resources and policy options available to it to continue the important work in this area.
"Donegal County Council would like to thank the members of the public who report illegal dumping and encourage any member of the public who has information regarding any instance of unauthorised waste activity to call Donegal County Council Contact Centre on 074 91 53900 from 9am to 4.30pm Monday to Friday or email info@donegalcoco.ie.
"In addition, outside of the Council's office hours or where a member of the public may wish to report an issue directly to the Environmental Protection Agency (EPA), they can make a report through the National Environmental Complaints Line on 1850 365121 or via the EPA's "See it? Say it?" smartphone app. These services operate on a 24-hour basis.
"Donegal County Council is committed to thoroughly investigating all reports received.
"It is also extremely important to recognise and thank the 5,500 volunteers in community groups and Tidy Towns Committees who work tirelessly in collaboration with the Council in our journey to ensuring that Donegal is the cleanest and greenest county in Ireland."