ATU Donegal Upcoming Events: Leaving Cert Results Day, CAO Offers Day and ATU Donegal Information Day
If you are about to receive your Leaving Certificate results, or you are a mature student making a return to full-time education, or a parent of a prospective student in need of support or advice, be sure to connect to the series of upcoming events taking place at ATU Donegal. 
From Friday 2 September until Friday 9 September, ATU Donegal's Schools Engagement team will host a number of events, all of which are geared towards supporting prospective students, who are hoping to study at Donegal's university this September.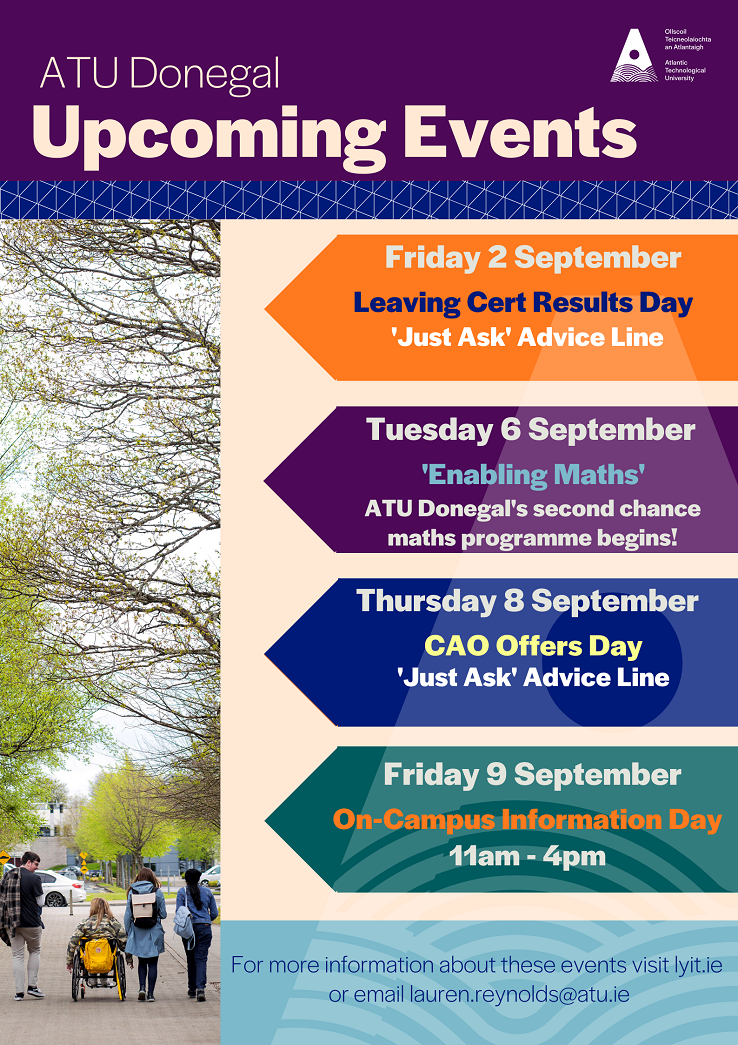 On Friday 2 September, Leaving Certificate Results Day, the ATU Donegal Schools Engagement team will be on hand, via 'WhatsApp', phone and email, to answer questions and queries from prospective students, parents and teachers.
On Tuesday 6 September, ATU Donegal's Enabling Maths programme will begin on campus. The Enabling Maths course is a joint initiative between Donegal Education and Training Board and ATU Donegal and gives students that fail Leaving Certificate Maths a 'second chance' to secure a third level place at ATU Donegal. 
Closing date for applications to the Enabling Maths programme is Friday 2 September at 5pm. Full details on how to apply to join this programme are in the link below: https://www.lyit.ie/Study-at-ATU-Donegal/How-to-Apply-for-Full-time-Undergraduate-Courses/CAO-Leaving-Certificate/Enabling-Maths
On Thursday 8 September, CAO Round One Offers Day, prospective students, parents, and teachers can connect with the ATU Donegal's Schools Engagement team for advice and support via 'WhatsApp' or email from 10am to 6pm. If you don't receive the offer you expected, or if you would like to make a late CAO application to ATU Donegal, contact Orlaith, Shannon or Lauren directly during this event. 
On Friday 9 September, ATU Donegal will host an on-campus Information Day from 11am to 4pm. This event will provide prospective students with a chance to connect directly, in a one-to-one setting, with ATU Donegal's academic and student support staff on campus. During this event, incoming students can take a campus tour of ATU Donegal facilities, meet current ATU Donegal students, find out more about their degree course choices, and explore ATU Donegal's student support services.
Lauren Reynolds, ATU Donegal Schools Engagement Officer, commented, "ATU Donegal offers an extensive range of degree programmes and a fantastic student experience. The series of events have been developed to provide advice and support to students', teachers and parents. The ATU Donegal team will be available to give information on grants, accommodation, and student support services available at the university. If a student has not made a CAO application, we will be able to provide advice on 'Available Places' and how to make a late application to join ATU Donegal. We are here to help prospective students no matter what your situation is, we encourage parents and prospective students to connect to these upcoming events." 
For further information on these events visit www.lyit.ie or contact ATU Donegal on (074) 9186104.
The future is here.