Sponsored Feature
The deadline is fast approaching for applications to Ambition 2022 by Local Enterprise Office Donegal.
Now in its third year, the programme is open to female founders and co-founders, entrepreneurs, or those with a strong start-up idea, who have links to Donegal. The closing date for applications is midnight on Wednesday, 7th September.
Here, we talk to Catherine Devine of Pumpskynz who took part in the first cohort of Ambition and is returning as a Mentor…
Tell us a bit about your business. 
Pumpskynz are silicone covers for insulin pumps and devices used by people with Type 1 Diabetes. They enable the user to protect and personalise their devices but more importantly, they empower people to live confidently with Type 1. Diabetes tech is technically amazing, but aesthetically dull and often intimidating for children and young adults. However, an insulin pump is something that must be worn by the user 24/7 so it's something you should feel confident wearing. Pumpskynz come in a range of fashionable and fun colours and allow people with Type 1 to put their own stamp on the management of a condition where so much is outside their control.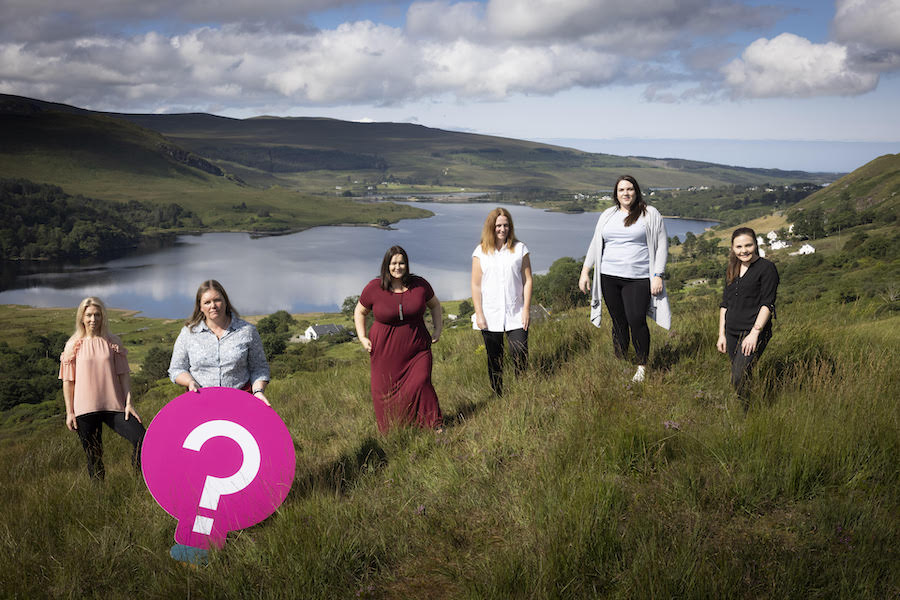 Why did you decide to apply for the female pre-accelerator Ambition? 
I applied for Ambition in 2020, shortly after I had launched my website. I knew that I had a business idea with enormous potential, but I didn't come from a business background. I couldn't believe my good luck when I saw the Ambition programme advertised. It couldn't have come at a better time. I applied because I wanted to educate myself on what I needed to do to set the business on solid foundations. Even though I had some sales, I knew that with the right support and plan in place, I could scale my business in the best way possible. 
What did you learn from your Ambition experience and what impact has the programme had on you from a personal and professional point of view? 
Ambition has given me the confidence to know that I am a capable businesswoman with a valid idea. Over the course of the programme, we undertook a significant body of work in carrying out customer interviews, which further validated that the product I created was one which was very much needed. Personally, it has also given me a network of other women who are all on their own entrepreneurial journey and understand the challenges of founding a business.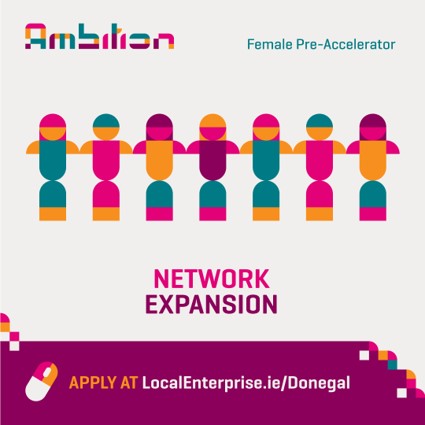 Has Ambition impacted your future business plans, and if so, how? 
Without a doubt, Ambition has accelerated the growth of my business. I went on to secure places on Phases 1 & 2 of Enterprise Ireland's New Frontiers Programme and was successful in securing investment from EI through the Competitive Start Fund. This has given me a budget to invest heavily in marketing and PR as well as taking on our first employees before the end of this year. In addition, Ambition has given me the focus and support to really scale the business globally, in a sustainable way. I also made some major changes to my business model. I went into the programme certain that selling our products directly to customers through our website was the best way forward. Once I began to break down our customer segments, however, it became apparent that selling wholesale to existing diabetic accessory retailers was an easier route to market. Now, we have distribution partnerships in 16 countries, from South America, across Europe and the Middle East and have just opened discussions with partners in Guadalupe and South Africa. The programme's co-ordinator, Helen Fullen, has an incredible network and has been generous in making some very high-level introductions to people who are helping me drive the business forward.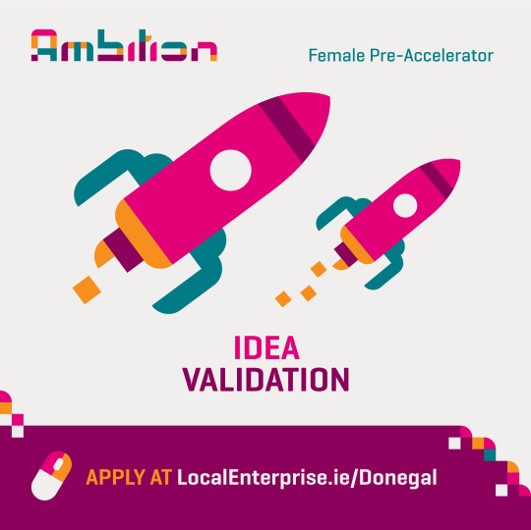 You have now come on board as an Ambition mentor for this year's programme. Why is focusing on female entrepreneurship important to you? 
I think we can be conditioned to accept that we need the security of traditional 'nine-to-five' employment. I came from that background but in addition was helping my husband run the family farm and raising a young family. I had no time. I always knew that I wanted to work for myself but taking that leap from a guaranteed salary coming in every month to becoming an entrepreneur was terrifying. However, I can honestly say that it was the best decision I ever made. My priority was to take charge of my time and be able to spend more of it with my family and I have been able to do that. Having said that, being in charge of your own business means that you can often end up working more hours than you can imagine getting the business off the ground and the lines can get blurred. I have learned a lot through Ambition and the women I have met which has helped me to put boundaries in place to manage my time better. Fortunately, confidence is never something that I struggled with but starting your own business can be daunting. As an Ambition mentor, I would hope to be able to encourage and support other women to become successful entrepreneurs. 
What advice would you give to someone who is thinking about taking part in Ambition?
I would encourage anyone with a strong business idea to apply for the programme. When I joined the first cohort, I already had some sales under my belt but many of the others just had an incredibly good idea. It is essential to go into the programme understanding that you must be prepared to be flexible with your idea and be open to listening to advice and opinions from others. In a sense, you need to unlearn and rethink your idea over the course of the programme to come out the other side with a strong business proposal. Thanks to the way the programme is put together, you will receive all the support you need to do that.
The deadline for applying for this year's Ambition programme is midnight on Wednesday, 7th September 2022. If you would like to be among the next cohort of female entrepreneurs in Donegal, you can find out more about Ambition and apply here: www.localenterprise.ie/Donegal/Training-Events/Ambition-Female-Pre-Accelerator/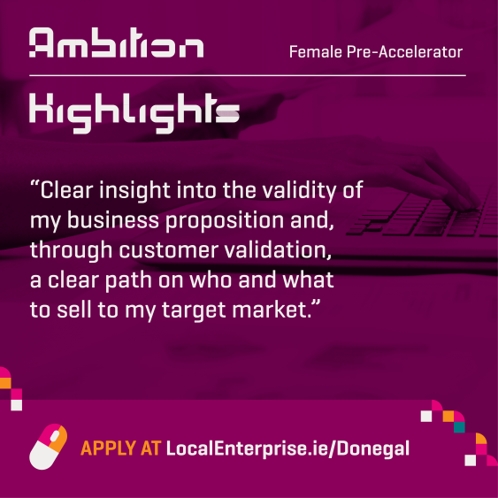 Tags: