As soon as The Dance piano intro started, some girls that had been yapping for much of the night behind me went silent. Now they were singing along word for word together. The next thing they were in tears. I don't know what their story was, but it was a powerful one. Maybe it was because a big Garth Brooks fan of theirs is no longer with them that they went to the concert in Croke Park on the opening night to remember. 
It is funny how you jump to judge someone based on first impressions. These girls were together possibly remembering a friend big into Garth Brooks back in the day singing all his songs especially Garth's favourite, The Dance. Now his song and the evening with 80,000 singing along brought their friend's memory back to them more powerful than they ever could have imagined. Music does that, takes you back to a place, a time in your life.
There were many roads that take so many different walks of Irish life to Croke Park at the weekend in September, normally a time when the famous "hill" will have the most singing on All Ireland Final Days. Ten years ago in this month I sat along the touchline, where that stage is now located for these concerts, and captured Micheal Murphy and Colm Anthony Mc Fadden rattle the back of the Mayo net to send Donegal comfortably on their way. Twenty years before that I sat in the old Hogan stand a few rows away where I sat on Friday night last and watched the Donegal Captain Anthony Molloy lift the Sam Maguire for the very first time to beat the favourites Dublin. These days were great days in Croke Park mixed with uncertainty to pure joy. 
Blanket on the Ground
On Friday night not a blade of grass could be seen on the famous park but if it was, Garth Brooks would have covered a good part in front of the "Hill" on stage for the first of five shows. The pitch was covered carefully for the many thousands to stand, sing and dance to an American Country star. 
Blanket on the Ground was my introduction to country music many years ago. A bootleg version taped off the radio onto an old C-30 cassette, Philomena Begley had a massive hit with it in Ireland in the early 70's. It was nearly 20 years after that I found out that American Singer Billie Jo Spears was the first to sing it and brought it to Number 1 in America. It's a song that I always associate with my father and us growing up and driving about in an old Grey Ford Anglia Estate. We had no radio in the car but knew the song off by heart from memory playing away at it at home and would belt it out with the windows down on summer days. 
Black and White Bays 
In the 90's Garth Brooks announced his first concert in Ireland. It was a big thing at the time, and fans waited out on a cold December night in Letterkenny for the Music Centre at the Market Square to open the following morning to sell the tickets. On an old roll of Kodak Black and white T-max film I tried to capture the feelings and faces of fans waiting in line for the shutters to rise. Many will spot themselves in these old negatives all them years ago braving the winter weather on Letterkenny Main Street for their much sought after Garth Brooks tickets.
It was an event in itself – doing an all-nighter to secure tickets – a time where fans found friends remembering them days of getting to Dublin for that first concert. Sadly there may be fans in these old pictures that are no longer with us.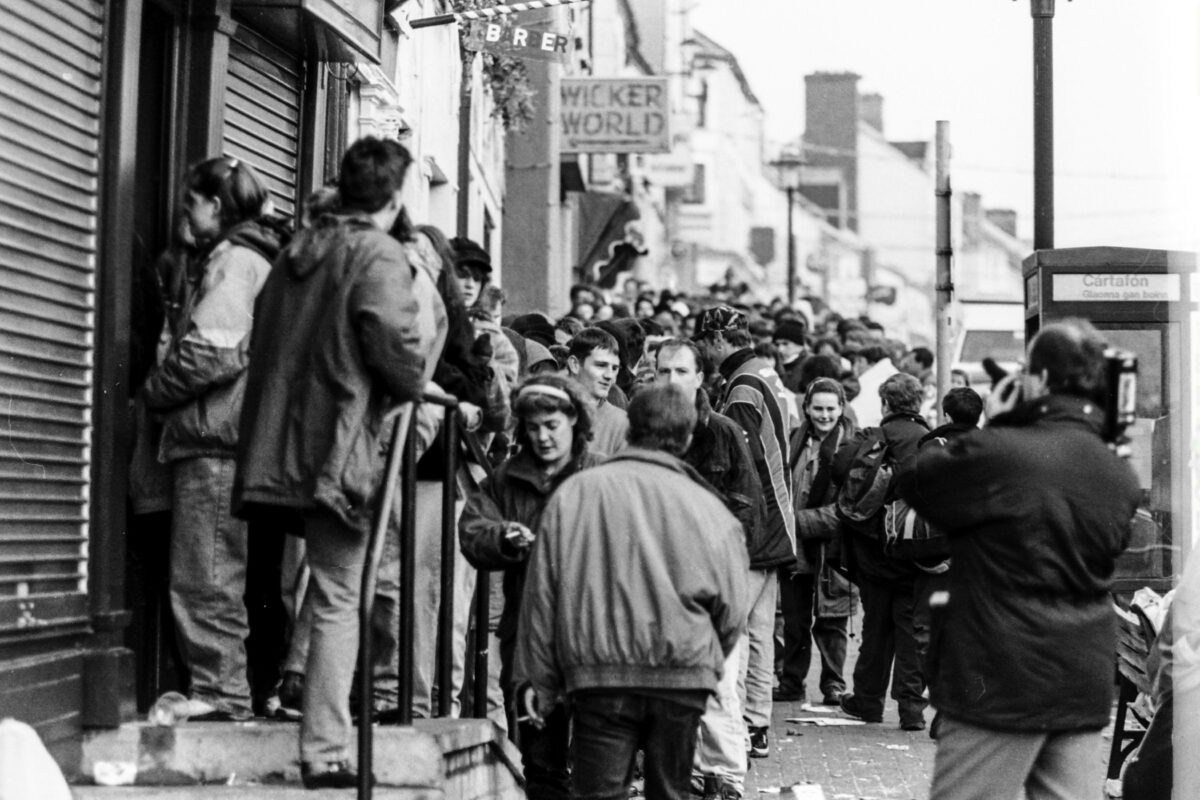 Last Friday I noticed how heavy the traffic was heading for the motorway into Dublin. The four of us traveling by car thought that we would use the old N2 into Dublin from Ardee. It wasn't long before it was flashing back memories of open-air concerts in Slane in the 1980's remembering where the old Ulster Buses all parked up many miles on this side of Slane and the long walk and the waiting for headliners Queen with Freddie Mercury in 1986 to come on stage. As the dark clouds moved out into the Irish Sea at the evening set and the crowds slowly packed this beautiful stadium. I don't think I ever saw a mix of many age groups at a concert, young and not so young, decked out in hats and shirts waiting to see the big man himself. 
Garth Brooks put on an amazing show backed by his band "the G men" and Garth's wife Trisha Yearwood, an amazing singer in her own right, coming on stage at Croke Park to sing to a great Irish welcome.
I watched 80,000 plus sing their hearts out on the opening night, as daylight was replaced with the stage lights and camera lights on phones. The audience owned the songs and lyrics that say so much. I would say that there were many that thought about going to Garth Brooks when he first came to Ireland including myself back in the 1990's but ended up finding one reason or the other for not committing to their beliefs.
Nearly 30 years on, and after a very difficult few years fighting Covid, many people realized that they spent their life putting things off to later. Life was here to be enjoyed while we can. There was so many posts on social media of pictures of grown up sisters or brothers that all were together in Croke Park for these concerts. Local singers and artists and bands were equally at peace posting up their pictures from Croke Park complementing the performance and the professionalism of night.
American Pie
There's a great singer in Ballyshannon who also does a bit of photography his name is Thomas Gallagher and anyone who has ever enjoyed a night in his company will know that he will always end a great night with the full version of Don McLean's hit "American Pie". 
Thomas was sixty years young this year just like Garth Brooks, and, like Thomas, Garth Brooks rounded off a memorable night in Croke Park by singing beautiful that song and brought the house down. 
Tags: