A commemorative plaque was unveiled this week in the heart of the Spanish city of Valladolid honouring Donegal hero Red Hugh O'Donnell.
A series of poignant events took place over the weekend to mark the 420th anniversary of the passing of the great Irish chieftain and to celebrate the many Spanish connections to Red Hugh, the Fighting Prince of Donegal.
Red Hugh was buried in Valladolid in 1602. Although the search for his remains continues, local authorities in the city have formed a close link with Ireland which was further strengthened this week.
Members of the Red Hugh Ó Donnell 420 Committee, including Chairman Eddie Crawford and representatives of Donegal County Council, including Lifford-Stranorlar Mayor Martin Harley, travelled to Spain to attend the commemorations alongside members of the Hispano Irish Association, living relatives of O'Donnell and Columbus, Comdt John Quinn of Òglaigh na hÉirinn, Mayor of Valladolid Óscar Puente, local councillors and the Irish ambassador to Spain Frank Smyth.
One of the proudest moments came on Monday morning with the Mayoral unveiling of a special plaque at the site of the interment of Red Hugh O'Donnell and Christopher Columbus.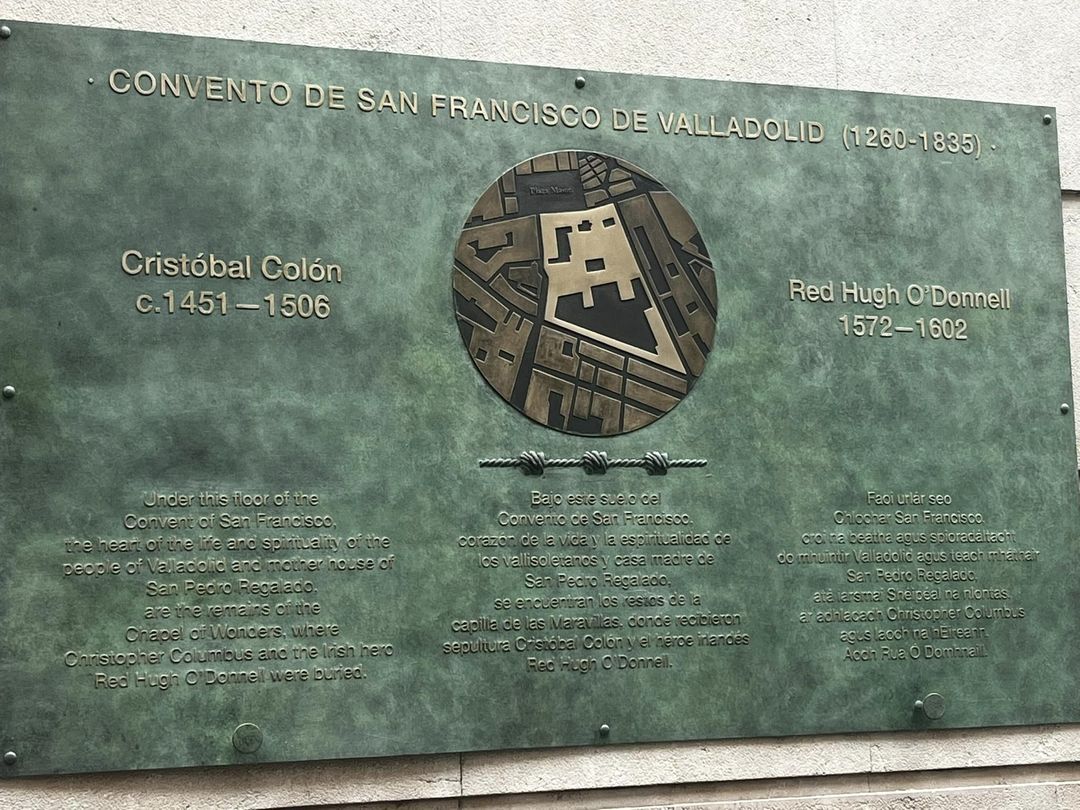 The event was followed by an evening procession through the city reenacting the funeral of Red Hugh as it was described in the Annals of the Four Masters. Red Hugh met his untimely death in Simancas Castle while in the process of seeking further military aid to continue the fight against the English Crown and Protestant domination of Ireland. He was given a dignified burial at the insistence of King Felipe III, in recognition of his loyalty and that of his Gaelic allies.
The search for Red Hugh's remains has long been of interest to the Donegal community. That interest was further piqued in May 2020 when an archaeological excavation on a Valladolid city street uncovered skeletal remains among the foundations of one of the walls of the Chapel of Wonders, which housed the remains of Red Hugh O'Donnell and Admiral Christopher Columbus. Archaeologists were unable to link any of the remains to the young Donegal prince.
Councillor Martin Harley said the unveiling of the plaque on site on Monday was a historic moment that strengthens the ties between Valladolid, Simancas and Donegal.
"There will still be further investigations into finding the remains of Red Hugh but if that does not come to pass we still have the links," Cllr Harley said.
Cllr Harley and the Red Hugh Ó Donnell 420 Committee have thanked Donegal County Council for their support of the commemorations. It is hoped that Spanish visitors will travel to Donegal in the near future to mark the shared heritage with a visit to Lifford, the birthplace of Red Hugh.