The Donegal Masters football team are going to 'Kick for Keegan' against Mayo on Saturday.
They will take on the westerners in Bundoran in order to raise funds for the Children's Health Foundation at Temple Street Hospital.
Keegan (main picture) was born in February and it was discovered that he had an Arachnoid cyst on his brain by the neurosurgeon team at Temple Street.
Keegan's family learned in June that he has a cluster of Arachnoid cysts that is causing slight issues and he has become symptomatic, but even on his bad day, he gives everyone my biggest smile.
His cyst has grown and is now 6.6cm.
He goes back to Temple Street in November for another MRI scan and results to see if he can get a date for his brain surgery or leave it for another few months and conduct more tests.
Keegan's mum, Amy Granaghan, is from Bundoran and his father Kevin is from Swinford Co. Mayo
"As you may know, or have heard, Temple Street wouldn't struggle to provide equipment to help children like Keegan and the care they need," Amy explained.
To thank Temple Street for their care of Keegan, his family have decided to do a fundraiser for the hospital.
They will have a fun-filled day on Saturday with some amazing raffles.
Throw-in time for Mayo Masters v Donegal Masters is at 12.15pm.
A raffle will also take place that night in the Quay West, Allingham Arms.
If you wish to kindly donate to the fundraiser, you can do so by clicking here.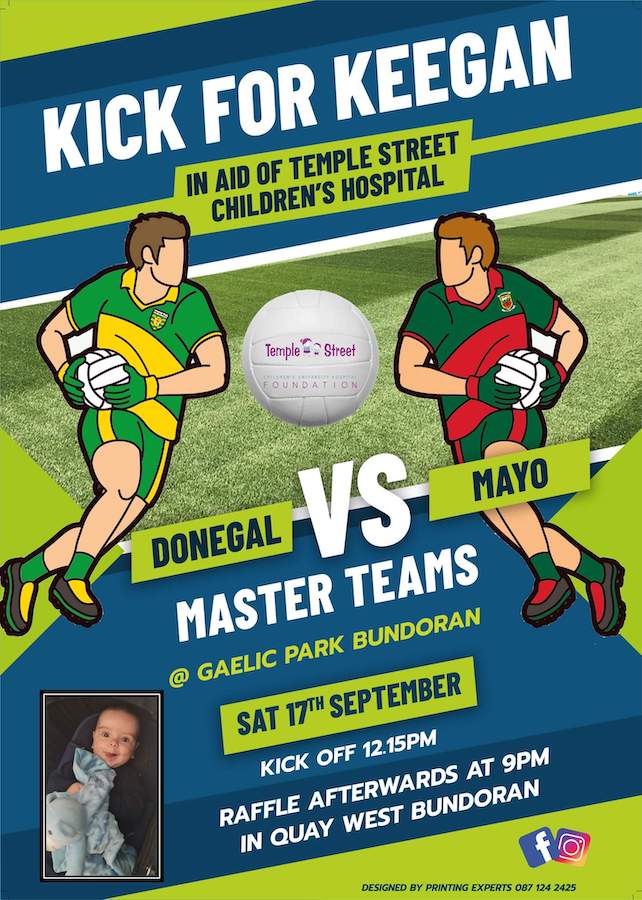 Tags: