A Letterkenny-based designer has put a modern twist on traditional maps to create his own interpretation of Donegal.
Colin Farrell (no relation!) has spent the last five years creating a contemporary graph of Donegal places, people and sayings. The result is a celebration of all the great things that are unique to the north west. 
Despite the map being Colly's personal take on Donegal, he says the response from the public has been 'overwhelming' ever since it was unveiled in the hall of the Silver Tassie Hotel.
He said: "So many people have been asking for prints. It's a bit overwhelming. I wasn't expecting such a positive reaction to it. It was originally supposed to be a one-off print, but I've now started looking at local printers to see if they could help."
The map not only features famous brands and businesses, but familiar faces such as Daniel O'Donnell, Michael Murphy, and even Daisi the Donegal Creameries cow.
Colly considers himself a 'blow-in' as he was born in Dublin, but he has plenty of links to Donegal, with his mother being from Letterkenny, his grandmother hailing from Carrigart and his grandfather from Falcarragh. Letterkenny has been Colly's home for the past 20 years, ever since he came up to study graphic design at LYIT (now ATU Donegal). He now works in the local software company 3D issue, owned by his good pal Paul McNulty.
The 'My Donegal' map started as a hobby for Colly, but it took him on countless adventures.
"There were places in Donegal I didn't have great knowledge of, like Ballyshannon and Moville, so I wanted to visit all these places a couple of times to find out the best places to visit before designing anything," he said. This explains why it took five years.
The project also brought Colly and his partner Teresa Sweeney to special places he'd never been to before, and in contact with special people too.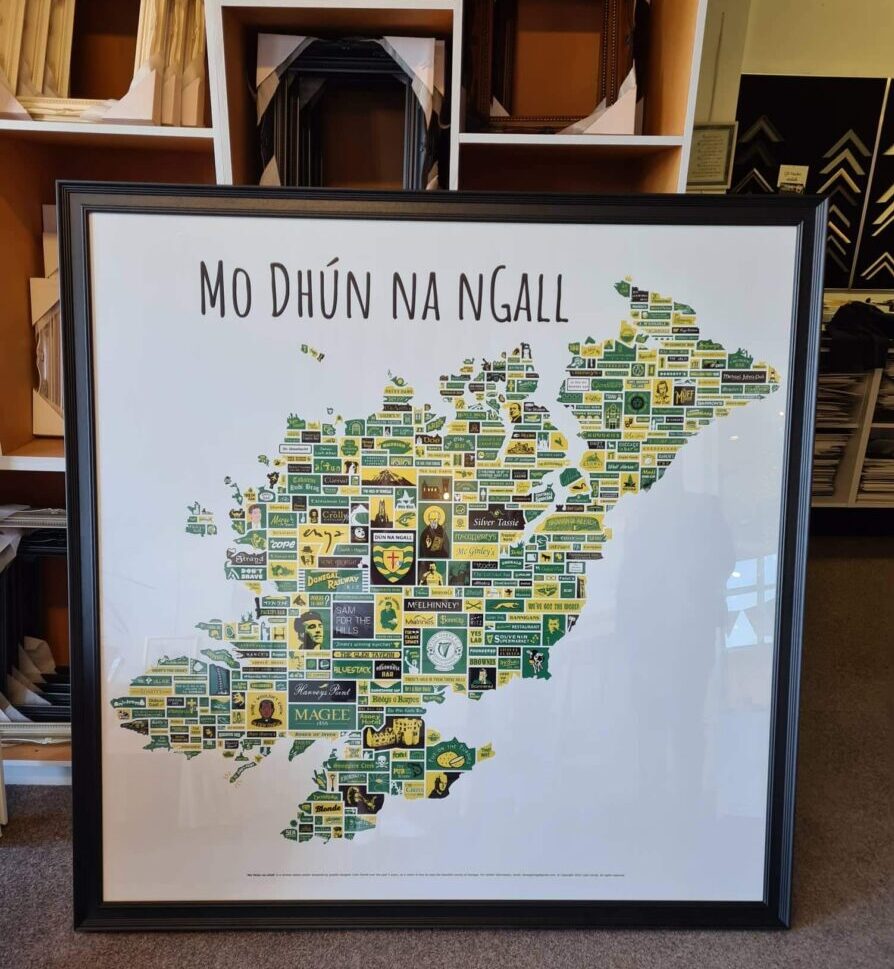 Everything on the map is based on a personal experience, he says.
"We travelled to Lettermacaward and stayed in my Uncle's old thatched cottage. I wanted to check out Elliotts and Packies Bar. We got to visit the Kilclooney Dolmen while we were there too. Some places like this on the map are quite difficult to find, but well worth the effort.
"We met some wonderful people along the way. Donegal is well known for being the friendliest county in Ireland, and as a blow-in I can definitely confirm that. Most recently stopped in a lovely bar and restaurant off the beaten track in Cashelard called Whoriskey's. They were such nice people and it is a wonderful place."
Wherever you're from, you're sure to find a familiar name or face on this one-of-a-kind creation. Call in to the Silver Tassie Hotel to see it up close.