The mystery of a fallen US sailor's war medal has been traced all the way to Inishowen in Donegal, 80 years after it was lost.
Hugh Farren, the owner of Farren's Bar in Malin Head, is reeling with the news today that his grand-uncle's military honour has been found through the power of social media.
Hugh's namesake, Hugh Farren, was killed in action while serving with the US Navy during WWII. Farren had immigrated to Boston as a young man and worked as a city firefighter. When the war broke out, he enlisted with the Navy and was serving as a water tender on the aircraft carrier, the USS Liscome Bay, when it was sunk by a Japanese torpedo on Thanksgiving 1943. He was 39 years old.
Farren was posthumously honoured with a Purple Heart medal – a prestigious decoration awarded to those wounded in war or to the family of those who paid the ultimate sacrifice. It's believed that Farren's medal was given to his sister, Ellen, who he lived with in Dorchester.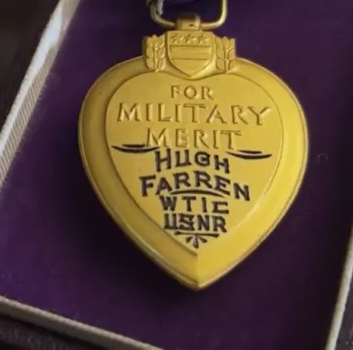 However, Farren's medal was lost long ago, and despite efforts by his brothers to trace its journey, it was never recovered. Until recently.
The medal was found last week in the home of a former Attleboro firefighter who is now in hospice care. The Purple Heart was passed on to local Veterans Services Director Ben Quelle who launched the search for its rightful owners.
Ben's news appeals quickly reached across the Atlantic to Donegal. Hugh Farren in Malin Head and Denis Doherty, the grandson of Ellen, soon reached out to Ben to confirm the lineage.
"It's amazing that 80 years later, we are talking about Hugh," Farren's grand-nephew Hugh told Donegal Daily.
"We are delighted that the man who found the medal decided it was important to somebody. It is already bringing our cousins together and we are all sharing stories about him."
A footbridge in Boston is named after Hugh Farren, and his name has been carried through the Farren family to remember their lost brother.
What happened to the Purple Heart after it was received by his sister Ellen is not known. It's believed that Ellen blamed herself for Hugh's death, as she had convinced him to emigrate to the States originally. Hugh had settled well into life in the States and was considered a Dorchester man. He was also a chairman of the local committee for the Irish in Massachusetts.
His grand-nephew Hugh said: "We think Ellen might have passed the medal on, maybe she didn't want to keep it. The man who had it until now was in the fire department, so maybe she gave it to them. Even though she never forgave herself, there was no need for her to feel that guilt because he (Hugh) would have joined the army wherever he was. His two brothers Phelim and Francis who were home enlisted in the RAF, so we think he would have fought anyway."
Now that the search has come full circle, Boston media reports that Farren's descendants will be eligible for the Massachusetts Medal of Liberty which is awarded to surviving family members of men and women killed in action.
Hugh, who has always intended to visit the bridge in Boston, said that the Liberty Medal could be a good opportunity for all the cousins to meet and celebrate the fallen soldier once more.