Not even torrential rain could stop the people of Ramelton from honouring one of its most famous citizens today as a bronze statue was unveiled of Nobel Prize winner Professor Bill Campbell.
Gamble Square in the heart of the historic town was bustling with locals and visitors alike as the town came out to pay their respects to the local boy who cured River Blindness.
Born in Ramelton in 1930, it may be some time since Bill Campbell ran out on the streets of the town built on the banks of the River Lennon.
But judging by the reaction he received Bill Campbell's legacy will be spoken about in Ramelton for many generations to come.
Professor Campbell, now aged 92 years, could not be in Donegal in person for the unveiling of the life-size statue in his honour.
But his two proud daughters Jennifer and Betsy could make the occasion and officially unveiled the bronze monument sculpted by Paul Ferriter.
In receiving his honour, Professor Campbell joined ten other Irish recipients of Nobel Prizes including Seamus Heaney, John Hume, David Trimble and George Bernard Shaw amongst others.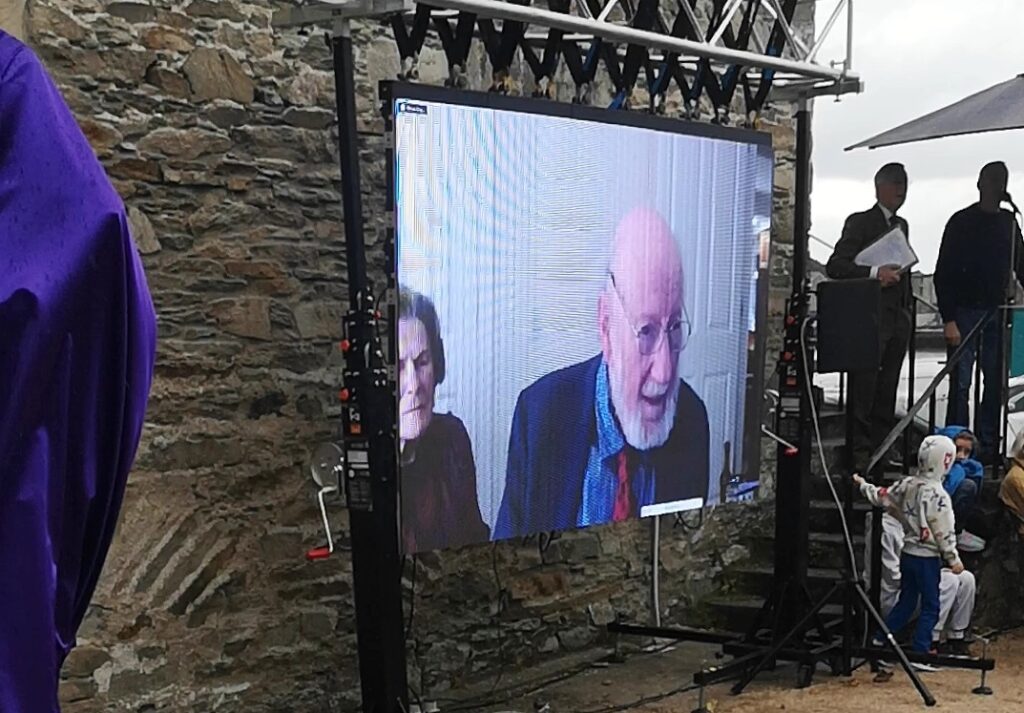 He received his award in 2015 for his groundbreaking work in creating a new class of drugs for the treatment of parasites which caused River Blindness in millions of people.
Beaming in on a large screen from his home in the US, Professor Campbell said it was a huge honour to be afforded a statue in his honour – especially when he was still alive!
He said "When I first heard about this statue thing I was shocked. I always thought statues were for people who were dead and I thought that I didn't quite qualify.
"I'm very glad to be here because I have realised that you do me an incredible honour, this gesture of approval of my work. It is a gift, a gift of great generosity and great goodwill given by the people with whom I grew up and by the generations who followed and that makes the whole thing even more amazing.
"It's a gift of many, many people including many, many people who did not know me when I was a kid growing up and running around here in Ramelton. It i a remarkable gift and it fills me with admiration for my hometown and it fills me with gratitude," he said.
He thanked all those responsible for those who were responsible for the statue in his honour but singled out Ms Jean Winston and Ms Anne Campbell for their work.
He added "Any achievements I made are with others and we must never forget that our achievements and our accomplishments are made possible not just because of what we do but because of who we are and that depends on how we relate to others.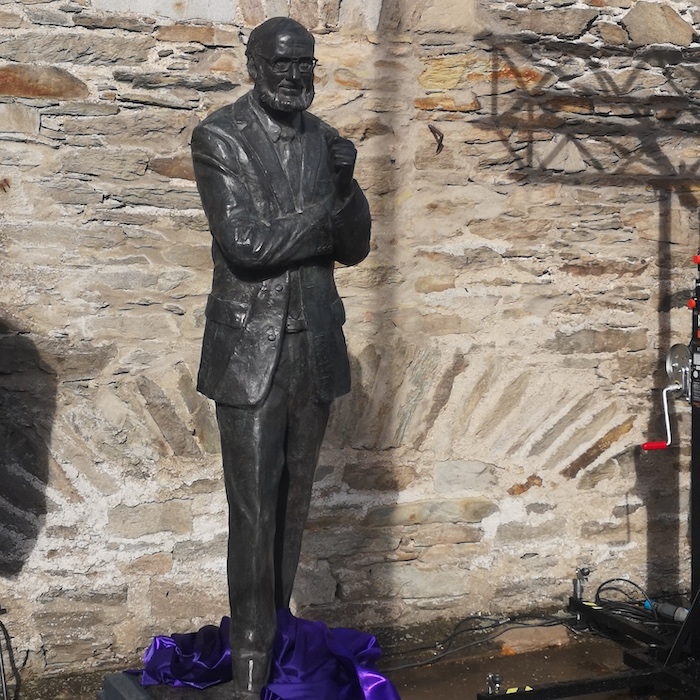 "It depends on how we were moulded back at the very beginning and I am and I will always be proud to be a boy from Ramelton. I thank you all."
Professor Sam McConkey from the Royal College of Surgeons told the audience that Professor Campbell was one of his heroes.
"I think we all want to help people and to make a difference and he is certainly one of the people who has succeeded at that.
"His programme transformed the lives of generations of people in those countries called River Blindness. I worked for a couple of years in Sierra Leone in 1993 and 1994 and in those years you would see the blind people who had suffered the corneal damage but now thankfully that's no more and in many countries it is completely eliminated.
"That is due to the work of Bill Campbell both as a scientist and also as an advocate for delivery and access to therapy for all the people there."
Among the other speakers on the day were former Minister for Education, Deputy Joe McHugh and also Chief Executive Officer of Donegal County Council John McLaughlin.
A special piece of music was played for the occasion by musicians Martin McGinley, Paul Anderson and Seamus Gibson while the Strabane Brass Band also played a medley of tune including 'Congratulations.'