NYC Cabbie John McDonagh has landed in Donegal… and attempted to pick up Ballyshannon's most famous star first!
The celebrity cabbie was spotted trying to give Rory Gallagher a lift to his show on at the Abbey Arts Centre Ballyshannon Oct 8th.
John's well used to having star passengers, as he'll reveal in his critically acclaimed play 'Off the Meter, on the Record' this Saturday.
While he was born in New York, John's first days of learning were spent at the tiny Lettercran National School (see bottom pic), near Pettigo.
The remote Lettercran is a townland on the Donegal side of the border, near the Tyrone parish of Aghyaran.
His mother Cathy (née Monaghan) was from the even more remote Cashelinney and his father was Joseph McDonagh from Aghyaran, a former owner of the Blacktown Arms.
Both his parents passed away within months of each other in New York in 1999.
"I spent a lot of my youth there, in Lettercran, and went to first grade (Junior Infants) in the local school," he recalls.
"Since the 1950s, we were brought back and forth across the Atlantic during the summer months.
"We wanted to play on the streets of New York, but mum wanted us off the streets of New York.
"So, she sent us to Donegal as children and I spent my days in the bog footing turf or helping my uncle with the sheep. I remember going to the mart in Stranorlar many times."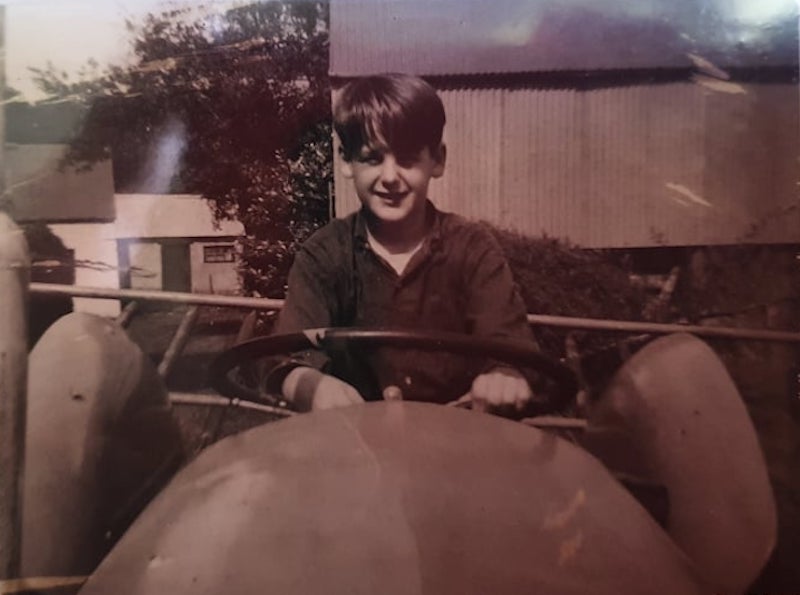 John says he didn't like rural Donegal life at first, but ended up loving the place and, of course, honed his driving skills on an old 'Grey Ferguson' tractor (above).
He also learned the ancient Irish art of storytelling, something that would stand to him in later life.
After 'surviving' being a cab driver for over 40 years in edgy New York, John decided to start telling 'cabbie stories' at Manhattan fringe festivals.
He attracted rave reviews, however, he admits himself that the show was 'all over the place.'
Luckily, Ciaran O'Reilly of the Irish Repertory Theatre took him under his director's wing.
The 'Irish Rep' is the award-winning Off-Broadway home for Irish and Irish-American drama in New York City.
Under O'Reilly's expert direction, the show was tweaked and shortened to become a slick multi-media show which performed to packed houses at The Rep for three months.
"Basically, it's (the play's backdrop) is on a laptop now so I'm taking it all over the place," he explained.
"I was in Boston and they loved it. I'll be taking it to Donegal and Dublin, too." 
John puts his stage success down to luck and being in the right place at the right time.
"I couldn't get arrested for the first 20 years, then the internet came and I ended up on reality TV," he adds.
"I had the same stories for the first 20 years, then I was able to bring the show to a much wider audience. Before that, I was playing to 20 people a night in Irish venues.
"The Irish Repertory Theatre was a big one – they turned it into a play as it was just me telling stories before that."
The 2 Johnnies (2FM) were to come over to interview him, but the pandemic hit, so he hopes to be interviewed on their hit show when he lands in Dublin for his Guinness.
Oh, that's another story!
"Nine years ago, a guy didn't have the full money for his fare," John explains. 
"He told me he owned a famous pub in Dublin called Gaffney's. So, he wrote me an IOU for two pints of Guinness in his pub, and I'm going to hold him to that – It will be the most expensive pints ever."
John still works 'the odd day, here and there' as a cabbie. But, for the time being, he's concentrating on his stage career.
In 'Off the Meter', you will hear stories such as how he took Stephen Fry (see video above) to a 'mob' club in Queens and taught Richard Hammond of Top Gear how to drive a Yellow Cab.
He also talks about an appearance on The Daily Show and how Salman Rushdie picked him to read a poem at the PEN World Voices Literary Festival when the famous writer was the President there. 
Let John take you on a topsy-turvy journey through the streets of New York, and the lanes of Lettercran, in one of his much anticipated upcoming shows.
For further information, log on to John's own website: www.offthemeter.net