Donegal Town native Sharon Morrow has been appointed as the new CEO of Bon Secours Dublin, one of the leading private hospitals in Ireland.
She takes the role in a period of significant expansion for the hospital, which recently announced plans to open a new €14 million surgical and oncology day ward that will create 80 new jobs when it opens in June next year.
Originally from just outside Donegal Town, a place she is proud to call home, Sharon gets back to her home county and spends as much time as she can there.
She trained as a nurse in the Adelaide Hospital, Dublin and after several clinical positions became Project Manager at Tallaght University Hospital.
Subsequently she worked as a Directorate Business Manager at St James's Hospital and then as National Clinical Care Programme Manager with the HSE, before returning to Tallaght University Hospital as Deputy Chief Executive / Chief Operations Officer.
Sharon was Chief Executive Officer at Laura Lynn Children's Hospice, before taking up her most recent appointment as Director of the All-Island CHD Network, a unique cross jurisdictional collaboration between Northern Ireland and the Republic of Ireland.
Speaking about her appointment, Sharon Morrow said: "I am delighted to be joining Bon Secours Health System Group at a time of great expansion and am excited to work with, and contribute to, the experienced team in Glasnevin to help them continue the exceptional care for which they are known."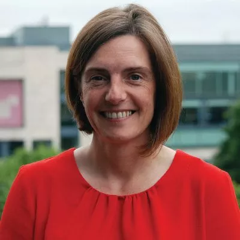 Welcoming the appointment, Bon Secours Health System Group CEO Bill Maher, said: "We are delighted that Sharon has come on board to bring her wealth of experience to our hospital in Glasnevin. She will be a valuable member of the team and I look forward to working with her."
The new €14 million surgical and oncology day ward planned at the hospital is part of a €300 million national investment by Bon Secours Health System in its services. Driven by its new strategy, "Resilience, Reliability and Readiness – The 2025 Plan", this includes new capital projects, state-of-the-art equipment, IT infrastructure, and the creation of 450 new jobs across the country.
Bon Secours opened new €10 million operating theatres in Cork in January, with the hospital group also in the process of developing a new 150-bed medical facility in Limerick City which will greatly expand services currently offered to patients in the mid-west.  Bon Secours Tralee also plans to open a new €10 million Medical Assessment Unit and surgical day ward in 2024.