The seventh annual Letterkenny Literary Festival will be getting underway later this month and, as usual it promises to be an action packed weekend.
With every year the festival has grown both in importance and numbers attending and this year Donnan Harvey, Secretary of the town's Cathedral Quarter Committee, the people behind the event, is adamant that it will be "bigger and better than ever" when it begins on Thursday 20th October.
The official opening will take place at the Regional Cultural Centre on Friday October 21st at 8pm and it will be performed by Michael Harding, the award – winning author, short story writer, playwright, and columnist with the Irish Times. 
Harding, whose  latest book, All the Things Left Unsaid has just been published is also a noted broadcaster and has gained almost cult status for his unusual take on life and living. This is a not-to-be-missed event.
Speaking yesterday Donnan Harvey said that while his committee were delighted and excited about this year's event there was also a considerable degree of poignancy this time around.
He stated: "This year's festival will be dedicated to the memory of the late Jim Lynch who was not only a member of the Cathedral Quarter Committee but had been active for many, many years in not only promoting Letterkenny but in preserving its rich heritage. It will be really poignant for us this year as Jim was always involved in the festival. Indeed, for many of us he was a mentor, someone we went to when we were looking for good counsel. He is, in my view, irreplaceable."
So, it's their intention to honour Jim's legacy and memory by putting on a top class event.
A precursor to the actual event itself will take place on Thursday night when the acclaimed West Ocean String Quartet will give a performance at the Cultural Centre. Their recently released fifth album, marks their 21st anniversary. 
For those interested in getting down to writing  there will be a "Writing Masterclass: Inspilration and Influences" on the Saturday in Dillon's Hotel, starting at 11a.m.  In conversation will be Michael Harding, poet Mary Turley-McGrath, and screen writer Karen Quinn. Highland Radio broadcaster Jean Curran will lead the discussion, and there will be a Q&A session to conclude the event.
Later on Saturday at 3 pm in the Donegal County Museum there will be a presentation on Lord George Hill's Gweedore Hotel and the Knight Family Album. It should be fascinating as Dr Niamh Brennan from Donegal County Archives will look back more than 100 plus years at some of the literary and social commentary in the Gweedore Hotel Visitors' Books. 
She will also explore the connections between the books and the photograph album. Many of the visitors to the hotel were friends and family of Lord George Hill, including Jane Austen's relatives in Ireland. 
The pace on the Saturday is unrelenting in that at the Insomnia Café at 6pm there will be a  Poetry Reading with Raphoe Diamond Writers. This group was established in 2007, and  published their first anthology, Raphoe, in 2011. 
Letterkenny based writers Theresa Ryder, James Finnegan and Deirdre Hinds will read from their work at  Dillons Hotel where the theme of the 8pm event will be "Celebrating Local Writers"
Theresa is a winner of the Molly Keane Creative Writing Award, and her work has been widely published. The Weather-Beaten Scarecrow, is the second poetry collection launched recently by James Finnegan. His poems focus on history, nature, and reflections on life in modern times. Deirdre Hinds is an award – winning poet and playwright. Her first book of poetry, The Language of Coats (New Island Books, 2012), includes the poems which won The Listowel Poetry Collection Prize.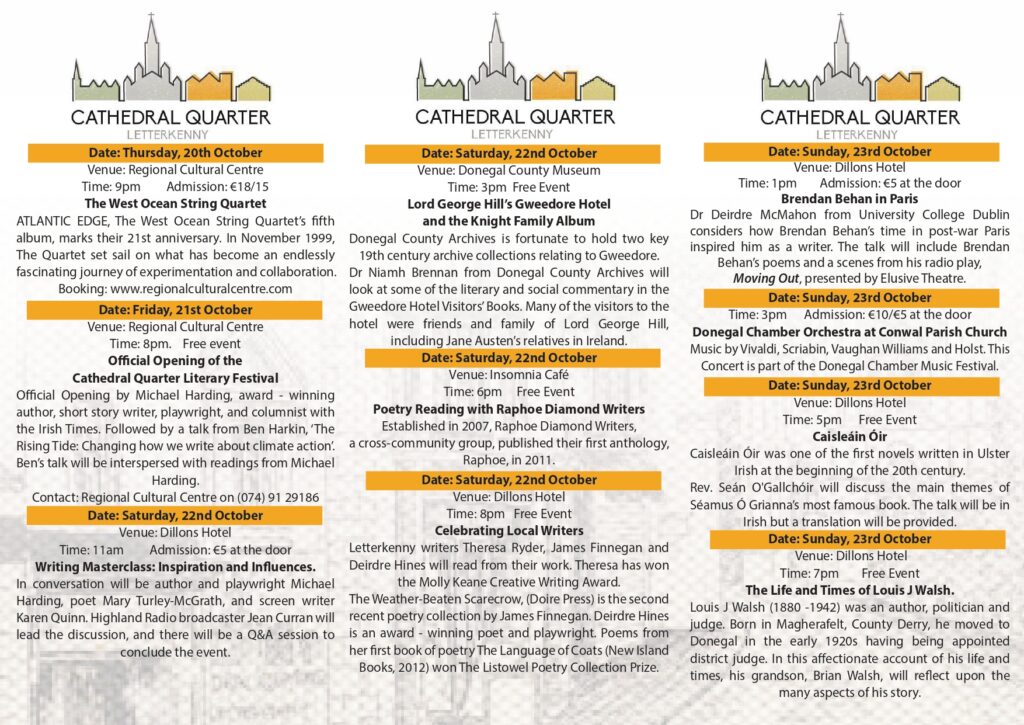 Sunday's promises to be another exciting day when Dr Deirdre McMahon from University College Dublin considers how Brendan Behan's time in post-war Paris inspired him as a writer. The talk will include Brendan Behan's poems and a scene from his play, Borstal Boy, presented by Elusive Theatre. Starting time for this is 1p.m and the venue is, once again, Dillon's Hotel. 
 Two hours later, at 3 pm. the action switches to  Conwal Parish Church where the Donegal Chamber Orchestra will play pieces by Vivaldi, Scriabin, Vaughan Williams and Holst. This Concert is part of the Donegal Chamber Music Festival. 
Anyone who has studied Irish for the Leaving Certificate is likely to have come across the novel Caisleáin Óir.  This was one of the first novels written in Ulster Irish at the beginning of the 20th century. It was written in the language of the people of that time and Rev. Seán O'Gallchóir will discuss the main themes of Séamus Ó Grianna's most famous book. The talk will be in Irish but a translation will be provided.
The final event of the festival will be "The Life and Times of Louis J Walsh" a man who was a bit of a polymath in that he was an author, politician and a judge. Born in Magherafelt, County Derry in 1880 he moved to Donegal in the early 1920s having being appointed district judge. In this affectionate account of his life and times, his grandson, Brian Walsh, will reflect upon the many aspects of his story. This will be part lecture and part performance.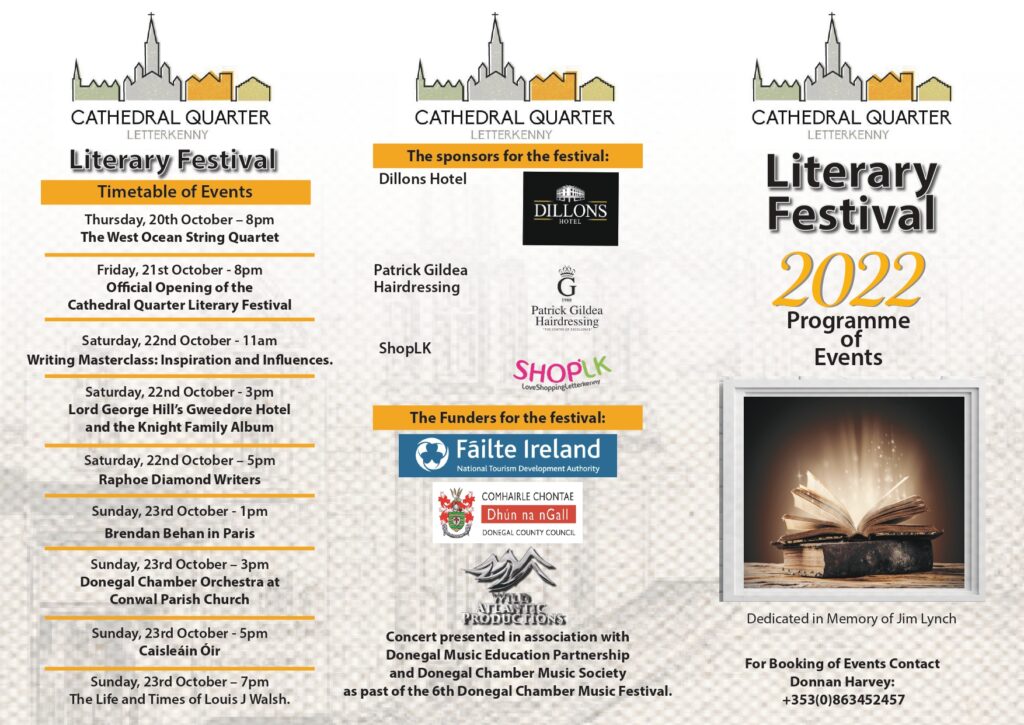 Funding for the Festival comes from Regional Festivals & Participative Events Funding 2022 and the Development Fund Initiative from Donegal County Council. Our sponsors for this year's festival is Shop Lk, Patrick Gildea Hairdressing and Dillons Hotel.
Donnan concluded by thanking the funders and sponsors for their help without which, he said, the festival would not be possible.
If you wish to get more details contact Donnan Harvey: +353(0)863452457.