Donegal County Councillors observed a minute's silence this afternoon in honour of the ten victims of the Creeslough tragedy.
A special meeting is underway this Tuesday to acknowledge the dark day of Friday 7th October, when ten people lost their lives in a sudden explosion at the local shop and service station.
Cathaoirleach of Donegal Cllr Liam Blaney led the tributes to the victims and issued heartfelt gratitude to the emergency services who rushed to the scene.
Cllr Blaney read the names of each of the victims prior to a minute's silence.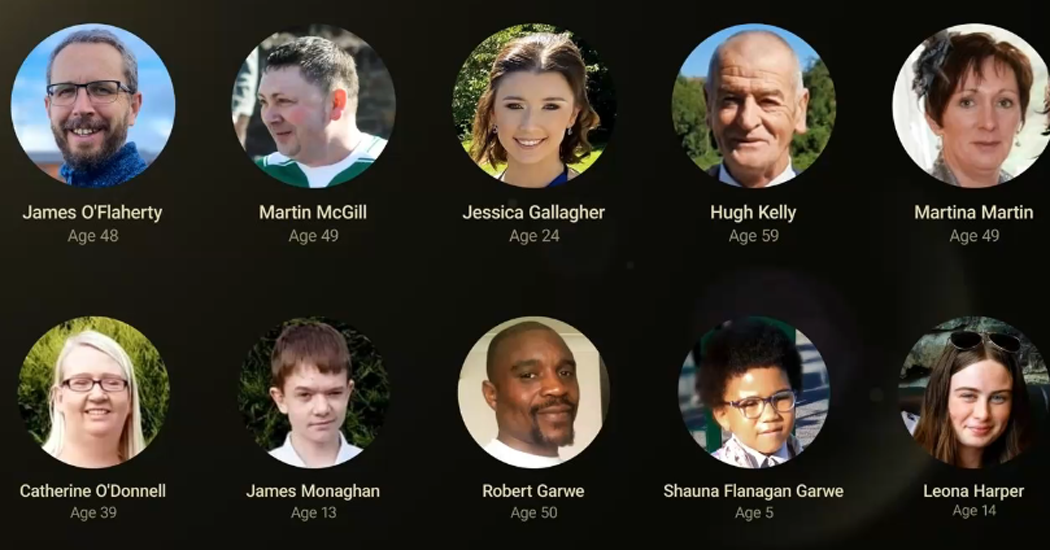 The effects of the Creeslough tragedy, Cllr Blaney said, will be felt for years to come.
"It was an afternoon that shocked the entire nation and further afield with tributes paid across the world to the tragedy victims.
"It is very difficult for us all to comprehend as people go about their daily lives on a Friday afternoon that something so tragic could happen.
"Our thoughts our hearts and prayers go out to the people of the Creeslough community and in particular to the families of those that have lost lives, those who have been injured, as to the entire community who are numbed and shocked by what has happened.
"We will be forever indebted to our emergency services that rushed to the scene, working throughout the night, at times in danger, to rescue people and to do everything they could to comfort people. 
"With the official and emergency response of Donegal County Council we pay tribute to our own staff and in particular, our Director of Emergency Services Garry Martin and his team, including Chief Fire Officer, Joseph McTaggart and Assistant Chief Fire Officer Michael Scott, including our own fire service, aided by our structural engineers' advice and civil defence was exemplary in what were very difficult and challenging surroundings."
Cllr Blaney paid tribute to all essential service workers, to the staff at Letterkenny University Hospital and emergency service colleagues in Northern Ireland who provided valuable assistance in the immediate aftermath of the explosion.
"Most of all we acknowledge the huge input from the local community who attended in large numbers and contributed so much to the emergency efforts at the site, including local contractors, machine operators and volunteers," Cllr Blaney said.
"To those who opened their businesses to provide a place for the community to come together for consolation, you too provided an invaluable service."
Councillors have also paid special tributes to Creeslough Parish Priest Fr John Joe Duffy, who has been praised as a 'tower of strength' and a rock to the community of Creeslough.
Councillor Michael McClafferty acknowledged the special words of prayer and comfort and support given by Fr Duffy throughout the week.
Cllr McClafferty, who was at the scene of the explosion, said he would never forget what he witnessed.
"Those images of the faces of people from our community, searching for their loved ones is an image I will never forget," Cllr McClafferty said.
Cllr McClafferty said his thoughts are with the victims, the injured and with the Lafferty family following that unforgettable Friday.
He said the work of Donegal County Council and emergency services from both the north and south will not go unnoticed.
"I witnessed first-hand the work sweat and effort of our emergency teams. There are no words to describe them that would do them justice," Cllr McClafferty said.
"I cannot express how proud I am to be part of such a community that pulls together like the people of Creeslough and the entire county."
Cllr John Shéamais Ó Fearraigh, looking ahead to the healing of the community, asked that a memorial is erected to commemorate the victims and the tragedy.
Cllr Anthony Molloy, Cathaoirleach of the Glenties Municipal District, said it was a humbling week that would stay with him forever.
"On Friday 7th October, things changed forever in the small community of Creeslough and the surrounding areas.
"But amidst all the shock there was genuine love and an abundance of people wanting to lend a helping hand despite being in danger, a hand of friendship and a hand of comfort."
"We never thought we would see a tragedy like Creeslough in our lifetime and we pray to God we will never see it again," Cllr Molloy added.
The meeting continues live at the following link: