Specsavers in Letterkenny celebrated a spec-tacular anniversary, marking 21 years in business.
To celebrate the anniversary, the staff recently held a coffee morning on Thursday 6th of October in aid of the Donegal branch of Cancer Care West.
The money raised from the fundraiser was matched by directors Martina McMahon and Paul O'Donoghue and Specsavers Letterkenny were delighted to present a cheque of €1,800 to John Donaghue, senior physiologist in Cancer Care West, Letterkenny.
Speaking on the fundraiser, Gillian Reid, Clinical Assistant at Specsavers Letterkenny, said: "We are delighted to be able to support such a worthy cause. Being able to give back to our community is really important to staff and we all wanted to support the great work of Cancer Care West."
Cancer Care West provides professional community-based practical and emotional support services, free of charge, to anyone affected by cancer. Their facilities include multiple services such as on site and remote oncology nursing support, reflexology, manual lymphatic drainage, counselling support centres and online classes.
The Specsavers store, located at Port Road Letterkenny, first opened its doors in 2001 and since then has proudly served the people of Letterkenny for all their eye care and hearing needs. As a local community optician and hearing centre, supporting local clubs and charities is a key part of the store's culture.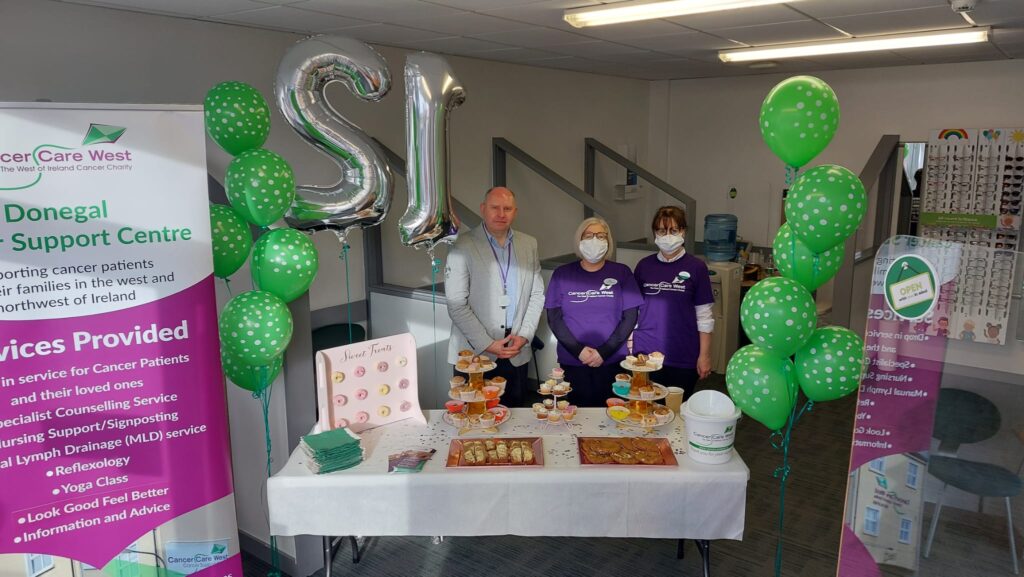 Specsavers Letterkenny is successfully led by founding store partners Paul O'Donoghue and Martina McMahon. Together with their team of 40 local staff, including six optometrists, and two audiologists, they strive to provide the best level of service and expertise in audiology and optical care.
Most recently, Specsavers Letterkenny has just recently unveiled its brand-new clinic at Inish Pharmacy, Carndonagh shopping centre. The goal of this new clinic is to expand Specsavers Letterkenny's expert audiology services to an additional location to further cater to the local community's hearing needs.
The new clinic was launched officially on the 31 August and has a highly experienced team on hand to support every Wednesday from 9am until 4pm. This clinic boasts a range of specialist audiology services including free hearing tests, hearing aid fitting and repairs, as well as earwax removal. Managing the clinic is Specsavers audiology chairperson Martina McNulty, who is currently the audiology director for the Donegal and Letterkenny Specsavers stores.