Sponsored Post
The Christmas hamper order book is now open at Kelly's Centra at Mountain Top in Letterkenny.
A luxury Christmas hamper is the perfect way of letting people know how much you really appreciate them.
And at Kelly's Centra, Mairtin and his staff have a great range to fit all budgets.
You can choose from a range of pre-pared hampers or you can make them up yourself.
Over the years the staff of Kellys have become specialists in preparing Christmas hampers for tastes.
As the staff of Kellys say 'No order too big or small, we cater for them all.'
Have your staff worked hard all through this year and you want to give them that something extra to enjoy their Christmas?
Have you a work colleague or special friend you want to thank for their support?
Or do you simply want to show your neighbours that they are also dear friends?
Well, there really is no nicer way than to say how much you appreciate them than through a tasteful Christmas hamper from Kellys.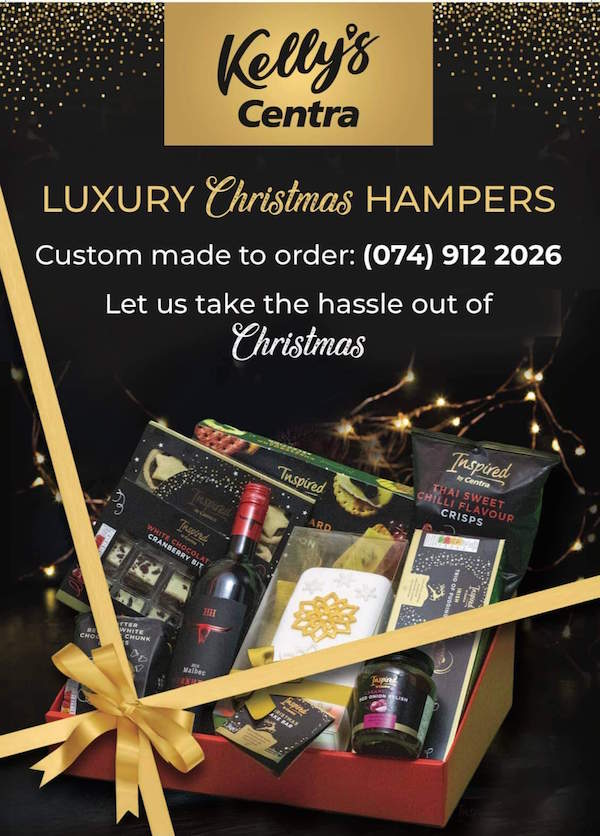 Why run around the shops not sure if you will give the right present when a Christmas hamper from Kellys will say it all?
If you would like to enquire more about Kelly's Christmas hampers simply call Louise today on 0749122026 and she will assist you in any way.
Tags: