Sponsored Post
Atlantic Technological University (ATU) Donegal Open Day takes place on-campus on Thursday 17 November from 9.30am to 2pm. Sport at ATU Donegal has gone from strength to strength over the last few years. ATU Donegal's competitive teams compete at the highest levels in intervarsity competition and the reputation for sport at ATU Donegal is strong both regionally and nationally.
Last summer, ATU Donegal became one of four universities in Ireland to be named as Basketball Ireland's Centre of Excellence. The Centre of Excellence provides access to expertise, such as strength and conditioning, sports medicine, sports psychology, diet and nutrition, sports management and administration, coach development and training. 
The Centres of Excellence are used for national training camps for international sides, along with Basketball Ireland academies. ATU Donegal is a host for international fixtures, national senior competitions, intervarsity competitions, as well as local schools' cups and blitzes.
Luke Cassidy is a 3rd year BSc (Hons) in Computer Science student who receives a scholarship for Basketball at ATU Donegal. He has enjoyed many successes with the university Basketball team and has enjoyed being able to balance his passion for sport with his studies. Luke commented, "Basketball has always played a significant role in my life and when I was making my university choices, I was keen to progress my passion for sport while studying a programme I enjoyed. Being able to study locally, while participating at intervarsity level in national and international standard facilities has been significant for me. The support you receive while on scholarship at ATU Donegal is incredible and student life on-campus is also brilliant, I have made so many friends during my time here. As I approach the last few months of my study at ATU, I am realising how much I will miss the university when I progress to my next chapter. I would highly recommend studying at ATU Donegal, especially if you are a sports player – the attention and care you get here is incredible."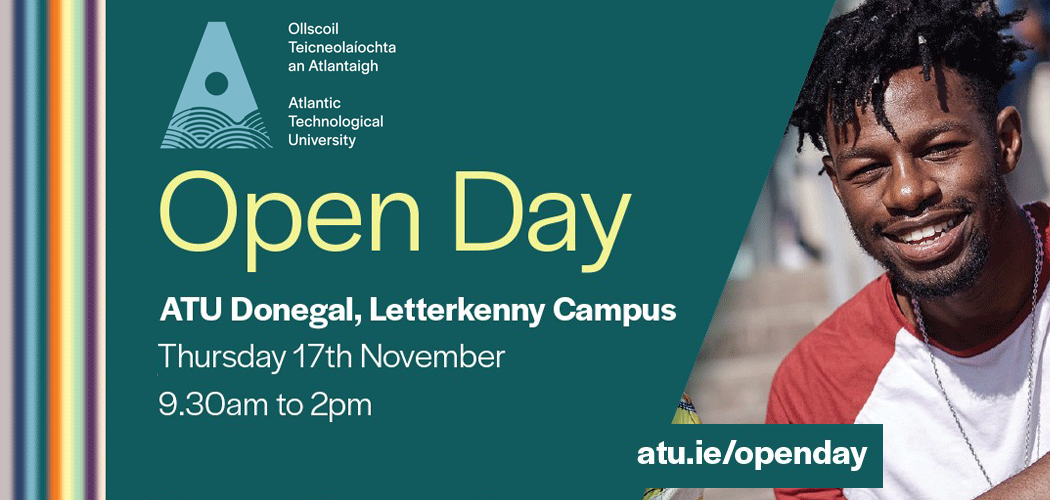 Luke is encouraging prospective students to attend ATU Donegal's upcoming Open Day, "ATU Donegal has a lot to offer, from the student experience to the academic programmes. I would encourage all students to attend the Open Day event to check out what's available at the university."
During the Open Day event, prospective students can connect with ATU academic and student support staff, attend various talks about the degree programmes available at the Donegal campus, explore campus facilities, and check out the wide range of student supports available at the university.
To pre-register your attendance at this event, visit www.atu.ie/donegalopenday  
The future is here.
Tags: