Atlantic Technological University (ATU) Donegal Open Day takes place on-campus on Thursday 17 November from 9.30am to 2pm.
When Danielle McGinley was considering her CAO options, she knew a career in early years education was the right path for her. When exploring her degree options, she was interested in developing her practical skills which the degree programme in Early Childhood Care, Health and Education at ATU allowed her to do.
Danielle McGinley now a 2nd year student in the BSc (Hons) in Early Childhood Care, Health and Education has enjoyed her time studying at the university and has particularly enjoyed the work placements on the Early Childhood Care, Health and Education programme. A keen footballer, Danielle is hoping to pursue a Professional Masters in Primary Education when she completes fourth year of the programme and is encouraging anyone with an interest in early years education to consider ATU in their CAO choices. 
Danielle commented, "I was always interested in pursuing a career in early years education. What I have enjoyed most about my time at ATU Donegal were the placement opportunities. The Early Years programme covers a wide range of modules, I particularly enjoyed the module 'learning through play'. I have really enjoyed being part of ladies GAA team at ATU Donegal and this has also been an incredible aspect of my journey at ATU. I hope to complete a masters in primary education when I finish my studies. I would highly recommend studying at ATU Donegal, your lecturers are supportive, campus life is fun, and student life is friendly, it has been fantastic."
Danielle attended Open Day at ATU Donegal with her classmates when she was making her CAO choices and is encouraging prospective students to attend ATU Donegal's upcoming Open Day, "Don't be afraid to explore the campus that day. It is important to check out all the facilities and speak with lecturers when you have the opportunity to connect with them."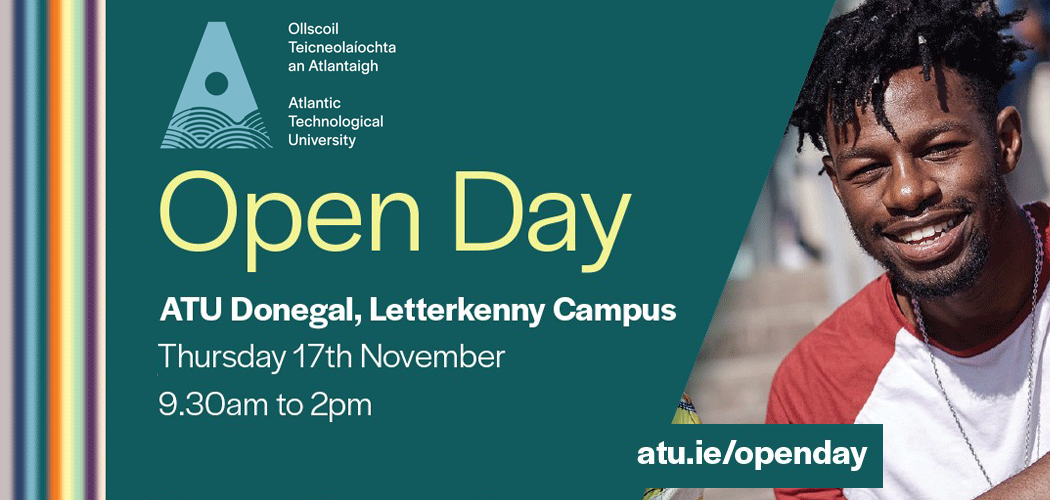 At the event, students can connect with current ATU Donegal students to find out more about student life on-campus.
The ATU Donegal on-campus Open Day event will include:
– 10 Department Talks
– Student Life, HEAR/DARE and SUSI Talks
– Campus Tours
– Student Support Services and Careers Advice Stand
To pre-register your attendance at this event, visit www.atu.ie/donegalopenday  
The future is here.
Tags: