Ahead of Donegal ETB's Further Education and Training (FET) Fair on 23 and 24 November in the Radisson Blu Hotel in Letterkenny, we're showcasing the experiences of previous students who have completed courses with the ETB's FET Service.
---
A young Donegal man has started a new job with the Department of Foreign Affairs after three years of skill-building with Donegal ETB's Further Education and Training (FET) Service.
Odhrán Wade from Cashelard was offered a job with the passport office immediately after completing a Digital Marketing for e-Business programme in Donegal Town.
The 22-year-old always had an interest in computing and it was with Donegal ETB that he built up skills in IT, communications, word processing, payroll and more.
Odhrán found the training to be much more manageable and practical than a college degree.
"I did apply to go study IT at LYIT (now ATU Donegal) after my Leaving Cert. I did the course for a couple of months but I felt it was a bit too complicated for me, so I ended up dropping out at Halloween time," he said.
The following year, he enrolled on a part-time QQI Level 4 IT course with the FET Centre in Ballyshannon and gained skills in computer essentials such as Excel, Microsoft Word and PowerPoint.
With the foundations of computing in his back pocket, and with the encouragement of the Adult Guidance Service within Donegal ETB, Odhrán applied for a QQI Level 5 certificate programme in their Donegal Town (Drumcliff) FET Centre.
Modules on the e-Business programme cover digital marketing, web authoring, bookkeeping and the internet. Odhrán enjoyed payroll and bookkeeping the most, he said, and he received the best results in this module. The workload and assignments, he said, were very manageable with just a small amount of work to be done outside of class.  
Students also undertake social media projects as well as social projects as a group such as fitness challenges and charity events, which help them naturally build team-building, organisation and communication skills.
"I think the part-time days were very good. My advice to anyone thinking about a course is to commit to doing it and try to be in as much as possible," Odhrán said.
These FET courses are designed with adults in mind. Classes in the Drumcliff centre typically begin after 9.00am and finish in the early afternoon for optimum flexibility to help students balance their studies with their home life.
Career guidance practice such as mock interviews benefited Odhrán greatly when he started applying for jobs.
Eileen Patton, who was the ETB Adult Guidance Counsellor for the south Donegal area at the time, shared job openings with the students regularly and guided them through the dos and don'ts of interviewing.
"I didn't enjoy the mock interviews but it was good to do them. It was good practice. My own interview for my job was over Zoom. I didn't know how well it went but a few weeks later I was told the start date," Odhrán said.
Odhrán is now based in Dublin and working in an online customer service role.
He credits his education journey with Donegal ETB's FET Service so far for getting him to this point.
"I was very glad that I did the courses. They were good courses and I got on with everyone very well. The staff were very nice and they make sure every individual is on top of their work. You really learn a lot."
The courses completed by Odhrán are only some of the many full and part-time business and IT courses offered by Donegal ETB's FET Service – you'll find their full range of courses across the county on their website, where you can also apply online at any time: www.donegaletb.ie/fetcoursefinder.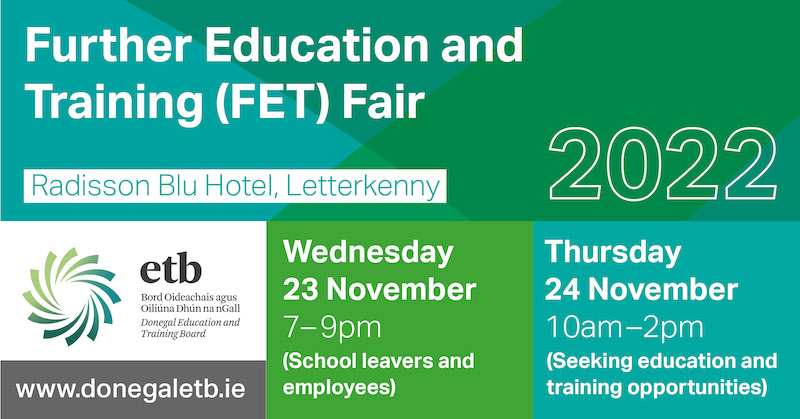 Donegal ETB's 2022 FET Fair takes place on 23 and 24 November in the Radisson Blu Hotel in Letterkenny:
Wednesday 23 November, 7.00-9.00pm: School leavers, their parents/guardians, Guidance Counsellors and school Principals and Deputies are invited to hear about FET options across the county. Those currently in employment and seeking to upskill are also invited to hear about upskilling opportunities offered by the FET Service.
Thursday 24 November, 10.00am-2.00pm: Those who would like information on the wide range of full and part-time education and training opportunities provided by the ETB's FET Service are invited to come along to speak to staff to find out more.
Keep an eye on their social media accounts (Facebook, Twitter, Instagram and LinkedIn) for updates and further details or contact the ETB's Adult Guidance and Information Service on 074 91 78088, email adultguidance@donegaletb.ie or complete this web form and they'll get back to you https://www.donegaletb.ie/further-education-training/adult-guidance/. 
Tags: