The family of an elderly Donegal man were left heartbroken after being unable to fulfil his last wish on the day of his funeral.
Mr John Moore (Snr), of The Glebe, Clooney passed away this week in his 95th year. His last wish was for his funeral cortège to drive from his home via Castlegoland beach near Narin to St Conal's Church for his Funeral mass.
However, the route is part of a much-disputed right of way which runs through the Narin and Portnoo Golf Links. It has been blocked to the public for the past three years and is the subject of numerous protests and a local campaign, which Mr Moore himself supportedly wholeheartedly.
Mr Moore had been part of the campaign to restore access to the beach via the road he had known and used for more than 90 years.
Immediately after his passing, campaigners took on a mission to try to get the steel gate of the golf course opened for today. However, when the hearse approached the road this afternoon, it was forced to turn.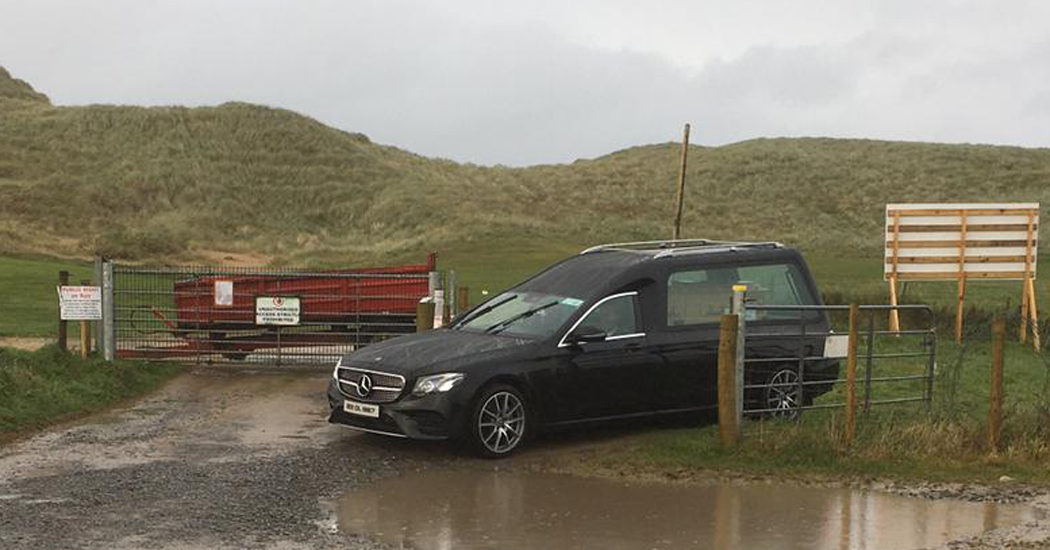 Mr Moore's daughter Edel said she was profoundly saddened that her late father was denied his last wish to travel to his beloved Castlegoland Beach. 
"As a young boy and man he spent every day on the beach either swimming, lobsterfishing, harvesting sea weeds, or boating," she said.
"It grieved him greatly that for the last 4 years he was denied access to the beach. We are heart broken."
The 'Save Our Beach at Castlegoland Action Group' said that the opening of the gate would have been a fitting legacy for Mr Moore. They too are disappointed that the landowners, a company called Knather Acquisitions Unlimited, did not open the gate today.
Knather Acquisitions has repeatedly stated that the barriers are in place on health and safety grounds.
The 'Save Our Beach at Castlegoland Action Group' states that the Public Right of Way to the beach was first recorded in a land sale deed of 1867 and should be fully upheld and restored once more. Campaigners have also criticised Donegal County Council for what they call a lack of action on the issue. It's claimed that a warning letter was issued by DCC to the company on 25th May regarding the locked gate, but so far no action has been taken.